Amazon Halo vs Apple Watch Series 6: Which wearable reigns supreme? Uncover the key features, fitness tracking capabilities, and smart functionalities of Amazon Halo and Apple Watch Series 6 side by side.
Make an informed decision and choose the perfect fitness companion for your lifestyle. Read on to find out more!
If you're torn between Amazon Halo and Apple Watch Series 6, I've got you covered. Here's a detailed comparison between the two fitness and health trackers.
Amazon has decided to discontinue its Halo line of consumer tech (Halo Band, Halo View, and the Halo Rise), effective July 31, 2023. The Amazon Halo app will no longer function after August 1, 2023. Customers who have paid the $4 per month subscription fee, or have recently purchased a Halo product, may be entitled to a refund, and Amazon is also providing a way to return and recycle Halo products.
Table of Contents
Amazon Halo Vs Apple Watch Series 6: In-Depth Comparison
Activity, Design, and Comfort
Amazon Halo is designed for fitness enthusiasts who like simple designs. This smartwatch has three basic designs that will blend well with any outfit. The color options include blush and rose gold, black and onyx, and winter and silver. It also has a versatile design that allows you to customize the clasp, hook, and band design.
The Amazon Halo has a thin and light design, making it a great device for those who prioritize comfort. Additionally, it's equipped with a Velcro strap that's easy to take on and off. However, it can be challenging to achieve the tightness you desire.
On the other hand, the Apple Watch Series 6 comes in two sizes, two connectivity options, and three finishes. It has a bright always-on Retina Display. The Series 6 is available in 40mm or 44mm, in stainless steel, aluminum, and titanium.
Related: Apple Watch vs Whoop Strap
Activity and Workout Tracking
The Amazon Halo is well-known for its unique activity monitoring by automatically capturing your activities and grouping them into light, moderate, and intense activities, together with your heart rate for the duration of your activity. The Halo is equipped with different guided exercise programs that you can easily launch from the app. Some of the workouts you can take advantage of include Yoga, Cardio, Barre, Pilates, and Strength to HIIT.
On the other hand, the Apple Watch Series 7 comes with new fitness and activity features to help you stay in shape and track workouts. This Apple Watch supports several default workouts such as cycling, walking, running, and rowing. To view the available workouts, open the Workout app on your watch and scroll down the list. If you don't see your favorite workout, go to the bottom of the list and select Add Workout. Additionally, you can set workout reminders, record workouts, enable or disable workout settings, view fitness history and trends, and share activity data.
Calorie Tracking
The Amazon halo is equipped with sensors to monitor steps covered and calories burned, which is quite helpful in losing weight. Conversely, Apple Watch 6 tracks steps, active calories burned, and displays the progress of your daily goal. It also tracks the total calorie burned, both active plus passive calories. Active calories are those burned when exercising, while passive calories are the calories the body burns, even when relaxing.
Sleep Tracking
Sleep tracking is one of the most effective features of Amazon Halo. The Halo calculates the overall sleep score and gives details on sleep stages and other important metrics. It also includes Sleep Lab sessions that can help you improve your sleep techniques, fall asleep faster, and optimize your sleep schedule.
On the other hand, the Series 6 has all the necessary hardware to monitor your sleep patterns. You have an option to manually track your sleep or set the sleep auto-detection.
Heart Rate Monitoring
The Amazon Halo is equipped with an effective heart rate monitor that promises a good range of accuracy. It has a Live tab to help you view instantaneous heart rate and get more details on your resting heart rate. The Apple Watch 6 has a heart rate monitor that automatically detects your heart rate during the entire workout session. It also can show your resting heart rate, current rate, and walking heart rate.
Apple Watch vs Amazon Halo: Water Rating
Both the Amazon Halo and the Apple Watch 6 come with a water resistance rating of 50 meters and can withstand shallow-water activities like bathing and swimming.
Compatibilities
The Amazon Halo is compatible with Android and iOS devices and has Bluetooth connectivity. However, the Apple Watch 6 is only compatible with Apple devices, but both devices pair with Bluetooth.
Halo Band vs Apple Watch: Battery
The Amazon Halo has a battery life of 7 days when using the tracker with continuous heart rate monitoring. However, with Tone analysis, you'll need to charge it daily. The Apple Watch 6 also comes with up to 18 hours of battery life but has a fast charging time.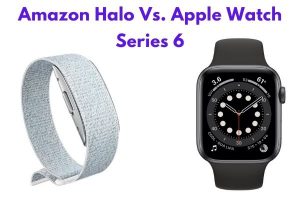 Cost/Pricing
The Amazon Halo is sold at $99.99 plus a Halo membership fee of $3.99 per month. The Series 6 has 40mm, and 44mm watches with stainless steel, aluminum, and titanium case materials. The prices range from $399 to$1499, inclusive of watch bands and color combinations. Fortunately, you don't need a subscription to use the Apple Watch.
Final Thoughts
Both wearables are incredibly good, but your best choice depends on your experience and budget. If you're operating on a budget and are ready to commit to a subscription, choose the Amazon Halo. But if you have a good budget, go for the Apple Watch Series 6.