The Apple Watch brings the best health and fitness improvements that help you lead an active lifestyle. However, to get the best out of your Apple Watch, you need to keep it up-to-date. This will improve the efficiency of your Watch and ensure you get the latest features from Apple.
Normally, updating your Apple Watch is a straightforward process that won't be annoying. However, sometimes it can be a pain to update your device. If you're wondering how long your Apple Watch will take to update, this article is for you.
Why should I update my Apple Watch?
Apple Watch comes with a strong update cycle, with new features and software being included to give you a delightful experience. If you have the latest Apple Watch hardware, you're guaranteed a ton of features and improvements.
For instance, if you update to watchOS 8, the Always-On Display will allow you to read notifications without raising your wrist. Another crucial feature in Apple Music allows you to tap the play button and receive an immediate response. Unlike previous versions, you had to tap the display once to wake the screen and again to enjoy your favorite tunes.
Additionally, updating your Apple watch gives you access to new exercise and fitness features that help you realize your goals faster. Although these are minor upgrades, there are a lot of features that will help you stay healthy and informed.
Related: Whoop Strap vs Apple Watch 7
So, how long for my Apple Watch to update?
Your Apple Watch should not take more than an hour, but if it takes more than three hours, something might be wrong. Ensure that your Apple Watch is charged at least 50% and it's connected to a charger. Additionally, your iPhone and Watch must be connected to the same Wi-Fi network.
Factors affecting update speed and what to do
When trying to update your Apple Watch, it may take more time than the estimated update time. The update speed may be affected by the verification process. Also, since it's a new update, several users may be trying to update their devices at once, causing Apple's servers to be slower than usual.
Here's what you need to do to speed up the update process:
Restart Your Watch and iPhone
If your Watch takes more time to update than expected, restart your watchOS and iOS devices. Press and hold the side button on your Watch and iPhone and drag the Power Off slider. Turn on your Watch and phone after a few minutes.
Use Wi-Fi Instead of Bluetooth
Most Apple users don't know they can update their Apple Watch using Wi-Fi. This feature came with watchOS 6. However, for it to work, you need to have at least watchOS 6 or above.
If you still have problems using this method, turn off Wi-Fi and Bluetooth on your paired phone and try updating your Watch again.
Delete the Update File
If the update fails to start or is taking ages to complete, delete the update file. You should also update your iPhone to the latest version. You can then try to update the watchOS again.
Unpair your Apple Watch and Re-pair as new
If your update remains stuck for hours or days, then you might be forced to start fresh. Although this process is time-consuming, it solves problems when your Watch won't update or takes several hours or days.
Apple Watch update procedure
You can start updating your Watch, but you cannot finish the update without a paired iPhone. So ensure you have one in hand before you start.
Press the Digital Crown to access the main menu.
Go to the Settings icon and click to show a new menu.
Click on the General option and tap on the Software Update. This should show all updates available. If none, you'll see "Apple Watch up to date."
Choose Download & Install to start the update. You need your paired iPhone in the next step.
Your Watch will ask you to confirm installation via the phone app. So you have to launch the app.
Tap on the General settings on your main screen.
Choose the Software Update option. You should be able to tap on 'Install.' Before you start the update, ensure that your Watch is connected to a charger and has at least 50%. Also, ensure that your Watch is close to your iPhone and is using the same Wi-Fi network.
After the update, your Apple Watch will be updated to the latest watchOS.
FAQs
Is My Apple Watch Too Old to Update?
You need to ensure that your iPhone and Apple Watch aren't outdated. The watchOS is only compatible with Apple Watch Series 1 or later. You also need an iPhone 6s or later with iOS 13 or later.
What Happens if I Take Apple Watch Off Charger While Updating?
As long as the battery doesn't die when updating, your Apple Watch will continue with the update. However, you should not disconnect the charger until the updating process is complete.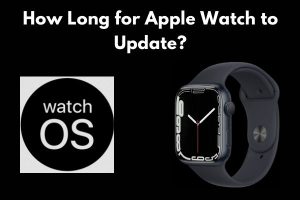 Final Thoughts
If you're having problems updating your Apple Watch, the tips above will help you fix the problem. Ensure that your Apple Watch and iPhone are always up-to-date for the best user experience.