Where is Apple Pay accepted? This is a common question among most people who want to use this payment method to make purchases…
In this post, I'll explore where Apple Pay is accepted, so you can use this information to make more informed purchasing decisions.
Apple Pay has continued to grow at a breathtaking rate since its introduction in 2015. This contactless payment service continues to rise, and more retailers, banks, and countries continue to join. With all the payment options attached to Apple Pay, it's high time you jump on this secure payment option if you're not there already.
Read on to find out where Apple Pay is accepted…
Table of Contents
So, where is Apple Pay Accepted?
Although some people are still confused about where they can use Apple Pay, the simple answer is- you can use the service at any place that accepts contactless payments. All you need is to swipe your Apple device on a contactless terminal and make your payments in seconds!
Some of the stores in the US that accept Apple Pay include Best Buy, Bloomingdales, Sprouts, B&H Photo, Chevron, Disney, Dunkin Donuts, GameStop, Publix, Jamba Juice, Kohl's, Lucky, McDonald's, Office Depot, Petco, Staples, KFC, Trader Joe's, Walgreens, Safeway, Costco, Whole Foods, CVS, Target, Taco Bell, and 7-11.
Additionally, this payment can be used to pay for apps on Apple devices. However, unlike other online wallets, Apple Pay cannot make payments for goods in browsers.
Restaurants that accept Apple Pay
The following is a list of some of the stores and restaurants that take Apple Pay as a method of payment in the US (This list is not exhaustive)
McDonald's
Subway
ExtraMile
Wegmans
Au Bon Pain
Auntie Anne's
Baskin-Robbins
Ben & Jerry's
Buffalo Wild Wings
Burger King
Carvel
Little Caesars    
Luby's  
McDonald's       
Moe's  
Outback Steakhouse     
Panda Express  
Panera Bread    
Papa John's
Checkers
Chili's
Church's Chicken
Cold Stone
Culver's
Dairy Queen
Denny's
Domino's
Dunkin' Donuts
El Pollo Loco
Firehouse Subs
Five Guys
Peet's Coffee   
Pizza Hut             
Popeyes             
Qdoba 
Rubio's
Shake Shack      
Smoothie King
Friendly's           
Golden Corral
Hooters               
IHOP     
In-N-Out Burger
Jamba Juice       
Jersey Mike's   
Jimmy John's    
Johnny Rockets
KFC       
Krispy Kreme
Taco Bell
Waffle House   
Whataburger    
White Castle     
Wingstop
Starbucks           
Subway 
What Gas Stations Take Apple Pay in the US?
More and more gas stations across the country are adopting contactless payment options like Apple Pay.
With Apple Pay, you can securely and conveniently pay for your gas without having to handle cash or cards.
NB: Check with your local gas station to confirm whether they accept Apple Pay or any other contactless payment options.
Some of the gas stations that currently accept Apple Pay include:
7-Eleven
Alon
Casey's General Store
Costco
RaceTrac
Shell
Texaco
Wawa
Hele
King Soopers
Kum & Go
Phillips 66
Raceway
ARCO
Chevron
Circle K
Exxon Mobil
Love's Travel Stops
Speedway
Travel Centers of America
Delta Sonic
Holiday Oil
Kwik Fill
Kwik Trip
QuikTrip
QuikTrip
BP/Amoco
CITGO
Conoco
Marathon
PhilipMaveriks 66
Sunoco
Valero
Cumberland Farms
Family Express
Irving Oil
Love's
Meijer
Sheetz
With the growing popularity of contactless payment, it's likely that more gas stations will start accepting Apple Pay in the near future.
What stores take Apple Pay?
The following are some of the stores that accept Apple Pay in the US:
Ace Hardware
Family Dollar
Office Depot
Pep Boys
Petco
Staples
Unleashed
Apple
GameStop
OfficeMax
PetSmart
Safeway
Target
Kmart
Best Buy
Hy-Vee
Dick's Sporting Goods
Schnucks
Toys R Us
What is Apple Pay?
Apple Pay is a contactless payment service that allows users to pay for products and services without a physical card or cash. Users need to add their debit or credit card to their Apple account and use their Apple gadgets to pay for purchases. This service uses contactless payment technology and is currently available on iPhone 6 and iPhone 6 Plus models.
Related: Does Amazon Take Apple Pay?
How Does Apple Pay Work?
If you own an Apple gadget, you probably know Apple's Passbook app. A while ago, it was mainly used to aggregate loyalty cards, coupons, cinema tickets, and others. Nowadays, Passbook is also the central hub for Apple Pay.
If you have the latest Apple gadgets, Passbook can hold your credit card details, but your card provider must agree with Apple. Currently, there are several banks that accept Apple Pay.
When an Apple device touches a contactless terminal, the gadget communicates using near-field communication (NFC). The Apple Pay user is then required to authorize the payment using a passcode, usually four digits or more, or scanning the device and pressing the Touch ID, fingerprint reader.
It's crucial to note that Apple Pay does not keep any transaction details that can be traced back to the user.
Related: Apple Pay Refund Time Frame
Is there a monthly fee for Apple Pay?
There are no monthly charges linked to Apple Pay. If you pay in stores or restaurants using Apple Pay, Apple doesn't charge any fees. If you use a debit card, there's no additional fee. Additionally, if you transfer money to an Apple Pay user using your debit card linked to Apple Pay, you won't be charged. However, you will be charged a 3% fee if you make a transfer to a person using your credit card attached to Apple pay.
How do I enable Apple Pay?
You have to use the Apple Wallet app to set up Apple Pay on your iPad or iPhone. On your iPad, open Settings, then Wallet & Apple Pay. On your iPhone, open Wallet. Click Add Credit or Debit card or "+" in the top right corner and click "Continue". Ensure that you fill in all the needed information correctly.
You will be required to give additional verification, which may mean calling your bank or receiving a text message with a unique code. Each bank has a different process.
After your card is verified, you can start making payments with Apple Pay.
What are the benefits of using Apple Pay?
With Apple Pay, you can make payments:
Online- You can make online payments as long as the contactless payment service is enabled.
Offline- You can make payments in major restaurants, stores, cafes, and anywhere Apple Pay and credit card payments are accepted.
Convenient- Apple Pay is a seamless way of making payments, with less delay in the buyer's path.
Is Apple cash the same as Apple Pay?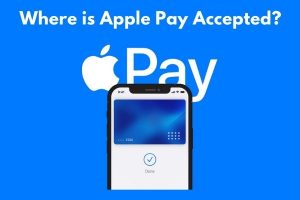 Apple Cash and Apple Pay are digital services designed to provide a convenient way to pay bills and send money to family and friends. With Apple Pay, you need your Apple device to make payments, funded by a linked debit or credit card. Apple Cash is available in Apple's digital wallet. You can load cash from a prepaid or debit card and use the wallet to pay Apple Pay transactions or send or receive money from friends and family.
Why was Apple Pay declined?
Sometimes, your Apple Pay may be declined. Here are some potential reasons:
You have insufficient funds in the account.
The merchant doesn't accept contactless payments.
Your card is not active or has been blocked.
Final Thoughts
Apple Pay is a secure payment method for in-app, in-store, and online shopping. Since you can practically link it to any credit card you have, Apple Pay should be your next contactless payment service. But even if it is highly effective and has advanced security features, you need to adopt the best practices for online safety.