Apple Music is one of the biggest names in music streaming. It boasts lossless audio and Spatial Audio support, giving it a competitive edge over its competitors. Besides your favorite music and album, Apple Music is also a showcase for 24/7 radio stations, music videos, and much more.
So, what is Apple Music, and how much does it cost per month? Read on for everything you need to know about Apple Music, from pricing to a comparison to its biggest competitors.
Table of Contents
What is Apple Music?
Apple Music is a premium music streaming service that allows you to stream more than 75 million songs from the cloud. It hosts several online radio stations broadcasting 24/7 in over 160 countries. This service was launched in 2015 and is available across various platforms, including Apple Watch, iPhones, iPads, and Apple TV 4K, Android, Chrome OS, HomePad, Amazon Echo, and Windows. It allows access to several libraries of songs for all your music streaming needs.
Is Apple Music the Same as iTunes?
No. Apple Music is an ad-free music streaming subscription service. At the same time, iTunes is a free application designed to manage your music video playback, music library, music purchases, and device syncing. Apple Music is similar to Spotify and allows you to enjoy your favorite tunes offline across your gadgets.
Is Apple Music Free Now?
Although Apple Music is free for three months when using the free trial, you'll need a paid subscription to enjoy all the features of Apple Music. If you don't have a paid subscription, Apple Music allows you to listen to the music you've uploaded, purchased, or ripped to your gadget, but you enjoy all the features of the streaming service, like offline listening.
So, How Much Does Apple Music Cost Per Month?
Unlike Spotify, Apple Music doesn't have a free ad-supported music tier. You need a paid subscription to enjoy all Apple Music content. After the free trial, there are three plans you can choose from. The standard/individual Apple Music subscription plan costs $9.99 per month in the US. College students with UNiDAYS verification can sign up for a discount subscription of $4.92 per month.
A Family plan is available for a maximum of six people at $14.99 per month. This plan requires Family Sharing to be set up, which needs all family members to use the same credit card for iTunes billing. There is also the Apple One Bundle that saves you money when you subscribe to several Apple services.
However, the pricing for Apple Music varies from country to country, but it's usually similar to the US pricing.
Is Apple Music Worth the Cost?
Although it can be a bit difficult to tell what streaming service is the best bet for your music streaming needs, if you're an iPhone user, you'll most likely find Apple Music impressive. Besides getting a three-month free trial, here are some more reasons why Apple Music is worth it.
Unmatched Audio Quality
Apple raised the game when they introduced lossless audio to Apple music at no extra cost. This means that when using a pair of high-quality headphones, you can hear parts of your favorite tunes that you couldn't pick before and notice details that were difficult to discern.
Amazing Apple Ecosystem
Apple Music is an exceptional option if you're an Android user, with superb prices and an amazing library. For Apple users, the experience is even more special. You have access to Apple Music using Mac, iPhone, Apple Watch, or iPad, and the process is seamless and impressive.
A Huge Library
The best thing about Apple Music is that it comes with a huge library of songs, albums, artists, and playlists to choose from. Apple Music has more than 75 million songs and more are being added every day. This means that you'll find all your favorite artists and songs in one place.
Is Apple Music Better than Spotify?
If you're looking for a free music streaming service, Spotify is the best bet. Apple Music offers excellent audio quality among Apple devices. But if you want a service that has great cross-compatibility across lots of different gadgets, Spotify is a great option.
Additionally, Apple Music promises flexibility in mixing songs from your library with new tunes you can stream on demand. On the other hand, Spotify is highly versatile compared to Apple Music.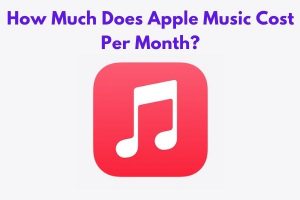 What Devices Can Run Apple Music?
You can run Apple Music via the following devices:
iOS Devices- Update to the latest iOS version
Apple TV
Apple Watch
Mac
Updated PC
HomePod
Android devices
Sonos
Final Thoughts
Apple Music is one of the most efficient music streaming services, along with the likes of Spotify and Tidal. This service offers a free tier and standout product innovations that make it a more popular music streaming service compared to its competitors.