Are you an avid runner or cyclist looking to elevate your fitness journey to new heights? With a plethora of fitness apps available today, it can be overwhelming to choose the perfect companion to track and analyze your progress.
In this comprehensive comparison, I delve into the battle of the fitness titans: Garmin Connect Mobile vs Strava Running and Cycling. These two industry-leading platforms have redefined how athletes monitor and improve their performance, each offering unique features and advantages.
Join me as I break down their strengths, weaknesses, and the one that emerges as the ultimate fitness partner. So, let's strap on our running shoes and cycle through the digital realm as I explore the Garmin Connect Mobile vs Strava Running and Cycling face-off!
What is Garmin Connect Mobile?
Garmin Connect is a mobile app that allows you to keep an eye on your fitness workouts' progress. Connect shows you all the data from cycling to running to cardio and other sports your Garmin tracks.
You can see the number of steps you've walked, your training load, an estimate of the VO2 max, and much more. The best part is that you can connect to other users to compare your data to theirs.
Features of the Garmin Connect app
Individual Activity Data: The Garmin Connect will give you a summary of everything you've done in the past 24 hours. From steps to activities, sleep, calories, heart rate history, and much more.
Long-Term Activity Data: Apart from daily data, you'll have access to weekly, monthly, and yearly data.
Custom Uploads: With Garmin Connect, you can customize your smartwatch in two ways: workouts, maps, and courses.
Training Plans: You need a training plan to stay consistent with running.
Related: Garmin Forerunner 935 Vs Forerunner 945
Pros and Cons of Garmin Connect
Pros:
It can show detailed statistics
You can easily view your current health in details
It has a wide range of information for you
It supports GPS and Bluetooth connectivity
It can create customized workouts and courses
It offers life tracking for your safety
It can review personal records for pace, distance, and steps
Cons
One of the main disadvantages of the Garmin Connect is that it drains the battery quickly.
Related: Garmin vs Whoop 4.0
What is Strava Running and Cycling?
Strava is a fitness tracker app that mainly tracks GPS-based activities. Similar to a GPS app, it runs in the background while you do your workouts. You can use Strava to walk, run, hike, cycle, skate, canoe, kayak, ski, kitesurf, snowboard, swim, and more. It also has options to track stationary activities like stair-stepping, yoga, elliptical training, and general workouts.
Features of Strava
Activity Feed: The activity feed is essentially the home screen of Strava, where all the posts of your activities are placed.
Explore: This section has a range of features that expands your Strava experience. It covers Challenges, athletes, and club searches.
Mapping and Routing: This section allows you to log activities through the smartphone app and sync rides through GPS.
Performance Tracking: Strava provides detailed data analysis for any logged activity, including speed, heart rate, elevation change, and distance.
Pros and Cons of Strava
Pros
It records runs directly in the app
It can link to third-party gadgets
It has a wide range of metrics
It's compatible with a wide range of fitness trackers
Cons
Privacy settings adjustment could be better
Garmin Connect Mobile vs Strava Running and Cycling 2023
Although Garmin Connect and Strava are great fitness apps, they aren't entirely the same. Here's what sets them apart:
Has a Free App
Garmin Connect doesn't charge fees to display your vital health data. However, some third-party developers may charge a fee to unlock some features. Strava also has a free option for the core features. But if you want extra functions and features, you need a subscription of $5 a month, with a 30-day free trial.
Compatibility with Android and iOS
Both Garmin Connect Mobile and Strava are compatible with Android and iOS devices.
Tracks Distance
Garmin Connect can track your distance, speed, time elapsed, and elevation in real-time. Strava also records your distance when a GPS file is uploaded, contributing to your average speed and max speed.
Tracks Steps
The Garmin Connect only shows the step count when you sync your gadget. The syncing may take several minutes. On the other hand, Strava doesn't give data on your daily step counts.
Compatibility with External Heart Rate Monitors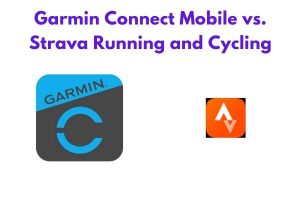 Heart rate monitors are compatible with Garmin Connect and Strava. However, to use the activity tracking feature of your heart rate monitor, you need to pair directly with Garmin Connect.
Can Garmin Connect and Strava be Synced?
Absolutely! These two apps can be synced. This means that data from Garmin Connect can be synced to Strava and other fitness apps like MapMyFitnesss, Endomondo, MapMyRun, etc.
Final Thoughts
Every fitness enthusiast needs an effective app to monitor their progress. The Garmin Connect and Strava are great ways to get started. The app you choose will depend on the activities you want to track and the features that matter most.