Are you planning to up your fitness game and focus on a restful sleep? Well, a good fitness tracker will help you get the rest you need to recover and be ready for peak performance.
There are a lot of fitness trackers in the market and choosing the right one can be quite a challenge.
Whoop and Garmin are some of the best brands when it comes to fitness and recovery tracking. But which of the two should you go for?
To help you make an informed decision here's everything you need to know about Whoop and Garmin.
Table of Contents
| | Garmin Venu® 2S | WHOOP Strap 4.0 |
| --- | --- | --- |
| Image | | |
| At a glance | Advanced health monitoring and fitness feature to help you better understand what's going on inside your body. | Smaller, smarter, and designed with new biometric tracking, including skin temperature, blood oxygen, and more |
| Subscription | N/A | Required |
| Display | Yes | No |
| Strap Material | Silicone | SuperKnit band |
| Heart Rate Variability | Yes | Yes |
| Resting Heart Rate | Yes | Yes |
| Water Resistance | Up to 50 meters | Up to 10 meters |
| Strain Coach | No | Yes |
| Sleep Reports | Yes | Yes |
| Blood Oxygen Level | Yes | Yes |
| Connected GPS | Yes | No |
| Bluetooth | Yes | Yes |
| Battery Life | Up to 10 days on Smartwatch mode | 4-5 days |
| Price | Click to Check Current Price | Click to Check Current Price |
Whoop is best known for its wrist-based heart rate monitor which tracks your heart rate variability (HRV), recovery time, and sleep quality. It also offers activity tracking features such as steps taken and calories burned.
Garmin is best known for its GPS watches which can track your distance traveled, pace, speed, elevation gain/loss, etc., as well as your heart rate and calorie burn data. It also offers activity tracking features such as steps taken and calories burned.
Whoop vs Garmin: What Sets Them Apart?
Appearance, Design, and Comfort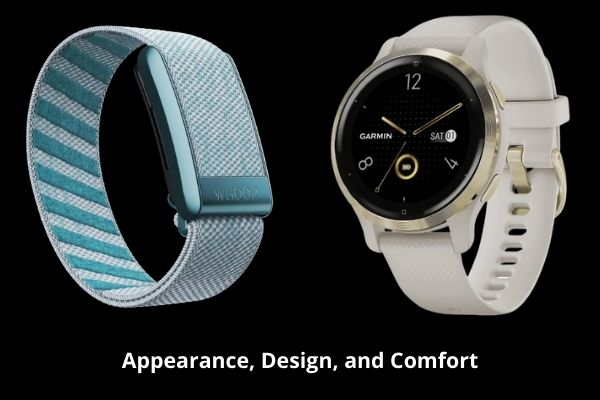 The Whoop has a lightweight design, and the woven strap gives you all-day comfort. When you subscribe to the Whoop membership, you'll get a black ProKnit band for free, but if you like other colors, you'll have to pay extra dollars. However, the Whoop doesn't have a display. If you want to access your data, you need to connect it to your smartphone.
On the other hand, Garmin watches are available in various materials, band colors, and display sizes. You can choose from leather, silicone, titanium, and nylon watch bands to match with DLC-coated steel or stainless steel bezel. However, it's not as lightweight as the Whoop and may be uncomfortable when sleeping.
Calories Tracking
Both Whoop and Garmin track your calories burn throughout the day. You can easily log in to the Whoop app and check the number of calories you've burned and whether you've hit the target. For Garmin, you can log your calorie consumption in Garmin Connect. This app does the analysis for you and helps you stay on target.
Sleep tracking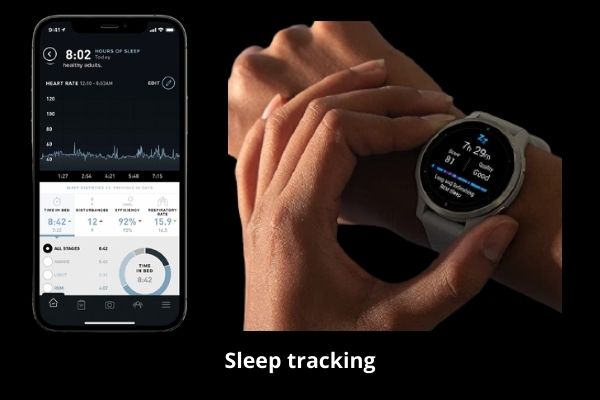 The Whoop is designed to do everything your standard fitness tracker can do regarding sleep. It offers insights into how many times you woke up in the night, how long you spent in each sleep cycle, and your resting rate, and analyzes your sleep performance.
The Garmin watch also tracks your sleep quality and quantity. You'll get to know your total time asleep, time awake, and time spent in sleep stages (deep, light, and REM).
Heart Rate Monitoring
Both Whoop and Garmin give accurate data on resting heart rate and heart rate variability. The Whoop's recovery score and Garmin's Body Battery energy monitor show you how your body is prepared for another day of training. The scores depend on sleep quality, resting heart rate, and HRV.
Although not exactly, Whoop and Garmin give similar to sleep, heart rate, and recovery data. However, ensure that the device fits snugly so that it can detect your heart rate accurately.
Water-Resistance/Waterproof
The Whoop and Garmin can be used for tracking water activities and swimming since they're water-resistant. The Whoop is water-resistant for up to 30.5 meters, while the Garmin watch can be submerged for up to 100 meters. The Garmin watch batteries are also water-resistant, but the Whoop battery is not.
Cost/Pricing
Unlike Garmin, you don't pay a flat fee to get the Whoop strap. Instead, you get a Whoop Strap 3.0 when you subscribe to the 30$ monthly membership program. However, additional accessories and bands will cost more.
Conversely, when you buy the Garmin watch, there's no recurring fee to use the gadget. But if you want some advanced services like maps or traffic updates, you might have to spend extra dollars.
Why Are Fitness Trackers So Popular Today?
Frankly, fitness trackers are getting better day by day. As batteries become more efficient and long-lasting, wearables are more reliable in gathering insights about your body. These devices are specially designed to collect data on how your body is functioning and provide excellent analysis.
Fitness trackers are also getting smarter and can effectively monitor your Heart Rate Variability (HRV), sleep efficiency, and recovery with accuracy. You can easily access the data on your phone and get a review of your overall fitness and health scores. Additionally, the Whoop and Garmin have a stylish and sleek design making them ideal for wearing on your wrist.
Who Needs Fitness Trackers?
Some people think that fitness and health trackers are meant for fitness enthusiasts and professional athletes. However, anybody can get the best out of these devices. Everybody needs to know how their daily activities affect their body's functioning. That's why fitness trackers are designed to give you a new perspective on your lifestyle and how to optimize it.
FAQs
Does WHOOP work with Garmin?
Absolutely! You can easily connect the Whoop Strap 3.0 with the Garmin app if you want to monitor your heart rate. This is useful when you have the necessary data on your Garmin but can't use it when doing contact sports.
Does whoop work without a subscription?
No. You must have a subscription of at least 6 months to gain access to your data. If you pick a longer subscription plan, your monthly costs will be less.
Can Garmin Connect to iPhones?
Yes, it's possible to connect a Garmin watch to your iPhone. But you'll need a Garmin Connect app for iOS.
Are Garmin Watches Waterproof?
There's no device that's completely waterproof, but most Garmin watches are water-resistant to 5 ATM.
Garmin vs Whoop: What's the verdict?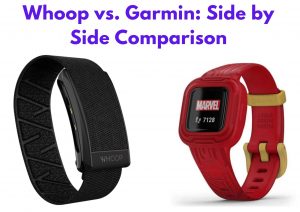 Well, it really depends on what you're looking for in a wearable device.
If you're mainly interested in tracking your heart rate variability (HRV), recovery time, or sleep quality then Whoop is probably the better option for you; whereas if you're mainly interested in tracking your distance traveled or pace then Garmin would be a better option for you.
However, both brands offer comprehensive activity-tracking features so they would be good choices regardless of what type of athlete you are.