With so many Fitbit models available on the market, deciding which device is suitable for you can be overwhelming. That's why I've created a Fitbit comparison chart to help you compare the features and specifications of different Fitbit models.
Whether you're looking for a simple activity tracker or a more advanced smartwatch, the Fitbit comparison table in this post will help you compare Fitbits and choose the device that best fits your needs.
Related: Best Fitbit for Women
What is a Fitbit?
A Fitbit is a fitness tracker that monitors your heart rate, steps, calories burned, sleep and distance traveled. You wear it on your wrist and it wirelessly syncs with your smartphone to monitor your physical activity levels.
Fitbit Comparison Chart 2023 (Compare Fitbit Models)
We've broken down the features and specs of the top Fitbits on the market in an easy-to-understand format. The chart includes the Fitbit Versa 2, Ace 2, Inspire 2, Luxe, Sense, Charge 3, Charge 4, Charge HR, Inspire HR, and Versa Lite, and will help you compare them side-by-side in terms of features, specs, and cost.
With this comparison chart, I'll compare different Fitbits (showing the differences in Fitbits), and you'll be able to make an informed decision on which Fitbit is right for you without sifting through hours of online research.
Related: All Fitbit Models by Year Released
Main Features comparison
Model
Year
Released
HR
ECG
SpO2
GPS
Battery Life
Water
Resistant
Price
Charge 5
2021
✓
✓
✓
✓
7 days
✓
View
Luxe
2021
✓
✓
✓
✘
5 days
✓
View
Charge 4
2000
✓
✓
✓
✓
7 days
✓
View
Versa 3
2000
✓
✓
✓
✓
6 days
✓
View
Inspire 2
2000
✓
✓
✓
✘
10 days
✓
View
Sense
2000
✓
✓
✓
✓
6 days
✓
View
Inspire HR
2000
✓
✓
✓
✘
5 days
✓
View
Versa 2
2019
✓
✓
✓
✘
6 days
✓
View
Related: Best Fitbit for Men
Miscellaneous Features comparison
Model
Floors
Climbed
Caller ID /
Notifications
DND
Fitbit Pay
Spotify
Stores Music
Music Control
Menstrual
Cycle Tracking
Price
Charge 5
✓
✓
✓
✓
✓
✓
✓
✓
View
Luxe
✘
✓
✓
✘
✘
✘
✘
✓
View
Charge 4
✓
✓
✓
✓
✓
✓
✓
✓
View
Versa 3
✓
✓
✓
✓
✓
✓
✓
✓
View
Inspire 2
✘
✓
✓
✘
✘
✘
✘
✓
View
Sense
✓
✓
✓
✓
✓
✓
✓
✓
View
Inspire HR
✘
✓
✘
✘
✘
✘
✘
✓
View
Versa 2
✓
✓
✓
✓
✓
✓
✓
✓
View
What are the Benefits of Owning a Fitbit?
Fitbits are the perfect way to monitor your physical activity. With the help of Fitbit, you can track your fitness activities and see how they affect your health.
The Fitbit can be used in a variety of ways – to track physical activity, sleep, heart rate during exercise, or even water consumption. Fitbit is a very helpful tool for people who are trying to lead healthier lifestyles and have more active lives.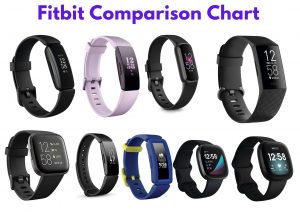 Fitbits provide valuable feedback on your daily habits and advice on how to improve them. They also provide motivation for reaching personal goals that you may have set out for yourself while at the same time providing encouragement when it feels like it is hard to work towards those goals.
Fitbit's trackers come with many features and a highly competitive price, but there are other alternatives for those looking for a similar fitness tracker. (See Fitbit alternatives here)
FAQs
What is a Fitbit Comparison Chart?
A Fitbit Comparison Chart is a helpful tool for comparing the various features and specifications of different Fitbit models in one place. It can help you decide when choosing a Fitbit that best suits your needs.
Which Fitbit model is the best?
The best Fitbit model for you will depend on your individual needs and preferences. Consider what features are important to you, such as heart rate monitoring,
Fitbit Pay
,
sleep mode
, GPS,
DND
, battery life, and water resistance. Use a Fitbit Comparison Chart to compare the different models and make an informed decision.
How accurate are Fitbit devices?
Fitbit devices are generally accurate for step counting, with accuracy increasing depending on where the device is worn. For jogging, wrist placement was found to be the most accurate. However, the overall accuracy of Fitbits in counting steps in controlled environments is around 50%, and they may not provide 100% accuracy due to their size.
Conclusion
The Fitbit comparison table in this post can be a valuable resource for anyone looking to purchase a Fitbit device.
By comparing the features and specifications of different Fitbit models, you can make an informed decision and select the activity tracker or smartwatch that meets your needs and preferences.
Whether you're interested in tracking your daily steps, monitoring your heart rate, or accessing advanced features like GPS and contactless payments, there is a Fitbit device that can help you achieve your fitness and health goals.
Use the comparison chart for Fitbit above as a starting point to explore the different Fitbit models available and find the one that's right for you.
I hope the Fitbit models comparison helps you settle for a fitness tracker that aligns with your needs and expectations…
PS: