Contactless payments have risen in popularity over the years. They are now being used in almost every part of the globe.
Fitbit, well-known for its fitness trackers and smartwatches, has its own contactless payment service called Fitbit Pay, allowing you to make payments from your wrist.
If you're wondering how to use Fitbit Pay and the gadgets it's compatible with, I've got you covered. Here's what you need to know about this contactless payment service.
What is Fitbit Pay?
Fitbit Pay is Fitbit's contactless payment service that lets you make payments using your Fitness tracker or smartwatch.
This service helps you pay at authorized payment stations. The gadget uses NFC to allow you to pay at authorized stations.
When you're at the store, check the wave sign, which shows that it can accept contact payments from a supported credit or debit card and smartwatches and phones with NFC.
If you've issues with security, Fitbit Pay has several security settings to secure your data. Additionally, you are required to set a 4-digit pin for extra safety. Also, the security features provided by the card providers and banks remain in place regardless of the payment method you use.
How Does Fitbit Pay Work?
All that is required is to add your compatible card, then visit a store, launch Fitbit Pay on your compatible Fitbit gadget, and hold it to the contactless reader at checkout. This is a simple platform like payments on other devices.
How to Use Fitbit Pay
Add a Card
To use Fitbit Pay, you need to have at least one credit or debit card that you'll add to the wallet on the Fitbit app.
Go to the Fitbit app on your smartphone and click on the profile photo on the top-left.
Check the Devices tab and tap the Fitbit gadget you'd like to link to Fitbit Pay.
Click the Wallet tile.
Click Get Started and follow the instructions to add a payment method.
If it's your first time using Fitbit Pay, you need to have a four-digit pin on the smartwatch and ensure you have a pattern, PIN, password, or set on your smartphone.
Check the instructions and allow notifications on the phone to complete and verify the process.
You can add at most six cards to the Wallet. If you've added several options and you want to set a default card, go to the Wallet section in the app, check the card you'd want to set, and click to set it as default.
Making a Payment
If you want to make a payment, press and hold the left button for a few seconds. The payment screen will appear. If this fails to happen, you need to swipe the screen until you access it.
Enter your four-digit PIN to access the Payment page.
You'll see your default card on the screen. But if you're using a different card, swipe and check the one you need.
Hold your wrist facing the payment point. The watch's face should be faced toward the payment terminal.
If you want to track your card activity, go to the Wallet tile on the Fitbit app's Account page. Locate the card you're tracking and scroll down to monitor the latest transactions.
Where Can You Use Fitbit Pay?
Fitbit has not specified the official retailers that accept Fitbit pay. But it can be used in any payment terminal or location that supports contactless payments. If the payment terminal has a wave symbol, Fitbit Pay will work. Since they function in a similar way, any retailer that accepts Google Pay or Apple Pay can accept payments through Fitbit Pay.
List of Fitbits that Support Fitbit Pay
Fitbit Pay is available in some selected fitness trackers and Fitbit smartwatches. Here's a list of Fitbits that support Fitbit Pay:
Fitbit Sense- all models
Fitbit Charge 4- all models
Fitbit Charge 3- special edition only
Fitbit Versa 2- all models
Fitbit Versa 3- all models
Fitbit Versa- special edition only
Fitbit Ionic- all models
Countries Where Fitbit Pay is Available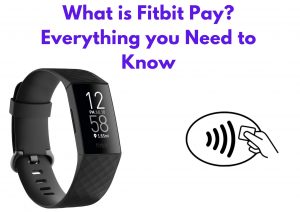 This contactless payment service is available in the US, Canada, Australia, Czech Republic, Finland, Denmark, Germany, France, Iceland, Italy, Mexico, New Zealand, Poland, Norway, Singapore, Romania, South Africa, Switzerland, Spain, Sweden, United Arab Emirates, Taiwan, Thailand, and United Kingdom.
However, even if your country is on the list, your bank may not support Fitbit Pay. Here's a list of Fitbit Pay banks. If your bank is not on the list, keep checking back since they update the page with new banks as needed.
Conclusion
So, here's everything you should know about Fitbit Pay. I hope this article will help you to use the contactless payment service freely and safely.