Whoop vs Apple Watch 8: Which is better? This is a common question among most people who want to track their health, sleep, and activities.
The answer to that question really depends on what you're looking for in a wearable.
If you want something that tracks your heart rate and other fitness metrics, then the Whoop Strap 4.0 is probably a better option. It has more features than the Apple Watch when it comes to tracking your activity and health data.
However, if you're looking for something that can do more than just track your fitness, then the Apple Watch Series 8 might be a better choice. It has built-in GPS capabilities and can be used to make phone calls, send messages, and access other apps.
Table of Contents
| | Apple Watch 8 | WHOOP Strap 4.0 |
| --- | --- | --- |
| Image | | |
| At a glance | Measure your blood pressure. keep an eye on your heart. See your fitness metrics… Live a healthier, more active, more connected life | Smaller, smarter, and designed with new biometric tracking, including skin temperature, blood oxygen, and more |
| Subscription | N/A | Required |
| Display | ✓ | ✘ |
| Strap Material | Stretchable silicone rubber | SuperKnit band |
| Heart Rate Variability | ✓ | ✓ |
| Resting Heart Rate | ✓ | ✓ |
| Water Resistance | Up to 50 meters | Up to 10 meters |
| Strain Coach | ✘ | ✓ |
| Recovery Score | ✘ | ✓ |
| Sleep Reports | ✓ | ✓ |
| Blood Oxygen Level | ✓ | ✓ |
| Connected GPS | ✓ | ✘ |
| Bluetooth | ✓ | ✓ |
| Battery Life | Up to 18 hours | 4-5 days |
| Price | Click Here to Buy Apple Watch 8 | Click to Check the Current Price |
In this Whoop 4.0 vs Apple Watch 8 post, I'll be talking about the similarities and differences between the two great fitness gadgets: the Whoop and Apple Watch.
Whoop vs. Apple Watch 8: What Sets Them Apart?
The main difference between Whoop strap 4.0 and the Apple Watch is that the Apple Watch is more expensive and is more of a fashion accessory, while the Whoop strap 4.0 is a practical fitness tracker.
Apple watch is mainly for lifestyle tracking, sleep monitoring, and heart rate tracking. The Whoop is mainly for hardcore training and recovery monitoring.
The following are the main factor differences between the Whoop Strap and the Apple watch:
Appearance, Design, and Comfort
Although Whoop and Apple Watch 8 are worn on the wrist, they feel and look quite different to me in some ways.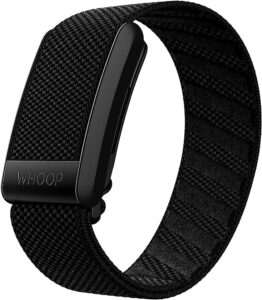 Appearance: Both Apple Watch Series 8 and Whoop 4.0 have a similar thickness profile. The default band for the Apple Watch is silicone, while the standard Whoop band is a woven elastic cloth material.
Display: Apple Watch 8 comes with a full touchscreen display, acting as a mini-app and a clock. Whoop 4.0 lacks a display and has a cloth band that wraps around your wrist.
Mobile App: Although the Apple Watch can be controlled from the screen, all the settings and information on the Whoop 4.0 are controlled and found via the app on your smartphone. The Apple Watch Series 8 also has a mobile app, but it's meant to adjust display styles and settings.
Band Design: Both Whoop and Apple Watch have tons of different band designs and colors that offer different levels of comfort and style. However, the watch has more options than Whoop because Apple bands can be purchased from several online shops. But the Whoop's bands can only be bought from their website.
Related: Whoop or Garmin?
Activity and Workout Training
Both devices have exceptional performances in tracking and recognizing various types of physical activities. For instance, if you want to walk, the Apple Watch 8 will ask you to start tracking your indoor or outdoor walk. Also, when swimming, the Apple Watch 8 tracks the workout and counts your laps effectively.
On the other hand, Whoop 4.0 automatically recognizes most workouts that last more than 15 minutes. The Whoop 4.0 is designed to remember the workout you've done, its HR pattern, and its length to give an accurate analysis of your workouts.
Apple Watch 8 vs Whoop: Sleep Tracking
Sleep tracking is among the most crucial features of a fitness tracker. This is because sleep quality has a great impact on how your day goes and how well you'll push yourself during a workout. A fitness tracker detects different stages of sleep, light, deep, and REM sleep.
The Apple Watch 8 has a sleep tracking feature that allows you to track your sleep stages, including deep sleep, core sleep, REM sleep, and awake. To use this feature, users need to wear their watch to bed and enable sleep tracking in the Sleep app on their Apple Watch
Whoop 4.0 is among the most accurate sleep trackers out there, thanks to a series of superior sensors such as an accelerometer, heart rate sensor, ambient temperature sensor, and skin conductance sensor.
In comparison, the Apple Watch only uses data from its accelerometer and heart rate sensor to determine whether you're sleeping or not. This data is not conclusive enough to determine light and REM sleep. Additionally, Whoop outshines the Apple Watch due to its high sampling frequency.
Whoop App vs. iOS Health App
Honestly, the Whoop comes with tons of features placed in a single application and gives detailed information all in a central place. The sleep coach, strain coach, and recovery coach features are all available on the same screen. Although the Apple Watch displays the basics such as habit tracking, sleep schedules, and heart rate, it cannot match the health features offered by Whoop. The Whoop is specially designed for fitness coaching and tracking. Apple Watch is not a perfect Whoop alternative.
Apple Watch vs Whoop: Battery
Charging capabilities and battery life are worlds apart between the Whoop and Apple Watch. The Apple Watch seems to run out of battery faster, so if you use it at night, you'll have to take it off during the day to charge it. Conversely, the Whoop's battery life can last for 5 days on a full charge. It also comes with a rechargeable battery that can be charged while still wearing your Whoop.
Subscription and Compatibility
The Whoop follows a subscription model (you can't use Whoop without a subscription), whereas the watch is a one-time commitment. You can buy an Apple Watch as a standalone gadget or with an iPhone. On the other hand, Whoop users purchase a membership to access the app. The fitness band comes free with the subscription.
However, the Apple Watch is only compatible with iOS, which might turn off some potential Android users. Fortunately, Whoop is compatible with both Android and iOS devices.
FAQs
Is the Whoop Compatible with Other Mobile Apps?
The Whoop fitness band is only compatible with the Whoop app. Although both iOS and Android users can use the app, it does not integrate with Apple Health or Google Fit.
Is the Whoop Strap 4.0 Available in Different Sizes?
Unfortunately, it's only available in one size. It has a one-inch main pod that can be bulky for guys with smaller wrists. Luckily, the straps come in adjustable heights.
Is the Apple Watch's ECG App Approved by the FDA?
Yes. However, FDA clearance is not the same as approval.
Does WHOOP track calories burned?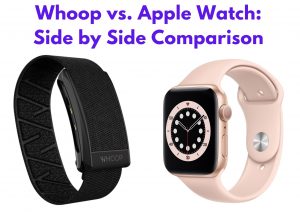 Whoop vs Apple Watch 8: Conclusion
In conclusion, choosing the Whoop 4.0 or Apple Watch Series 8 depends on your personal preferences. However, Whoop 4.0 is ideal for fitness enthusiasts and biohackers who want a simple device that communicates clearly. On the other hand, the Apple Watch 8 offers impressive features ideal for the younger generation looking for a quality and multipurpose wearable on the go.