What do the Fitbit Charge 5 icons mean? This is a very common question among most Fitbit owners. In this post, I will share the most common Fitbit Charge 5 symbols and what they mean…
Fitbit came up with icons to help us understand the current state of our health. The icons are meant to be an easy-to-read representation of your health and fitness. In this post, we'll have the Fitbit icons explained…
Fitbit Charge 5 Symbols Meaning (2023 Update)
NB: The list of symbols on Fitbit Charge 5 (and what they mean) below is not exhaustive. Also, the icons may vary from one Fitbit model to another (check out this Fitbit models comparison post). For a conclusive list of the Fitbit symbols, check out the Fitbit user manuals here (you first need to learn what Fitbit you have)
| Symbol | Fitbit icon meaning | More info |
| --- | --- | --- |
| | Today tab | View all your data and active challenges in a single streamlined dashboard |
| | Floors climbed | This lets you track the floors you have climbed. Learn more about Fitbit Floors here. |
| | Heart Rate | Track your heart rate day and night. |
| | Hourly Activity Goals | Helps you cut back on your stationary time throughout the day. |
| | Distance | Track the distance covered. |
| | Calories Burned | The flame icon shows the estimated number of calories burned based on the type of activity and how long you were doing it |
| | Exercise App | See real-time stats and a workout summary for the exercise you select |
| | Steps Taken | Track the steps you have taken throughout the day. |
| | Active Zone Minutes | The chevron icon counts your time spent in any heart-pumping activity |
| | Active Minutes | The lightning bolt icon tells you when you have spent at least 10 continuous minutes in an activity. |
| | Walk | Found inside the exercise app |
| | Run | Found inside the exercise app |
| | Outdoor Bike | Found inside the exercise app |
| | Elliptical | Found inside the exercise app |
| | Sports | Found inside the exercise app |
| | Aerobic Workout | Found inside the exercise app |
| | Swimming | Found inside the exercise app. See the best waterproof Fitbit for swimming here. |
| | Reminders to move | Found inside the exercise app |
| | Hours slept | Track hours slept (How Does a Fitbit Track Sleep?) |
| | Water Lock | When water is detected, Fitbit locks the display but doesn't turn off the tracker… Learn more about Fitbit Water Lock here. |
| | DND (Do not disturb) | Choose when and how you wish to be updated with incoming notifications and alerts… Learn more about DND on Fitbit here. |
| | Sleep mode | Similar to DND but for the nighttime. Learn more about Fitbit Sleep mode here. |
| | Screen Wake | The setting lets the display on when you turn your wrist. |
| | Settings app | Access the device's settings |
| | Quick settings | Access the device's settings quickly. |
| | Music controls | Get motivated with favorite songs and podcasts from your personal collection, stored right on your wrist. |
| | Deezer app | Get all your favorite music on your wrist… Learn more about Deezer on Fitbit here. |
| | Pandora app | Listen to Pandora stations on your Fitbit watch... Learn more about Pandora and Fitbit here. |
| | Strava app | Your Fitbit activities will automatically show up on Strava for all your friends to see… Learn more about Strava on Fitbit. |
| | Spotify app | Play, pause and skip music and podcasts… Learn more about Spotify on Fitbit. |
| | Fitbit Pay | Contactless payment service that lets you make payments using your Fitbit… Learn more about Fitbit Pay here. |
| | Agenda App | Manage your daily schedule and know all the upcoming milestones. Learn more about the Fitbit Agenda App here. |
| | Alarms app | The device will vibrate to gently awake or alert you at a set time. Learn more about the Fitbit Weather App here. |
| | Weather app | Swipe between 'current location' and several configurable places to easily browse the weather forecast |
| | SpO2 Tracker | ​Track your blood oxygen saturation while you're sleeping… Learn more about Fitbit SpO2 Tracker here. |
FAQs
What does the lightning bolt mean on Fitbit?
The lightning bolt symbol/icon on Fitbit is for tracking active minutes. This tells you when you have spent at least 10 continuous minutes in an activity.
The active minutes are measured through metabolic equivalents (a ratio that compares the energy used up in an activity with the energy used up during rest.
What does the fire/flame symbol mean on Fitbit?
The flame/fire symbol on Fitbit represents calories burned. By tracking the calories burned in comparison to your calories intake, you'll know if you are on track in relation to fitness.
What do the three up arrows mean on Fitbit?
What does the phone symbol mean on Fitbit Charge 5?
One of the Fitbit Charge 5 symbols is a phone symbol. The symbol indicates that your Fitbit is connected to your smartphone via Bluetooth.
If the phone symbol with a line shows that your phone is out of Bluetooth range.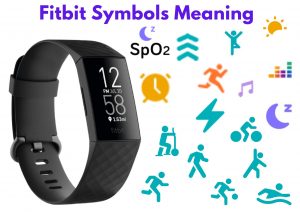 Parting shot
If you like the Fitbit symbols meaning table above, pass it along by sharing it with friends and family.
If you have any questions, share them in the comments section below and I'll reply.
NB: The Fitbit icons found on the Fitbit Charge 2 and Fitbit Versa hold similar meanings to the symbols on the Fitbit Charge 5.
NB: Check out this post on all Fitbit versions and their release dates…