Are you looking for a fitness tracker or smartwatch but can't decide whether to choose Fitbit Charge 5 or Apple Watch 6? Both are great options, and it can be challenging to choose one that suits your needs and style.
If you're torn between Fitbit Charge 5 and Apple Watch 6, I've got you covered. Here's a detailed comparison between these impressive health and fitness trackers.
Table of Contents
Fitbit Charge 5 vs Apple Watch 6 Side-by-Side Comparison
Appearance, Design, and Comfort
The Fitbit Charge 5 comes with the same design as Versa 3, Sense, and Inspire 2, with soft colors and smooth lines. It has a more luxurious look compared to its predecessor, thanks to the stainless steel case. This smartwatch is available in three color options: black with graphite stainless steel, steel blue with platinum stainless steel, and lunar white with soft gold stainless steel. The Charge 5 lacks physical buttons but has an oval sensor for the device's EDA and ECG apps.
The Apple Watch 6, on the other hand, is a stylish and sleek device with a square shape and rounded corners and edges. This watch comes in two sizes (40mm and 44mm) but has no differences in features. This smartwatch is available in several colors and aluminum and stainless steel build materials.
Activity and Workout Tracking
Fitbit Charge 5 wins on activity and workout tracking. Fitbit Charge 5 gives more fitness stats and data graphics. The Charge 5 can track 20 workout types, which is a great range. The smartwatch's menu can display five workout modes at a time. To change this, go to the Fitbit mobile app, open the device's settings, and make the necessary adjustments. This smartwatch can track walks, bike rides, and some gym workouts automatically.
Conversely, The Apple Watch 6 has excellent activity and workout-tracking capabilities. It has several fitness apps, a GPS, music app and also collects crucial health metrics like fall detection. It monitors your activities using the accelerometer and heart rate sensor. Additionally, you can share your exercise goals with friends to challenge them.
Calorie Tracking
Both the Fitbit Charge 5 and Apple Watch 6 help you track the calories burned. The Apple Watch 6 uses heart rate and motion data to show the calorie burned. As you continue using the Apple Watch, it learns your normal activity levels, average heart rate ranges, and habits, thus giving more accurate calorie counts.
Fitbit Charge 5 estimates your calories burned using your BMR. Fitbit calorie tracking starts at midnight and includes the calories burned while sleeping. Additionally, you can key in your fitness activities manually to ensure that those activities are captured.
Sleep Tracking
The Fitbit Charge 5 estimates sleep stages using heart rate and movement patterns. When sleeping, your smartwatch tracks the changes in your heart rate, known as heart rate viability (HRV). The quality of sleep is categorized into light, REM, and deep sleep.
The Apple Watch Series 6 has all the necessary hardware to track your sleep patterns. The best thing about the smartwatch is that you can manually track your sleep or set the sleep auto-detection.
Heart rate monitoring
Both the Fitbit Charge 5 and Apple Watch 6 measure your heart rate to detect your heart rate during the entire workout session. The Fitbit Charge 5 monitors your heart rate 24/7, monitors irregular heart rhythms and notifies you of potential illnesses.
On the other hand, the Apple Watch 6 can detect an extended heart rate when not exercising. The heart rate monitor can display your resting, current, and walking heart rates and allow you to compare them.
Fitbit App versus IOS Health Apps
Fitbit app provides a personalized experience to give you a deeper understanding of your fitness progress and stats while providing insights to help you take your fitness goals to the next level. The iOS Health app gathers information from your Apple Watch 6 and other third-party apps to quantify data about your fitness activities and display it in a secure, easy-to-read, and accurate dashboard.
Water-resistance/Waterproof
Both the Fitbit Charge 5 and Apple Watch 6 are waterproof for up to 50 meters. This means they can withstand shallow-water activities like bathing and swimming.
Integrations/Compatibilities
The Fitbit Charge 5 comes with its own dedicated Fitbit app, which allows you to track your fitness and health trends and metrics over time. The Apple Watch 6 comes with the latest WearOS, which requires an iPhone 6s or later with iOS or later.
Fitbit Charge 5 vs Apple Watch 6: Battery
The Fitbit Charge 5 comes with up to 7 days of battery life, but this can reduce if you have the screen on always-on mode. However, the Apple Watch 6 has up to 18 hours of battery life but promises a fast charging time.
Cost/Pricing
The Fitbit Charge 5 costs $179.99. The high cost is associated with the new health-monitoring features and design improvements. The Apple Watch 6 costs $399.99 for the 40mm version, and the 44mm model costs $429.99. It also comes in LTE-ready models, costing $499 and $529 for the 40mm and 44mm, respectively.
Apple Watch vs Fitbit Charge 5: FAQs
Is Fitbit Better than Apple Watch?
Fitbit is a great option for your budget and advanced health tracking than Apple Watch. On the other hand, Apple Watch 6 is available in three models and has key features like GPS. If you're an Android user, there's no doubt Fitbit is better for you. However, regardless of your choice, the smartwatch you choose should have all the features you need.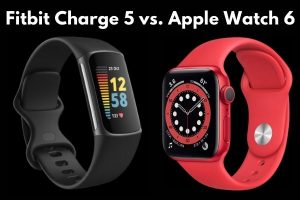 Apple Watch Series 6 vs Fitbit Charge 5: Final Thoughts
Ultimately, the smartwatch you choose depends on your personal preferences. The Fitbit Charge 5 and Apple Watch 6 are high-quality fitness trackers, but if you want an affordable device, go for the Fitbit Charge 5.