Watches have greatly evolved from simply being able to update us on time to more complex devices. The rise in wearable technology has given smartwatches several functions that help us keep track of our busy lifestyles.
Most people confuse smartwatches and fitness trackers, but they have some differences. In this article, you'll find everything you need to know about smartwatches and the features that differentiate them from regular watches.
What is a Smartwatch?
A smartwatch is a wearable computer designed in the form of a wristwatch providing extra features apart from timekeeping. These include connecting with your smartphone to show your incoming messages and calls and apps with additional features like maps for directions and weather updates.
Smartwatches can be connected to your smartphone to display some features from your phone without accessing the phone. Additionally, smartwatches come with various sensors for health and fitness tracking, heart rate monitoring, GPS, and step counting.
Features at a glance
| Health Features | Fitness Features | Smart Features |
| --- | --- | --- |
| Activity tracker | Reminders to Move | Call, Text & App Notifications |
| Sleep tracker | On-Screen Workouts | Do Not Disturb Mode |
| Sleep score monitors | Floors Climbed Tracker | Music streaming |
| Menstrual Health Tracking | Steps Taken Tracker | Store & Play Music |
| Stress Management Score | Exercise Modes | Reminders |
| 24/7 Heart Rate Tracking | Activity tracking | GPS |
| Heart Rate Variability | | Alarm |
| Heart rate monitors | | Clock |
| Pedometers | | |
| Blood pressure monitors | | |
What Does a Smartwatch Do?
Most smartwatches, whether designed for specific purposes or daily use, offer more functions than regular watches. Here are some of the benefits of using a smartphone:
Fitness and Health
Smartwatches are great tools for tracking your health and fitness. These devices have life-enhancing features that monitor your activities all day long. For instance, they are equipped with heart rate monitors that keep your heartbeat rate in check during exercises. Additionally, they have sleep monitors that track the quantity and quality of sleep that a person gets.
Play Music
You can enjoy your favorite tunes with your smartwatch with or without your smartphone. To play music, users connect their phones and select music from the phone's music catalog. Some advanced smartwatches have a feature that allows you to play music without connecting to your phone. With a WIFI or cellular connection, you can easily download your favorite music and play it on the smartwatch even when the phone is inaccessible.
Make and Receive Calls
When you connect your smartwatch to your phone, you can make and receive calls on your phone. Some models are equipped with a SIM card port that allows you to make calls without picking up your phone.
Navigation
Using your phone to check directions can be tedious and dangerous, especially when driving or cycling. Thankfully, smartwatches have eliminated this problem since they deliver the directions you need right on your wrist. Some models produce different vibrations that show you whether to turn left or right.
Notifications
With a smartwatch, you can access all phone notifications from your wrist. Email notifications, app notifications, social media notifications, and message notifications can be accessed once you connect the smartwatch to your phone. This will help you stay updated with a turn of the wrist.
Fall Detection and Emergency Call
Most smartwatches nowadays have a feature that can detect falls. When the sensor detects a fall, it immediately turns on the alarm to alert the user. If the user doesn't respond to the fall, the smartwatch automatically makes an emergency call to seek help. This feature is an excellent addition for seniors who are more prone to falls.
Is a Smartwatch Right For You?
There are several benefits attached to owning a smartwatch but with every positive comes a negative. However, the positives outweigh the negatives. First, a smartwatch gives a wide range of fitness-tracking software that helps you achieve your fitness goals and maintain a healthy lifestyle.
Second, these devices fit in with the latest trends and enhance your appearance. Smartwatches blend well with jewelry or traditional accessories, which helps you to stay fashionable. Additionally, most smartwatches can be used in the shower and when swimming and won't be spoiled by water.
However, most smartwatches have a high price tag if you want one with all the advanced features. Also, since they have several features installed, most of them will get you through the day or night but will need to be charged frequently.
Despite the few drawbacks, smartwatches are more worth it than ever. Although some models like Garmin, Apple, or Samsung are expensive, their value can be seen. Additionally, you can find quality smartwatches that provide reliable data at an affordable price.
Important Smartwatch Features and Their Benefits
Although various smartwatch models come with different designs and features, some features and functionalities are similar. Here are some common smartwatch features and their benefits.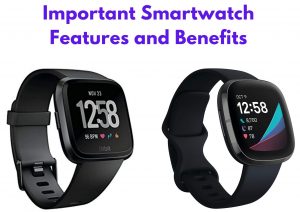 Applications: The best thing about smartwatches is that they support different apps. These smartwatch apps make your everyday life easy. With some Android smartwatches, you'll have access to apps like Shazam, Lifesum, and IFTTT. With the Apple smartwatch, you'll get apps like CARROT Fit, Camera Plus, Evernote, Citymaper, and Calcbot.
Notifications: Smartwatches have features that allow you to receive important notifications as you do on your smartphone. This is one of the most crucial features of a smartwatch since it keeps you up-to-date with your day-to-day life.
GPS: Most smartwatches are equipped with a GPS for receiving location-specific notifications and tracking your location. With this feature, you don't have to keep your eyes glued to the map on your phone.
Health and Fitness Features: These devices come with several health and fitness features perfect for fitness enthusiasts and health-conscious guys. Some features include heart rate monitors, fall detection, sleep trackers, and workout tracking.
Conclusion
Smartwatches are great devices that can help you to lead an active lifestyle. However, there are several smartwatch models available out there, so it can be hard to choose the best one for you. I hope this guide will help you choose the right smartwatch that will suit your health and fitness needs.