The Apple Watch fall detection was introduced as part of Apple's commitment to your health and well-being. When you enable fall detection on your Apple Watch, it detects a hard fall, and if you stay immobile for about a minute, it will contact emergency services automatically.
If you've set your age on your Apple Watch, and you're of the age 55 years and above, this feature is turned on by default. But if you're below 55 years old, you can turn on the fall detection feature manually.
Here's how to make the most out of this life-saving feature.
Table of Contents
What is Apple Watch Fall Detection?
Apple Watch fall detection is a feature designed to detect when you have a hard fall. If you're immobile for longer than a minute, the device will notify your emergency contacts and emergency services. It will provide crucial information like your location data so that emergency contacts can trace you easily.
How Does Apple Watch Fall Detection Work?
The latest versions of the Apple watch are equipped with an advanced sensor that can tap on your wrist in case of a hard fall, trigger an alarm, and display an alert.
The system waits for a minute for you to respond; if you remain immobile, the iWatch initiates a 30-second countdown. The Apple Watch will also tap you on the wrist and turn on the alert, which grows louder. The loud sound from the alert should attract the attention of people in the neighborhood. You can cancel this action.
After the countdown and no response from you, the system automatically calls your emergency contact. Once connected to the emergency number, it plays an audio recording to inform the emergency service that the system has detected a hard fall. It shows the provider the location of the wearer in latitude and longitude coordinates.
The recording is played in a loop. At first, it plays at full volume and then at reduced volume in succeeding cycles. This will help those within the area to talk to the emergency responder. The person can opt to stop the audio recording.
It's also essential to keep the Wrist Detection Feature turned on to call the emergency providers automatically. To turn on the Wrist Detection Feature, go to the settings menu on your watch and tap the passcode.
How to Set Up Fall Detection on an Apple Watch
Activating fall detection on your Apple watch may be more effective than having it on your phone. Here are some easy steps on how to set up fall detection on your Apple watch.
Tap on Settings on your Apple watch.
Click SOS.
Tap Fall Detection.
Enable the Fall Detection toggle.
Click Confirm.
Click Medical ID. Check the contact information to ensure you've synced your Apple watch and phone successfully.
Your watch will show an alarm symbol if you have a fall. You can easily drag an Emergency SOS slider across the screen to call emergency services automatically. You can end the call using your phone or Apple watch. If you don't need help, immediately select the End Call button and press Yes on the End Call screen.
How to Turn Fall Detection On and Off
You can easily turn on and off the fall detection features on your Apple watch. Open the app on your phone and tap the My Watch tab. Choose the Emergency SOS and slide the button left or right to turn on or off this feature.
Don't Forget to Set Up Your Medical ID
Enabling Fall Detection is not enough; you need to ensure that your medical ID is updated if you want your smartwatch to alert your emergency number in case of a hard fall. Here's how to do this:
Open the Settings app on your phone.
Tap Health.
Click Edit in the top-right corner.
Go to the Emergency contacts.
Click the green + icon and choose your emergency contact
Tap Done.
List of Apple Watches with Fall Detection
Fall detection is available on the Apple Watch models: Series 4, Series 5, SE, Series 6, Series 7, Series 8, SE 2, Ultra and Series 9. The older Apple Watch generations didn't come with this life-saving feature.
FAQs
Does Apple Watch Fall Detection Work without Cellular?
If your watch has no cellular, fall detection will contact emergency services using the phone you have paired with, but it must be nearby. However, it won't contact emergency services if it's not connected to a network.
Does Apple Watch Record Falls?
Apple's Health app keeps a record of all falls. But if the wearer responds that they did not fall, the incident will not be recorded.
Parting Shot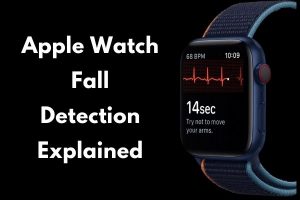 The Apple Watch Fall Detection feature stands as a remarkable testament to the intersection of cutting-edge technology and genuine concern for user safety.
By seamlessly integrating advanced sensors and intelligent algorithms, Apple has not only transformed the smartwatch into a sophisticated health companion but also redefined the standard of care in the wearable tech industry.
Its ability to accurately detect falls and initiate emergency protocols underscores the potential of wearable devices in preserving lives and ensuring swift medical attention when it matters the most.
As we move forward, it is evident that innovations like Apple Watch Fall Detection will continue to shape the future of healthcare, providing users with not just convenience, but also an invaluable sense of security in their daily lives.