Are you in the market for a smart ring to track your fitness, sleep, and overall health but don't want to go with the Oura Ring? The good news is that there are several Oura Ring alternatives offering similar or even better features at a relatively lower price.
From the GO2SLEEP Ring to the Motiv Ring, there are plenty of options to choose from depending on your needs and preferences.
If you're looking for Oura Ring alternatives that have it all in terms of design, smart technology, and advanced fitness and health monitoring, I've got you covered. Here are some of the best Oura Ring alternatives you can buy right now.
Among the top alternatives to the Oura Ring are the Motiv Ring, the THIM Smart Ring, the GO2SLEEP Ring, the Prevention Circul+, the Circular Smart Ring, and the Movano Evie Ring. With these diverse alternatives, you have a range of options to choose from based on your specific needs and preferences. NB: Some of these are better than Oura ring.
| Device | Features | Sleep Tracking | Heart Rate Monitoring | Activity Tracking | Design | Compatibility |
| --- | --- | --- | --- | --- | --- | --- |
| Oura Ring | Comprehensive health tracking | Yes | Yes | Yes | Sleek and stylish | iOS and Android |
| Motiv Ring | Sleek design, activity & sleep tracking | Yes | Yes | Yes | Stylish and subtle | iOS and Android |
| THIM Smart Ring | Focus on sleep optimization | Yes | Yes | Limited | Minimalist | iOS and Android |
| GO2SLEEP Ring | Specialized in sleep tracking | Yes | Limited | No | Compact and light | iOS and Android |
| Biostrap Wristband | In-depth sleep analysis, recovery metrics | Yes | Yes | Yes | Discreet and flexible | iOS and Android |
What is Oura Ring?
Oura Ring is a titanium ring that comes with various built-in electronics and sensors that can track the wearer's temperature, sleep patterns, heart and respiratory rates, and more. Although it functions like any other fitness tracker, it takes the form of a ring and has no display.
Key Oura Ring Features
The Oura ring is made of durable titanium and comes in two styles and five colors, including black, silver, stealth, rose gold, and gold. It weighs between 4 to 6 grams and measures 0.31 inches.
It is waterproof up to 100 meters, so you can swim, bathe, and wash dishes with it on. The Oura Ring comes in 8 different sizes and can fit on any finger, but the ring and index finger are more convenient.
It's equipped with tons of sensors, including a gyroscope, infrared LED sensors, a 3D accelerometer, and an NTC body temperature sensor. What's more, it comes with a charger to keep it powered at all times.
Related: Does the Oura Ring Monitor High Blood Pressure?
Why Look for Oura Ring Alternatives?
The following are some of the reasons why one would want to look for an Oura Ring alternative:
Cost
The Oura ring is an expensive option, with prices ranging from $299 to $999 (plus a monthly subscription of $6). This price point may be too high for some people. If you are looking for a more affordable option, check out the alternatives in this post.
Features
The Oura ring is primarily focused on three main things tracking sleep, readiness, and activity. While it does offer some additional features, such as 24/7 heart rate monitoring and body temperature tracking, it may not have all the features you are looking for in a wearable device. If you want a device that can do more than just track sleep and activity, you may want to explore other options.
Personal reasons
You might have your personal reasons for not wanting to go with an Oura Ring. Maybe you hate products owned by Google for personal reasons.
Related: Best Sleep-Tracking Rings
What are the Best Oura Ring Alternatives?
Motiv ring is one of the few established and mature smart rings in the market. It combines fitness, wellness, and online security functionalities in one smart ring. This smart ring is an activity and fitness tracker for all your daily activities, including your daily active minutes, resting heart rate, distance traveled, number of steps taken, calories burned, among other daily activities.
Related: Oura vs Motiv Ring
The Oura Ring cheaper alternative comes with a Motiv app that's available for both iOS and Android devices. The Motiv Ring sports a scratch-resistant titanium body and comes in different colors, including silver, black, and rose gold. It's water-resistant up to 50 meters, and each electronic part is covered with medical-grade plastic for maximum protection.
Features
Accelerometer sensor
Titanium body
Scratch-resistant coating
Pros
Lightweight and comfortable
Automatic sleep tracking
Waterproof
Quick charging
Cons
It lacks bells and whistles like the reminder to move alerts
If you're looking for an effective sleep tracker that improves the quality of your sleep using the same technology used by sleep clinics globally, this is a great option. The THIM Smart Ring uses unique sleep-tracking algorithms to track time to fall asleep, REM sleep cycles, and nocturnal movements. It connects to your smartphone via Bluetooth Low Energy tech to transfer the sleep data to the smartphone app.
The Oura alternative comes with a power napping setting that allows you to recharge quickly during the day; this comes in handy for anyone who has a small window of time to rest but wants to make the most of it.
This sleep tracker is more affordable than competing rings on the market. Additionally, it has a rechargeable Li-ion polymer battery that can keep charge for up to five days.
Features
Premium polycarbonate housing
Bluetooth connectivity
Interchangeable silicone bands
Pros
Well priced gadget
Efficient sleep tracking
Gentle vibration
Cons
No respiratory tracking
No heart rate monitor
The GO2SLEEP Ring is specially designed to provide detailed information on sleep quality and help control sleep apnea. It has the SLEEPON mobile app that you can use to monitor your sleep quality, including blood-oxygen level, heart rate, toss and turn, Apnea-Hypopnea Index, and sleep depth.
In addition, the alternative to Oura Ring is made of food-grade silicone that's soft and comfortable to wear. Since it's very light and comfortable to wear, the GO2SLEEP is a ring to consider.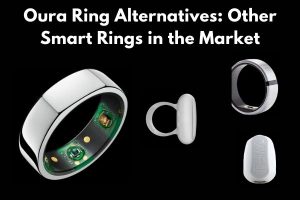 Features
Pros
Lightweight and comfortable
Slightly waterproof
Real-time monitoring or HR and SpO2
Affordable
Cons
The app only works when the Bluetooth is on
Related: Fitbit Charge 5 vs. Oura Ring
FAQs
Which is Better Motiv vs. Oura?
Both Oura Ring and Motiv Ring
are amazing fitness rings, and one isn't superior to the other in all aspects. Choosing the best smart ring should not depend on which one is better, but you should first consider yourself and your needs.
However, if you're looking for a budget-friendly and allows you to track daily activities 24/7, Motiv Ring is a great option. But if you need a dedicated sleep-tracking smart ring and have a big budget, go for the Oura Ring.
Can the Oura Ring work without a subscription?
Yes,
the Oura Ring can work without a membership
. You still get daily sleep, activity and readiness scores even without a subscription. However, if you want to get the most out of your fitness ring, you need to pay for the monthly membership.
Related: How To Find Your Lost Oura Ring
Parting Shot
Wearable rings are the latest health-tracking devices to help you achieve your goals and get rest when needed.
Always go for a smart ring that fits your aesthetic style, budget, comfort and offers the right level of data security.
I hope the alternatives to Oura Ring have helped you settle for a smart ring that fits your lifestyle…