With this Fitbit Vs Whoop 4.0 post, I unpack the key differences between Whoop and Fit, some of the leading brands in the fitness tracker world.
If you're looking for a general fitness tracker, Fitbit is probably your best bet. It monitors your heart rate, steps taken and calories burned throughout the day and can even track your sleep patterns. Plus, there are a ton of different models to choose from so you can find one that fits your budget and style.
However, if you're looking for something more specialized – like tracking recovery after exercise or monitoring stress levels – then Whoop may be better suited for you. It has sensors that track heart rate variability (a measure of how relaxed or stressed out you are), ambient temperature and motion data to give you an accurate picture of how well your body is recovering after workouts.
Table of Contents
At a glance
Functionality
Whoop 4.0
Fitbit Charge 5
Water Resistance
Up to 10m
Up to 50m
Clock/Display
✘
✓
Activity tracking
✓
✓
Sleep tracking
✓
✓
Calorie tracking
✓
✓
Blood oxygen
✓
✓
Strain tracking
✓
✘
Battery Life
4 – 5 days
Up to 4 days
Spotify support
✘
✓
Charging on-the-go
✓
✘
Heart rate tracking
✓
✓
Contactless Payments
N/A
Fitbit Pay,
Google Pay
Membership cost
$18-30/mo
$7-10/mo
Heart rate broadcasting
✓
✘
Price
View
View
How Do Fitness Bands Work?
Fitness bands work in conjunction with a corresponding app on your smartphone (Android or iOS) to receive and send data via Bluetooth.
Using motion detectors and heart rate sensors, these gadgets track your physical activity and physiological signs while sitting comfortably on your wrist.
With these fitness bands, you don't have to worry about water or sweat damage since most fitness trackers are water-resistant up to 50 meters.
The fitness app uses the data to help you set sleep goals, personalized health goals, and fitness goals. You can use the data to keep a food journal or lower your heart rate. Count your steps to ensure you've attained your daily dose of exercise.
Fitness trackers are a perfect way to improve your general well-being and understand your own habits.
Related: Garmin vs Whoop
Whoop vs. Fitbit: What Sets Them Apart?
Trying to determine the fitness band that will suit your needs can be challenging.
The main difference between the two is that Whoop is focused on health and Fitbit is focused on fitness.
The other difference between Fitbit and Whoop is the amount of data collection. The Whoop band is constantly monitoring your heart rate and is said to be collecting all kinds of data that has not been fully realized. For example, there is a new metric being developed called Recovery Time which will not only track how long you are in recovery but will also track how well you are recovering, which has a direct correlation to improving your fitness.
Both devices have a lot to offer, so here are some of the other aspects that set Whoop and Fitbit apart.
Appearance, Design, and Comfort
Whoop and Fitbit are fitness brands that promise to help you achieve your fitness and health goals. Although both are lightweight and comfortable, the Whoop has an option to wear the Strap 3.0 around the arm through a sleeve.
Since they're designed for guys who want to track their fitness activities, the Whoop and Fitbit have lightweight, slim, and unobtrusive straps. The main difference is that Fitbit trackers have a display and button with haptic feedback, while Whoop depends entirely on your smartphone to manage data.
In terms of versatility, Fitbit wins. Both fitness trackers are perfect for swimming, but the Fitbit bands dry faster than the Whoop bands. The main reason why most fitness enthusiasts go for Whoop is the option to use it with a sleeve. This helps you to monitor heart rate and gather data when doing contact sports.
Related: Apple Watch vs Whoop Band
Sleep Tracking
Both Whoop and Fitbit can track sleep performance, but they have different insights and features. Fitbit comes with one of the best app interfaces for wellness and health tracking and high-quality sleep technology. It measures the levels of your sleep- light sleep, REM, and deep sleep. It produces your sleep score using your resting heart rate and sleeping heart rate.
On the other hand, Whoop's sleep data offers insights into your Recovery Score. This score is based on resting heart rate (RHR), heart rate variability (HRV), and sleep quality. The Recovery Score shows if your body is prepared for training.
Heart Rate Monitoring
Heart rate monitoring is one of the reasons why fitness enthusiasts invest in a tracker. Both Whoop and Fitbit are relatively accurate in heart rate monitoring. However, Whoop may be inaccurate sometimes, especially during frequent hand movements. This can be rectified by a strap that fits snugly and by maintaining close contact with your skin.
The Fitbit lacks a Heart Rate Variable that measures the average intervals between heartbeats. The Whoop offers top-notch HRV and interprets the data to give you optimal performance and health.
Whoop vs Fitbit Charge 5: Compatibility 
Both Whoop and Fitbit are compatible with Android and iOS devices with Bluetooth connectivity. Fitbit also connects with other Windows devices.
Fitbit vs Whoop: Battery Life
The Fitbit has a longer battery life than the Whoop. To track your heart rate and sleeping patterns, you need to put on the gadget during sleep. This is made possible by the long-lasting battery life of Whoop and Fitbit. The Whoop's battery can last for 5 days, while Fitbit can last for up to 7 days.
Whoop vs Fitbit: Cost/Pricing
The Whoop Strap is with a monthly membership subscription of $30. This can cost more if you pay a membership fee. However, the membership has several advantages on the platform and inside the app. You can easily connect with other members and get crucial information about performance and recovery.
Conversely, Fitbit has a one-time price and is a great fitness tracker. However, Whoop is more sophisticated in evaluating your daily performance than Fitbit.
Key Whoop Features
WHOOP is one of those brands that have been around for a while but are still relatively new to the fitness tracker scene. The company came into being back in 2012.
Whoop is better because it's a holistic experience so you are able to track as well as monitor your performance, recovery, sleep, and activities. Whoop also offers the best technology when it comes to fitness recovery trackers.
The following are some of the key features of the Whoop:
Multi-sport tracking
Sleep and strain coach
Non-stop heart rate monitoring
Tracks calories burned
Weekly performance assessments
Heart Rate Variability Monitoring
Key Fitbit Features
Are you looking for a reliable gadget to track biometrics, performance, and workout recovery? Fitbit is one of those fitness/activity tracking brands that have a huge market share.
The following are some of the key features of the Fitbit:
Goal-based exercises
24/7 heart rate monitoring
Built-in GPS tracking
Multi-day battery life
Smartphone notifications
Multi-day battery life
FAQs
Is there anything better than Fitbit?
Whoop is a great alternative to Fitbit. You'll enjoy all Fitbit features, with an emphasis on recovery and workout data, and performance. With Whoop, you get a quality wearable with tons of data on your recovery, sleep cycle, daily strain, and training information.
Can You Use Fitbit Without a Membership?
Can You Use Whoop Without a Membership?
No. You must have a membership and get the device included in the subscription contract price. This device won't collect or upload data without access to the Whoop platform.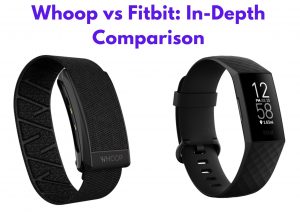 Conclusion
Choosing the best fitness tracker depends on your wellness goals, personal needs, and budget. Whoop and Fitbit are great for different users. Whichever fitness band you choose, ensure it will fulfill all your health and fitness needs.