If you're a fitness enthusiast, it's time to sign up for the Fitbit premium subscription. Fitbit Premium is one of the leading online fitness programs that focus on your health and wellness.
It is an effective way of enjoying various workouts while keeping an eye on your stress and sleep levels.
This post will give detailed information on Fitbit Premium to help you determine if the subscription is worth your hard-earned cash.
What is Fitbit Premium Subscription?
Fitbit Premium is a subscription service that gives you access to fitness classes, features, and health insights related to your workouts, heart, sleep, and overall health.
Related: Best Fitbit for Women
Is It Worth Getting Fitbit Premium?
If you're looking or need the motivation to improve your fitness and health on different levels, then Fitbit Premium is a great way to get started and get a hold of different types of exercise.
If you're a beginner or returning to exercise after a break, you can take advantage of the 90-day free trial and focus on the exercises you enjoy doing.
Fitbit Premium comes with guided programs that are of great quality and are suitable for all fitness levels. However, it doesn't have several on-demand and live classes when compared to the biggest competitors.
Thankfully, Fitbit Premium is cheaper and is ideal for someone operating on a tight budget. Additionally, it's quite easy to cancel Fitbit Premium.
Fitbit Premium: Who Is It For?
Fitbit Premium comes with some fantastic features. First, it has guided programs that are perfect for people who are easily overwhelmed by fitness and health programs or those who need to be pushed along.
Second, it has a library of workouts to help you take your health and fitness to the next level. Additionally, some people find this feature more convenient, motivating, and cheaper than an adult class.
Related: Best Fitbit for Men
What does Fitbit Premium offer?
It comes with amazing features that aren't available in the non-subscription Fitbit app:
Exercises: You'll access several audio and guided video workouts, and you can choose them in levels and select an exercise plan that suits you.
Fitness and Health Stats: You can easily monitor your activities, weight, sleep, and nutrition and monitor your progress in the Fitbit app.
Advance Insights: Access personalized insights like your Wellness Report and Sleep Score breakdown. You'll be guided based on the insights, like how to improve sleep.
Guided Programs: Get well-structured guided programs in various fields such as sleep improvement and proper dieting.
Mindfulness Activities: You'll get several guided audio and soundtracks to motivate you in your workouts, help you sleep, and reduce stress.
Health Metrics Dashboard: Fitbit Premium users access the Health Metrics Dashboard which helps you to track your heart rate viability, resting heart rate, breathing rate, SpO2, and skin temperature variation.
Health Coaching: This service allows you to access professional wellness and health coaches to help you achieve specific goals. This feature is designed for diabetes and weight loss management, with expert answers, guidance, and encouragement. However, this service costs extra on top of the premium subscription.
Games and Challenges: You will be able to participate in challenges and play games with family and friends you are connected to on Fitbit.
How Much Does Fitbit Premium Cost?
Fitbit premium cost US
You'll be charged $9.99 per month, or $80 per year for the Fitbit Premium. Premium is available to all users via in-app purchases. Additionally, Fitbit Premium and Health Coaching are available for people in the US for an extra $45 per month. You can start a 90-day free trial of premium here)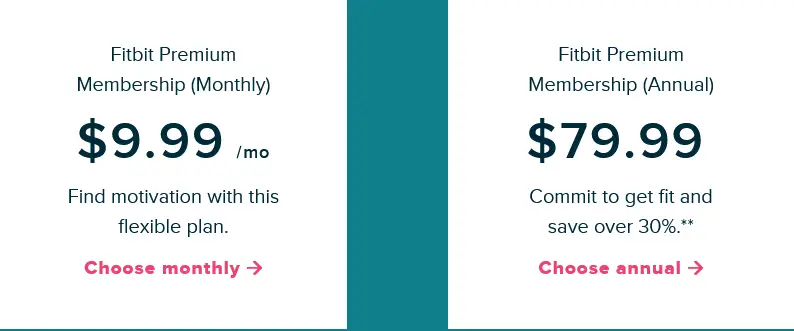 Fitbit premium cost UK
Fitbit Premium in the UK will cost you £7.99 a month and $79.99 annually. With the annual plan, you get to save 30%. (You can start a 90-day free trial of premium here)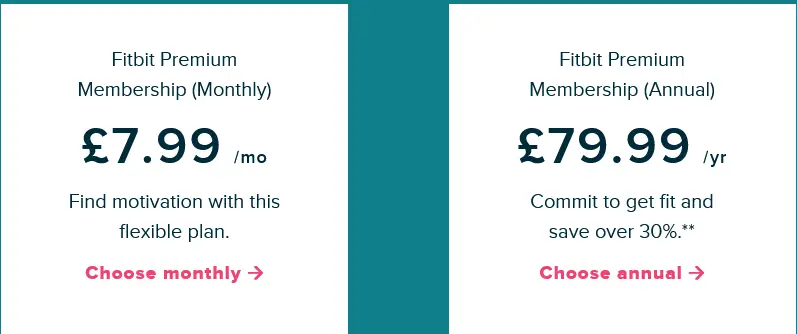 Fitbit premium cost Australia
For Fitbit customers in Australia, you can enjoy Fitbit premium for A$14.99 monthly and A$129.99 annually. Get the annual plan and you'll save 30%. (You can start a 90-day free trial of premium here)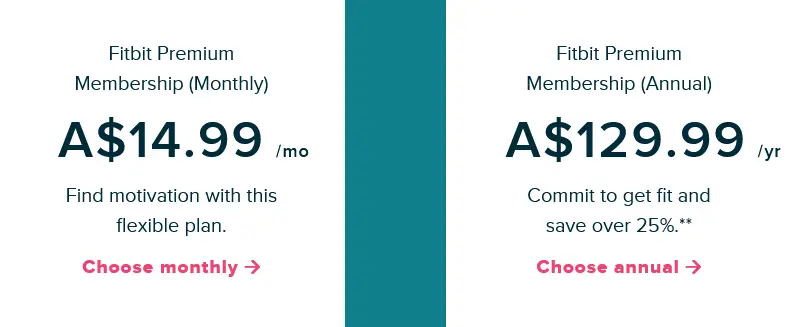 How Do I Start My Free Trial at Fitbit Premium?
Fitbit Premium has a 90-day free trial for new users. To access your free trial, go to your Fitbit app and click the premium tab. However, this trial is available in the English app and the new premium subscribers only.
You can also start your Fitbit Premium free trial by visiting the Fitbit website here: https://www.fitbit.com/global/us/products/services/premium then click on 'Start Free Trial', Log in, or Sign up and you're good to go…
If you don't qualify to get the trial on Fitbit Premium, you can use the free trial of Fitbit Coach, which allows you to access personalized coaching and video workouts. Fitbit Coach comes in Spanish, French, German, English, and Portuguese.
How Do I Cancel Fitbit Premium?
If you're using the Fitbit Premium and want to cancel the monthly subscription fee, you can easily opt out if you wish to take a break.
The procedure to cancel Fitbit premium depends on whether you bought the premium through the Fitbit website or through the Fitbit App…
Purchased on fitbit.com
Go to fitbit.com/home and log in.
Click the account icon, then My Subscriptions.
Click a subscription to expand the details.
Click Cancel then Cancel Subscription then Close.
Your subscription status changes to "Cancelled."
Purchased on Fitbit App
In the Fitbit app, tap the Today tab then your profile photo.
Tap Account Settings then Manage Subscriptions.
Tap on Fitbit Premium subscription then on Cancel Subscription.
However, if you have an annual subscription, you won't be able to cancel once you've completed the transaction. But you can cancel it before your yearly subscription is renewed.
Can you use Fitbit without premium?
Yes, you can use your Fitbit fitness tracker without premium but a subscription to the premium comes with benefits like the ability to save your fitness records, connect with other users and challenge them to join in on group fitness classes.
Does Fitbit Offer Discounts on Fitbit Premium?
Yes, you can get a discounted price on Fitbit Premium when you use a coupon code. The following are some Fitbit premium discount codes you can use
| | |
| --- | --- |
| FREE 90-day trial of Fitbit Premium | Get Deal |
| Fitbit Premium for $79.99 per year (30% off) | Get Deal |
| Free 6-month Premium trial (with Purchase of New Luxe tracker for $150) | Get Deal |
| 3-month Premium for free (with the Special Edition Versa 2 smartwatch) | Get Deal |
| Free 3-month Premium subscription (with the Special Edition Charge 4) | Get Deal |
| Free 6-month Premium membership (with the new Fitbit Sense) | Get Deal |
| Free 14-day trial for Fitbit Premium + Health Coaching Membership | Get Deal |
Fitbit Premium vs Fitbit Coach
Is Fitbit Premium the same as Fitbit Coach? No, Fitbit Coach is a subscription coaching service that lets you stream personalized video workouts on your phone or computer, or launch a workout anytime right on your wrist, with Fitbit Coach. Fitbit Coach was launched in early 2018.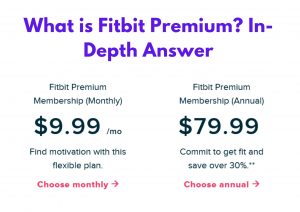 Fitbit Premium, on the other hand, offers much more than video workouts. The subscription service that was launched in September 2019 offers all you could get in Fitbit Coach plus others like guided programs, personalized insights, advanced sleep features, dynamic workouts, and games and challenges.
All the Fitbit Coach workout content can be accessed through Fitbit Premium and Fitbit is set to shut down Fitbit Coach on July 30, 2021.
Conclusion: Is Fitbit Premium Good for Me?
If you're looking for a reliable service that helps you achieve your fitness and health goals through personalized coaching and guidance, the Fitbit premium is for you. This premium service will help you get the best out of your fitness plan if you're ready to commit to a subscription.