It doesn't matter whether you're a soccer mom, a women's health coach, a running guru, or a fitness wannabe, Fitbit has the best Fitbit for women designed just for you.
We could argue that there are other top brands on the fitness wearable bandwagon. But Fitbit remains the real be all end all staple fitness product for many ladies.
These fitness and activity trackers come in different shapes, prices, and sizes.
Some are waterproof. Some are not good enough for the pool. Some have heart rate monitors. Others track your fitness activities, and most importantly others tell you where you are in your menstrual cycle.
In plain English, the best fitness tracker for women can do just about anything within the fitness circumference.
Table of Contents
Best Fitbit for Ladies Reviews 2023
The goal of this guide is to review fitness trackers for women by Fitbit to help you choose a pedometer for daily use – a Fitbit perfect for female health tracking.
Whether you are on a budget or looking for a high-ticket fitness tracker by Fitbit, this guide is for you.
Fitbit Ionic Smartwatch
Pebble is gone, for good. The Ionic took its place after Fitbit acquired Pebble in late 2016.
With tons of bells and whistles, from killer battery life to a bright display, Fitbit Ionic is the truest smartwatch the company has ever designed in its history.
Forget about the Blaze, perhaps forever.
Click Here to View Price and Customer Reviews on Amazon.com
Fitbit Pay
Ionic hits the jackpot really well with Fitbit Pay, a new integrated technology that lets ladies make contactless payments on the go.
Fitbit Pay is not universal though; it's effective only where NFC transactions are accepted.
The payment technology is designed with security in mind. This means you'll have to create a four-digit password, which you will use to verify every transaction.
Somewhat Flawed Music Player
While Fitbit Ionic for women lets you play music from the 4GB onboard music storage via the Pandora app and/or from your personal computer, the music system itself is a pain in the butt to set up.
Again, Fitbit seems to have hit its head against a brick with Pandora app music synchronization, as the app takes almost an eternity to synchronize. Despite the flaws, the Pandora music app works perfectly.
The Fitbit is water-resistant 🙂
Related: Best Fitbit for Kids
Fitbit Blaze for Women – The Special Edition
The Blaze doesn't come any close to Apple Watch yet.
But it has tons of fitness tracking features, including multiple strap options, reliable exercise tracking (multiple goal-based exercise modes), and decent battery life (up to 5 days of battery life).
And, it is $150 cheaper than Apple Watch.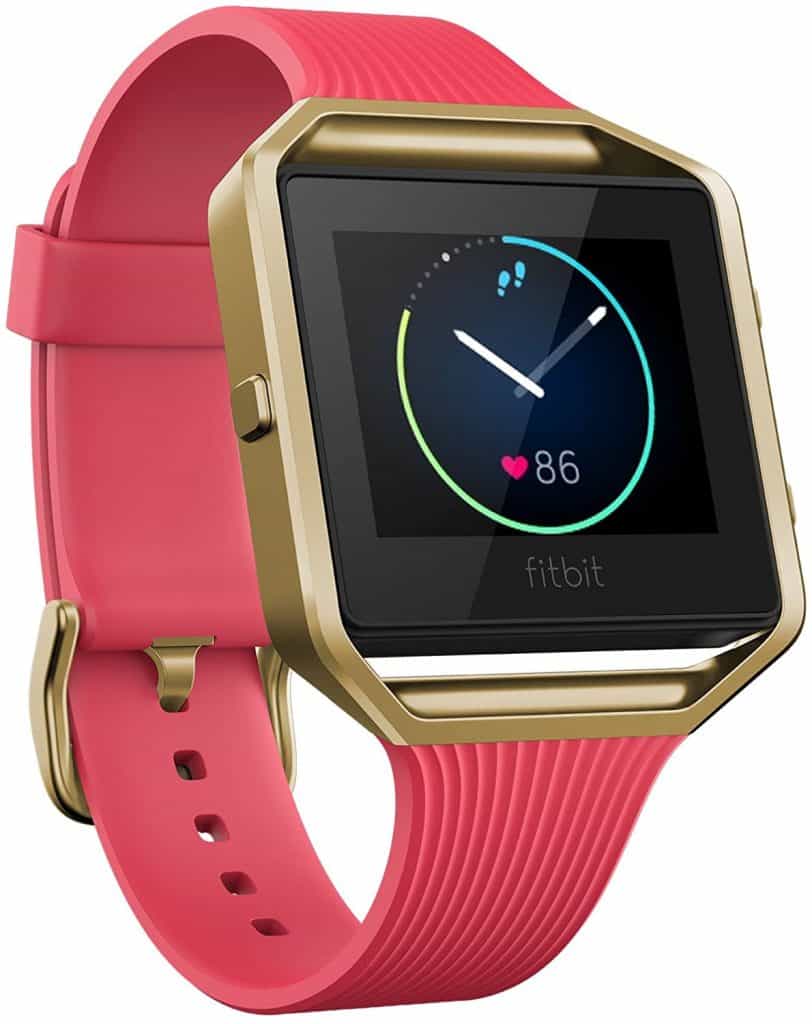 Click Here to View Price and Customer Reviews on Amazon.com
The Blaze is probably a good choice for ladies who are on a budget, and therefore a preferable alternative to the Ionic smartwatch.
Forget the GPS
Although the Blaze has repeatedly been dubbed a fitness tracker for gym and running, the Special Edition does not support built-in GPS.
This Fitbit hasn't had the feature for years, but it is still a good fitness tracker for women anyway.
A Good Fit for Runners
Fitbit Blaze is a good option for women who love to run. But even if you are the kind of woman who only jogs or walks a lot in the morning as part of a workout routine, this should work quite well for you.
Blaze will track total distance, average pace, an estimate of calories burned, and steps taken.
And it has smartphone notifications. 🙂
Great for all-day activities and sleep tracking.
No internal music storage 🙁
Related: Best Fitbit for Men
Fitbit Charge 2 Heart Rate + Fitness Wristband
From guided breathing and personalized fitness score to an all-day activity tracker and notification system, Fitbit Charge 2 for women has the bells and whistles that any woman wants in a fitness tracker.
Up to 5 days of battery life.
With a large, clear display, you won't strain to check your workout metrics, even in sunlight.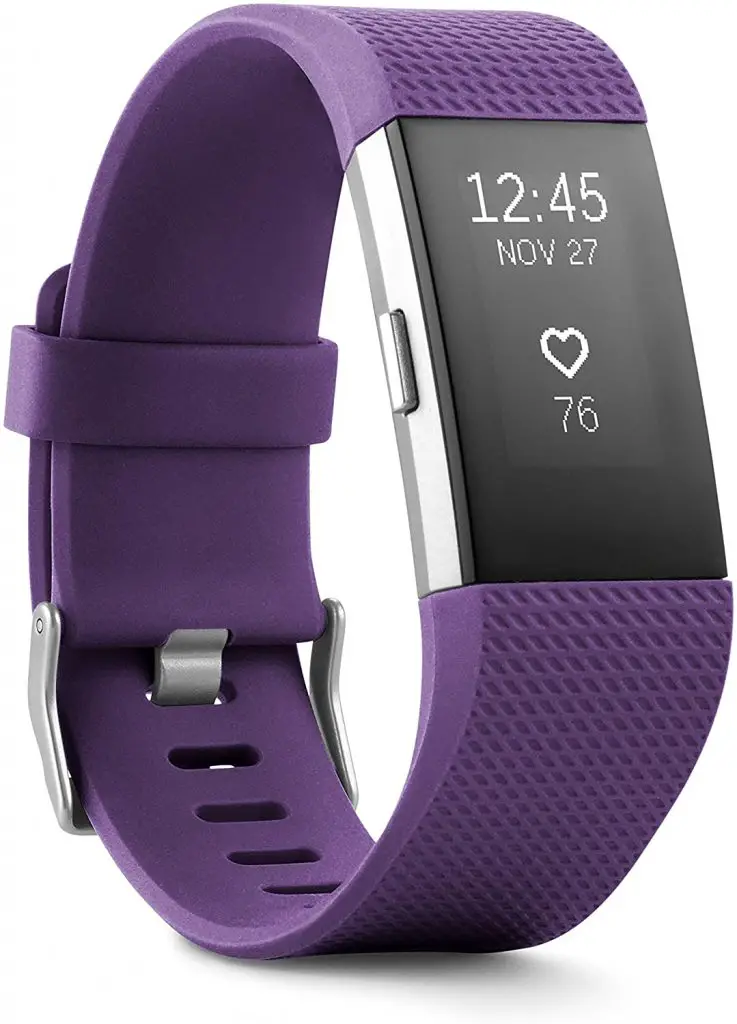 Click Here to View Price and Customer Reviews on Amazon.com
Target Audience
For gym addicts and ladies who love running, Fitbit Charge 2 with a heart rate monitor is quite a big deal.
And, if you are a yoga type of girl, especially the kind that loves to meditate, this fitness and activity tracker makes a perfect choice, thanks to guided breathing.
Further, this fitness tracker is great for women who take sleep monitoring seriously.
Reminder to Move
Women aren't always perfect when keeping up with their fitness routine. It is because of this that the Reminder to Move remains an outstanding feature of FitBit Charge 2.
The tracker is set to monitor still moments. Then, when a certain time elapses while you are still, it sends you a signal that it's time to get your body in motion – and burn some calories.
Related: Best Fitbit Alternatives
Fitbit Surge for Women
Fitbit Surge is for women who are looking for a good super fitness watch for all-day activity tracking. With an always-on display, a built-in heart rate monitor (perfect heart rate tracking), and GPS tracking, this device can help you keep tabs on just about everything fitness.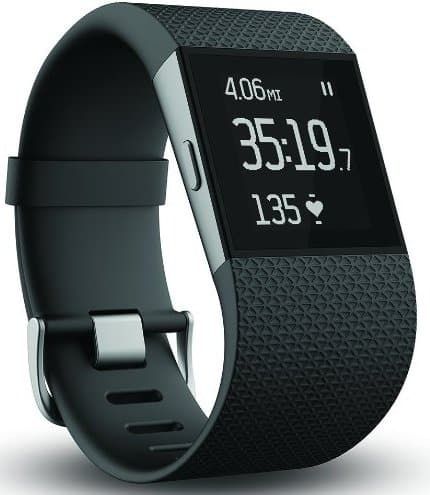 Click Here to View Price and Customer Reviews on Amazon.com
It even has a food database, which is both robust and easy to use.
Heart Rate Monitoring
The pulse rate monitor is always on. So, the Surge will give you a continuous wrist-based heart rate.
Further, this fitness tracker lets you in on the heart rate zone in a more simplified way.
However, heart rate monitoring isn't up to a medical-grade level. Still, expect to get accurate heart rate data from your run.
And it has smartphone notifications.
The Master Step Tracker
Fitbit tracker hits the step tracker out of the ball with Surge Super Fitness Watch. The accuracy of the step tracker is perhaps the one thing that makes the Surge stand out from the crowd.
In fact, this smartwatch can keep tabs on just how frequently and how much you are moving throughout the day.
This fitness watch uses a combination of a 3-axis gyroscope, a digital compass, and a 3-axis accelerometer to track all your movement.
The movements monitored included distance traveled, floors climbed, elevations, as well as active minutes.
Perfect for sleep tracking
Fitbit Charge Wireless Activity Wristband
If you hate bulky fitness watches that add a bit of weight to your wrist, consider making FitBit Charge Wireless Activity Wristband your all-time friend.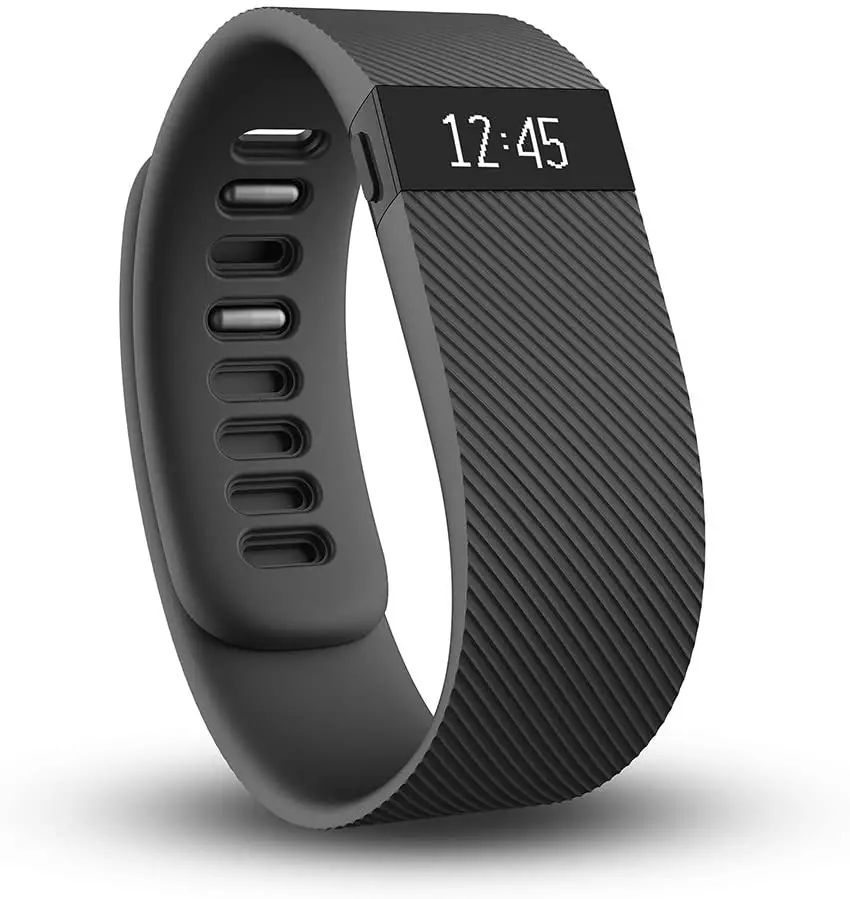 Click Here to View Price and Customer Reviews on Amazon.com
Weighing only 4 ounces, Charge is as lightweight as it can possibly get.
If that doesn't sound good enough, the lithium-polymer battery can last up to 10 days.
And, the tracker is waterproof, hence suitable for women who love swimming.
The Vibrating Alarm
For light sleepers, the Charge's vibrating alarm is a great sleep aid for waking up in the morning when it is time.
This should be good enough to wake you up quickly, without necessarily disturbing your partner's sleep.
In fact, the vibrating alarm is a perfect alternative to your alarm clock Android or iOS app.
Perfect for sleep tracking. 🙂
Not compatible with Amazon Alexa 🙁
Good Battery Life
Fitbit Charge's battery doesn't last long like Garmin or Misfit Shine, but the duration is still quite decent. It is rated to last for seven days before the next charge.
Although I wish it were like Garmin, whose battery lasts for 364 days, the battery life is still standard regardless.
Fitbit Sense Smartwatch
The Fitbit Sense is a fitness tracker that you can use to keep track of your physical activity. But does it really help you become healthier? This is what this detailed review will tell you.
The Fitbit Sense is a good-looking smartwatch, small and elegant, with a design reminiscent of the Pebble Time.
Fitbit is a leader in the fitness tracker market and it's also among the leaders in smartwatches. So you can expect that the Sense has been carefully designed and it's an attractive device.
It comes in three colors: black, blue, and plum.
The Sense fitness tracker features an altimeter, a 3-axis accelerometer, a barometer, an ambient light sensor, and an optical heart rate monitor. It also has a vibration motor and a capacitive sensor.
The tracker can track steps, calories burned, floors climbed, active zone minutes, and sleep.
It can distinguish between running and walking, has a continuous heart rate monitor, and can measure heart rate in the morning and at night.
The Fitbit Sense can also track your sleep automatically (awake, time spent in deep, light, and REM sleep) with the use of an accelerometer, and can also alert you when you are in light sleep.
Fitbit Luxe Fitness Tracker for Ladies
The Fitbit Luxe is yet another great tracker from the manufacturer of the most popular fitness trackers in the world.
The Luxe fitness tracker features a slim yet sturdy case, with a sleek look, an attractive monochrome OLED display, and a premium feel.
It has a small charging dock and a slim wristband, which are both magnetic and snap and unsnap securely.
The tracker is waterproof and can be worn in the shower and even submerged in shallow water without damaging it.
The Fitbit Luxe tracker also displays notifications for calls and messages, as well as the time.
The Fitbit Luxe tracks sleep with highly sensitive sensors and automatically detects and records different types of sleep. It also tracks activity and heart rate during workouts.
All the data is recorded on your phone. The data from your sleep and exercise sessions are synced to the Fitbit app on your smartphone.
Fitbit's app is easy to use, very responsive, and well-designed. The app can also be used to adjust settings on your Fitbit. The app is available for iPhones and Android phones, making it easier to use with your Fitbit.
Related: Fitbit vs Oura Ring 3
FAQ
What is the best Fitbit fitness tracker to buy for a woman?
The best Fitbit for a woman is the Fitbit Charge 2 Heart Rate + Fitness Wristband. It comes in a variety of colors.
It features a personalized Cardio Fitness Score to help you with your fitness goals. (You can get more data from the Fitbit app)
Lets you track all-day activities like steps, distance, calories burned, floors climbed, and active minutes.
Why is Fitbit so expensive?
A Fitbit lets a woman track her heart rate, sleep cycles, fitness goals, and menstrual cycles. It is an all-in-one health tracker which makes it expensive.
It may look expensive but remember you always get what you pay for.
Is Fitbit premium Worth it?
If you're looking or need the motivation to improve your fitness and health on different levels, then Fitbit Premium is a great way to get started and get a hold of different types of exercise.
Is Fitbit a waste of money?
No, Fitbit devices are not a waste of money. To say they are a waste of money is a bit of an overstatement.
Parting Shot
The average Fitbit user is a healthy, fitness-minded woman. She is active and doesn't overeat, which is the primary reason most of us buy Fitbits in the first place.
But, it's also true that a Fitbit isn't going to help you lose weight, build muscle or get in better shape. They're a tool that helps keep you accountable for your fitness goals.