Like other fitness, activity, and sleep trackers, the Oura Ring is powered by a built-in battery. But, for how long does the Oura Ring battery store charge?
In this post, I'll cover everything you need to know about the Oura Ring and its battery.
The Oura Ring is a great novel product. Like other activity and fitness trackers, this ring tracks tons of metrics. An Oura Ring is supposed to be worn on your finger, just like a wedding band or regular ring.
But unlike the wedding band or a traditional band, the Oura Ring is equipped with a battery and sensors that track your health and sends feedback to your smartphone.
But how long does the Oura ring battery life last? Here's what you need to know about the ring and its battery.
Table of Contents
What is Oura Ring?
Oura Ring is an activity and fitness tracker that helps track important metrics like sleep patterns and activity outputs. It takes the form of a thick band-type ring and has an almost perfectly round shape.
This ring comes in four color finishes, made from lightweight titanium. These finishes include black, silver, gold, and stealth.
This fitness tracker is available in 8 different sizes and can be worn on any finger, but the ring and index finger are the most convenient.
Additionally, the ring is equipped with sensors like a gyroscope, infrared LED sensors, a 3D accelerometer, and an NTC body temp sensor.
Does Oura Ring Have a Battery?
Yes, the Oura Ring has a built-in battery and is good for up to seven days of continuous use. And in the next section, I'll look at the ōura battery life.
How Long Does Oura Ring Battery Last?
As with other fitness trackers, the battery performance on the Oura Ring depends on your usage. On average, the Oura Ring battery can last for four to seven days.
Why the huge difference? This is because Oura Ring comes with different features that have different capabilities, like medication tracking and sleep tracking, and some deplete battery life more than others.
For example, if you take naps severally during the day, your Oura Ring will automatically track your sleep, which will impact the battery life. If you don't take naps or meditate during the day, then you'll save your battery life, around 6 to 7 days. This fitness tracker will try to monitor when you are meditating and/or sleeping. This needs CPU power which demands battery power. This will in effect drain your battery faster.
Additionally, the Oura Ring battery will be drained faster than normal when updating the Oura Ring's firmware. Therefore, always charge your device after a firmware update.
Related: Oura Ring vs Fitbit
Can You Replace Oura Ring Battery?
Oura Ring battery replacement is not possible. If your Oura Ring battery is not holding a charge, you can contact Oura support for assistance. They will provide you with a shipping label to send your Oura Ring back to them for a replacement. The replacement is free for the first year.
NB: Trying to replace the Oura Ring battery yourself may void any warranties or guarantees provided by Oura.
Tips on How to Conserve Battery Life
There are some simple ways to conserve the Oura Ring's battery life. The most effective way is to charge your device during the day when you're relaxing. This can be when you're having lunch or sitting at work during the day. Small top-ups during the day will prolong your battery life and ensure all-day monitoring.
Some factors like updating the firmware will consume more power than usual. Ensure that the Oura Ring fits your finger well to give better signal processing between your skin and the Ring's sensors, thus leading to less power consumption. If your device doesn't feel snug enough on your finger, try to switch fingers to find a comfortable fit.
Another way to conserve battery life is by using the Airplane Mode, especially when traveling or without your charger.
Related: Oura vs Motiv Ring
FAQs
Does the Oura Ring Have a Charger?
Each Oura Ring comes with a power cord and charging dock. Additionally, you can buy an additional charger set if the one you have gets faulty or misplaced.
How Long Does Oura Ring Need Charging?
On average, an Oura Ring takes 20-80 minutes to charge fully, depending on your battery level. When the light stops blinking and stays lit, your device is fully charged.
How Do I Know When My Oura Ring Needs Charging?
When your Oura Ring's battery is low, you will receive a low battery notification in the Oura app. To charge your ring, connect the USB cord to the charge and insert the USB into a power source. Then, put the Oura Ring on the charging dock, and a LED light will start pulsing. When fully charged, the light will stop pulsing.
How Much Does the Oura Ring Cost?
Honestly, Oura Ring comes with a big price tag. It takes a lot of expensive techs to equip everything you need into a small pack. There are two different prices depending on the finish you get. The prices of the Oura Ring are:
– $299 for the gen3 Heritage Style
– $349 for the gen3 Horizon Style
Are there any known Oura Ring battery issues?
There are no widely reported or known ōura ring battery life issues. If you're encountering battery problems with your Oura Ring, it's recommended to reach out to Oura support directly for assistance.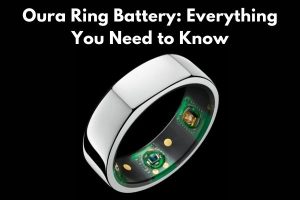 Final Thoughts
If you're looking for a smart ring, there's no better option than the Oura Ring. However, keep in mind that the ring's battery might die after a while. Unfortunately, there's no way to change the battery. So if the device is outside the warranty period, you'll need to order a new one.