Juggling business, work, and personal commitments can be challenging if you don't have a way to manage the madness. Fitbit Agenda app can help you stay organized and select tasks that need to be addressed based on priority.
If your objective is to get the best out of your day and stay on top of your events and tasks, then the Fitbit Agenda app is a great tool. Read on for insights on how to get organized using the Fitbit Agenda app.
What is Fitbit Agenda App?
The Fitbit Agenda helps you get organized and manage your daily schedule. This app helps you to write down, organize, and plan for everything you're to do coming soon. This helps you to free up mental resources and focus on your work.
Related: Best Fitbit for Women
Why You Need the Fitbit Agenda
Enhances Planning
Most obviously, the Fitbit Agenda app will allow you to plan well. With this app, you can easily lay out your plans for each time period. This will help you to stay aligned with the organizational goals.
Reduces Stress
The agenda app lays out everything for you by letting you know what lies ahead and the time period you need. This minimizes ambiguity in your schedule, which reduces anxiety and stress.
Improves Time Management
Juggling events and tasks in your mind makes it challenging to select what to do first. Not to mention it's easy to forget some tasks. Getting a Fitbit Agenda app helps you decide when to do the task or event and how much time you need, thus reducing the risk of burning out or running out of time.
Boosts Productivity
The Fitbit Agenda app helps to get your events and tasks out of your head, thus minimizing their distractive power. Since they're unfinished, the Agenda app reminds you to do them later.
Related: Best Fitbit for Men
How Does Fitbit Agenda Work?
The Fitbit Agenda app shows your agenda at a glance with a maximum of 16 appointments. You will see the date, start time, length, location, and title in every appointment. You can easily change the font colors, size, and switch between expanded or compressed row views. Your app will show you the date and current time, so you can keep it open instead of your current watchface.
Alternatively, you can use the Agenda app as a watchface. The watchface shows a maximum of 12 appointments. Every appointment will show the date, start time, title, length, and location. You also have a chance to view your fitness data like floors climbed, steps, and heart rate.
Related: Fitbit Time not Updating
Fitbit Models That Have the Agenda App
Most Fitbit devices support the Agenda app. Some of these devices include; Fitbit Ionic, Charge 3, Charge 4, Versa 2, Versa 3, and Versa Lite.
How to Set Up Agenda App on Fitbit
If you're having trouble setting up your Agenda app, here are the steps you need to follow:
Go to the Fitbit app on your smartphone and tap the Today tab, then your profile picture. In the profile picture, click your device image and scroll down to Apps.
Click on the settings icon. You will view the calendars linked to the default calendar app on the phone.
Adjust the settings to select the calendars to show on your gadget, the color for events linked to each calendar, and whether you want to see blocks of free time.
Finally, sync your gadget to view today's and tomorrow's events from the calendars in the Agenda app.
How to View Events in the Agenda app
If you want to view your events in the Agenda app, open the Agenda app on your phone to view all events scheduled for today and tomorrow. Scroll up and down to see all events. If you want the details of an event, click the event.
However, if the events fail to appear, here's what you need to do:
Check if the location services on the Fitbit app are turned on.
Check if the Calendar access for the Fitbit app is turned on. Here's how to check:

Android Phones: Go to the Settings app on your phone, then Fitbit. Ensure that the Calendars is turned on.
Windows 10 Phones: Open Settings and click privacy, then Fitbit, and ensure you've turned on the Calendar access.
iPhone Phones: On the Settings app, click on Fitbit and ensure that the Calendars are turned on.
FAQs
Is Fitbit Agenda App Free to Download?
Yes. The agenda app is free to download in the Fitbit app. However, it requires a $2 payment via KiezelPay after a one-day free trial.
How Do I Uninstall Agenda App from my Fitbit Watch?
If you want to uninstall the Agenda app, go to the Fitbit app, click the Today tab, your profile picture, and your device image. Click Apps then the device tab. You'll see the list of apps installed in your tracker, locate Agenda and tap it and uninstall.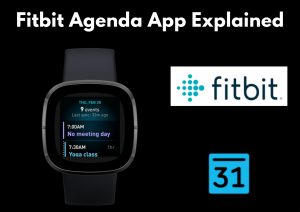 Conclusion
The Fitbit Agenda app is a productivity lifesaver and a smarter way to plan your workday. It reduces your stress and improves your time management and personal productivity at work.