When it comes to fitness and health wearables, Fitbit devices are a great choice for their accuracy in tracking the steps, floors climbed, calories burned, and more.
If you're wondering how Fitbit tracks the floors climbed, I've got you covered.  Here's everything you need to know about Fitbit floors climbed.
Table of Contents
How Does a Fitbit Track Flights of Stairs?
Fitbit devices that count floors use an altimeter to calculate the number of stairs you've climbed. An altimeter calculates the altitude based on atmospheric pressure. When the elevation increases, the atmospheric pressure decreases. Therefore, the Fitbit tracker calculates elevation gain using the reduction in atmospheric pressure.
The Fitbit tracker registers a floor after a continuous motion, and an elevation gain of nearly 10 feet is detected. The 10 feet is the average between commercial and residential floor heights, but commercial floors are usually higher than residential ones.
If the building has long staircases, you may note that the Fitbit's floor count doesn't match the floors you've climbed. This is because the floors may be taller than 10 feet. However, Fitbit trackers don't count the elevation gains caused by inclined treadmills, StairMaster, or other exercise equipment.
Related: Best Fitbit for Women
How to Correct Inaccurate Fitbit Stairs Climbed Data
Although you cannot delete the floors climbed from the Fitbit app, there is a way to correct it. This involves adding a driving activity to cancel out the extra steps or floors. Here's how to do it:
Go to the Fitbit app and select the Today tab, then the Exercise tab.
Click on the Log Previous or Log/ Icon to include an exercise.
Select Driving as the exercise type but ensure the details overlap the period of unwanted floors or steps. Click Log or Add.
Go back to the main view. You'll note that the steps and floors have disappeared for the specified time.
Which Fitbit Counts Stairs / Tracks Floors Climbed?
Fitbit Charge 4
Whether you're taking the stairs or walking up an incline, the Fitbit Charge 4 will automatically track the floors you've climbed. This tracker shows you how long you've been active throughout the day and reminds you to take some steps when you've been sitting for long. It has SmartTrack Automatic Exercise Recognition that automatically records exercises like biking and running and gives detailed workout information in the Fitbit app.
Pros
Cons
Related: Best Fitbit for Men
Fitbit Versa 2
This Fitbit tracker is an affordable and user-friendly option that's ideal for tracking the floors you've climbed. It has a small and light design that makes it easy to wear all day and night without getting in the way. The versa 2 tracks accurately the distance traveled, floors climbed, calories burned, and floor metrics. It's also compatible with over 15 workout modes.
Pros
Alexa
Amazing fitness features
Cons
Fitbit Versa 3
The Fitbit Versa 3 comes with all aspects of a fitness watch, measuring floors climbed, active minutes, heart rate, and has several health features and a built-in GPS for those who like outdoor exercises. With this tracker, you'll enjoy cardio fitness levels, silent alarms, and on-screen notifications.
Pros
Top fitness features
On-wrist calls
Built-in GPS
Cons
Some features need a Premium subscription
Fitbit Sense
The Fitbit Sense is an all-round physical and mental tracker that tracks activities such as Floors climbed, calories burned, steps, and distance. It also gives you real-time stats for more than 20 exercise modes and has a built-in GPS, so you don't need to carry your phone when climbing an incline.
Pros
Amazing health and fitness features
Built-in GPS
Cons
Some features require a Premium subscription
Fitbit Ionic Watch
The Fitbit Ionic Watch is a fully-featured activity tracker and Fitbit smartwatch. With this device, you can track your steps, sleep, swim, heart rate, and automatic exercise tracking. You'll also have reminders to exercise, calendar alerts, and notifications for texts and calls. If your focus is more on having an effective fitness tracker that can support some smartwatch-like functions, this one is for you.
Pros
Built-in GPS
On-screen workouts
Cons
Fitbit Floors Climbed: FAQs
Does Fitbit Use Altimeters to Track Stairs Climbed?
It's important to note that Fitbit doesn't count stairs, but it measures the floors. Fitbit trackers use altimeter sensors that detect when you're going up in elevation. However, it doesn't register floors when going down.
Why is My Fitbit Tracker Inaccurate When Counting Floors Climbed?
Fitbit trackers don't count flights of stairs, but it measures altitude. For this reason, you receive a flight count when you haven't climbed stairs. Also, there's no piece of wearable that's 100% accurate. You need to use it as a fitness guide to help you achieve your goals. But you should not rely on it to accurately measure the calories burned, the flight of stairs, or the number of stairs.
How Many Floors a Day Are Good?
You can walk up and down the stairs for 15-20 minutes every day. However, ensure that you go up and down an equal number of steps to ensure you get a good balance when working out the muscles. However, this will also depend on your level of fitness.
Does Fitbit Charge 5 Track Stairs?
How does Fitbit calculate floors?
The Fitbit comes with an altimeter sensor that detects when you go up in elevation. The barometric pressure (measured by the altimeter), combined with the steps taken, is used to calculate the floors climbed. The Fitbit registers a floor for every 3m or 10ft you climb.
Your device uses changes in barometric pressure combined with the steps you take to calculate floors climbed.
What are floors on Fitbit?
Floors on Fitbit refer to the number of flights of stairs that you have climbed. The device's altimeter detects when you are going up or down in elevation. Every 10ft or 3m climbed is counted as a floor climbed.
Why does my Fitbit say I have climbed so many stairs?
Fitbit uses pressure changes (due to changes in elevation) to count floors climbed. Sometimes pressure changes occur due to other causes other than elevation causing the Fitbit to record extra floors/stairs.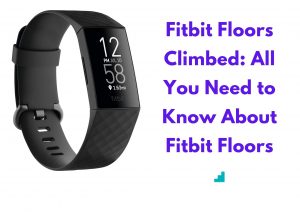 Conclusion
Although the Fitbit floors climbed may not be very accurate, this feature will help you to achieve your fitness goals in the shortest time possible. Additionally, if you need an effective Fitbit tracker to count the number of floors you've climbed, pick one from the products reviewed above.