If you're looking for an effective feature that allows you to choose when and how you wish to be updated with incoming notifications and alerts, the Do Not Disturb feature is for you. The DND mode on Fitbit mutes all alerts, calls, and notifications when you want to enjoy your free time without disruptions.
Here's what you need to know about the Do Not Disturb feature on Fitbit.
What Does DND Mean on Fitbit?
DND means Do Not Disturb. DND mode on Fitbit allows you to completely or partially limit alerts and notifications on your device. It can silence your device quickly but still allow certain apps and calls to break through. With this feature, you can eliminate unnecessary distractions without missing crucial notifications.
Related: Best Fitbit for Women
Why Use Do Not Disturb on Fitbit
This amazing feature comes in handy when you want to eliminate the little pings and notifications that disrupt you on your busy day. The best thing about DND is that you'll still receive notifications and alerts without the annoying noises.
How Do I Turn On Do Not Disturb on my Fitbit?
If you're wondering how to set the Fitbit Do Not Disturb, here's what you need to know.
First, press the Back Button to wake up your Fitbit.
Next, swipe down from the top of the screen twice to access the Quick Menu.
After that, click on the Quick settings icon.
In the Quick Settings icon, tap the Do Not Disturb icon to turn on the mode.
If you want to turn off the Do Not Disturb mode, just tap the icon again.
How Do I Stop My Fitbit from Turning Itself to Do Not Disturb?
If your Fitbit keeps turning on the DND mode, first, you need to check your settings to confirm if you accidentally pressed the button when working out. You can solve this problem by moving the band higher on your wrist to get a comfortable fit. Also, you can activate the water lock to rectify this problem.
Related: Best Fitbit for Men
Get to Know Your Fitbit
Check Your Stats: Swipe on the clock face to check your stats for the day, including heart rate, Active Zone minutes, steps, sleep quality and quantity, and more.
Never Miss Notifications: You'll get alerted on your text, phone, app, and calendar notifications straight right on your wrist.
Customize Your Clock Face: You can easily match your Fitbit to suit your style by choosing your favorite clock face.
Set Alarms: You can set alarms using the Fitbit app. Turn them on and off from your wrist.
Enjoy a Relaxing Moment: Fitbit allows you to take some guided breathing sessions to relax throughout the day, thanks to the Relax app.
Prevent Accidental Button Presses: Turn on the water lock mode when swimming or showering to prevent the tracker's buttons from activating. Go to the quick settings to access the Water Lock.
How to Set Up Your Fitbit
Turn on your Fitbit and connect it to the charging cable and allow it to charge until it's fully charged.
Log in or create a Fitbit account and connect your tracker.
Sync your Fitbit with the Fitbit app to access your fitness and health data.
Finally, unlock your Fitbit Premium and enjoy a 90-day of free trial for new users.
What to Do If You're Not Receiving Reminders or Notifications
If you're Fitbit is not displaying reminders or notifications, check whether:
The Sleep mode and Fitbit DND mode are turned off in the quick settings.
The notifications are set correctly.
You can also turn on the Button Lock in the Settings app to prevent buttons in your Fitbit from activating when you're working out.
How Do I Reset My Fitbit?
When you factory reset your Fitbit, all data that haven't synced in your Fitbit account will be deleted. Therefore, you must set up your device again after you reset it. You can restart your device if you don't want to lose your data. However, if you're going to factory reset your Fitbit, here's what you need to do: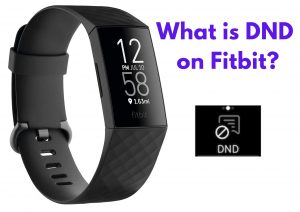 Connect the charging cable to your device and insert the other end into a USB port.
Press the button for at least 2 seconds and without releasing the button. Remove the cable from your device and wait for 9 seconds more after removing the cable.
Release the button and hold it down again.
After a white screen flash and "ALT," release the button and hold it down again.
After the vibration, let go of the button and hold it again.
After you notice an ERROR, release the button and hold it down again.
When "ERASE" appears, release the button and allow the device to turn off.
To turn on your Fitbit, hold the button. If the time reads 0.00, your device has been reset successfully.
Follow the instructions above on how to set up your Fitbit.
FAQs
Does the Fitbit Charge 5 have a DND mode?
Yes, Fitbit Charge 5 has the DND mode. To access the Do Not Disturb mode, swipe down from the clock.
Is DND different from Sleep Mode?
Yes, the two are different in what they achieve. DND mode mutes notifications while Sleep mode mutes notifications and sets the screen's brightness to dim.
Conclusion
If you're having trouble with the DND mode, this article will help you solve your issue in no time and get back to your fitness and health tracking.