Are you looking for an effective fitness tracker to help you achieve your health and fitness goals? Oura Ring and Whoop are changing the way biometric sensors offer insights into crucial body metrics such as heart rate, HRV, and sleep monitoring, among others.
In this article, I'll compare Oura Ring vs Whoop in different criteria including price, accuracy, and comfort levels, to determine the one that will suit your needs.
What Metrics Do Whoop and Oura Collect?
Both Oura and Whoop are smart devices that monitor real-time signals that give insights into your recovery and sleep cycles. But what do they really track? Here are some of the things they track:
Heart rate
Calories burned
Heart rate viability (HRV)
Sleep phases
Sleep quality and performance
Body temperature
Resting heart rate
Respiratory rate
Are Fitness Trackers worth it?
Most guys believe that fitness and health trackers are only useful for fitness enthusiasts and professional athletes.
This is far from the truth.
In fact, anybody can benefit from these devices. Every person has good and bad habits that affect how the body functions.
That's where fitness trackers come in handy; they use data to help you improve your lifestyle and develop a routine to optimize it.
Related: Whoop 4.0 vs Apple Watch 7
Oura Ring Vs Whoop 4.0: How do they differ?
The toughest part is choosing the right tracker for you. So next up, I'll be talking about the differences between Oura Ring and Whoop Strap 4.0.
Appearance, Design, and Comfort
One thing that you'll notice easily about Oura Ring and Whoop is their different forms/shapes. This can be a crucial factor when deciding the right one for you. Oura has a unique design with a minimalist metallic ring that wraps around a finger. Its style is both elegant and modest so that it won't be noticed easily. On the other hand, Whoop has a similar design to other popular wearables like Fitbit.
Both Oura Ring and Whoop are super comfortable to wear whether you're running on a sunny day or relaxing in a room. Choosing the most comfortable wearable will depend on how comfortable you feel wearing a bracelet vs. a ring.
Activity and Workout Training
Oura Ring monitors your movements to determine the energy you've used. However, it doesn't use heart rate, which may disqualify it as an accurate activity tracker. Oura doesn't track workouts automatically, but you can track exercises by recording the intensity level and duration, then the device guesstimates the calories burned.
Conversely, Whoop is a great wearable for tracking workouts automatically using heart rate spikes. It comes with a strain score that ensures you don't over-train. However, it has a few drawbacks as a fitness tracker. Whoop lacks a GPS, which means you cannot record the miles you've cycled or run without a phone.
Overall, Whoop is an impressive wearable since it uses your heart rate to determine the strain score and calories burned, but Oura Ring doesn't use the heart rate.
Related: Garmin Fenix vs Whoop 4.0
Sleep Tracking and Recovery
Oura ring records automatically when you sleep and wake up, then it categorizes your sleep into light, REM, or deep sleep. This fitness ring does a better job of tracking your total sleep when compared to Whoop. Oura ring records your HRV, heart rate, respiratory rate, and body temperature throughout the night.
The Whoop strap majors on the strain and recovery scores; it tracks your sleep automatically and classifies it into light, REM, deep sleep, and awake. Whoop does an amazing job calculating your sleep duration, but the sleep cycles are a bit off.
Additionally, Whoop strap 4.0 measures heart rate viability, respiratory rate, and resting heart rate and compares them to the baseline to check how you've recovered.
Whoop vs Oura Ring: Accuracy
Oura is an accurate HRV monitoring device that monitors your HRV around the clock. However, the method used to collect and process data makes the biggest difference between the Oura Ring and Whoop.
Oura is great, but it has less emphasis on offering you recommendations and actionable data to help you adjust your training, diet, and recovery. Whoop does an impressive job collecting all data and gives recommendations on your recovery, sleep, and training.
Oura vs Whoop 4.0: Pricing
Oura ring costs $399 for the gold or stealth finish and $299 for a black or silver color finish. Oura Ring gen3 comes with a monthly membership at 5.99 USD. (The membership is not a requirement for the Oura Ring to work.)
The Whoop comes with a membership subscription of $30 per month. However, if you pay annually, the price reduces to $24 per month. If you choose 2-year ownership and the annual plan, it will cost $576.
Learn more about the differences between Gen2 and Gen3 Oura Ring…
Oura Ring Review
Oura is designed to offer more trackable metrics and is waterproof in deeper depths. It also comes with a 2-year warranty and has a longer battery life than Whoop. However, this Whoop 4.0 alternative comes with a bigger price tag initially than the Whoop, but you'll enjoy a couple of more features.
Pros
More trackable metrics
More sensors
Waterproof up to 330 ft
7-day battery life
Cons
Whoop Strap 4.0 Review
When compared to Oura, Whoop falls short in the metrics department. Oura comes with two extra tracking metrics, respiratory rate, and body temperature, but Whoop has Sleep and Strain Coach. The sleep coach gives personalized sleep insights and tells you how much you've progressed.
Pros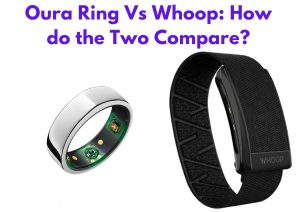 Several features
Comfortable
Vast community
Impressive strap design
Cons
Related: Fitbit vs Oura Ring
Conclusion
Oura Ring and Whoop have come out as durable, comfortable, and effective wearables. Both of them are great at what they do. But what works for others may not work for you.
I hope this Oura Ring vs Whoop Strap post helps settle for a fitness tracker that fits your lifestyle and fitness goals. Choose one that will help you achieve your fitness goals and improve your sleep quality.