The biggest concern for most tech-savvy individuals is finding smartwatches with long battery life – watches that can keep up with their busy lifestyle without constantly requiring a charge.
If you're tired of constantly reaching for the charging cable or running out of juice mid-day, you've come to the right place.
Our handpicked selection of top-notch smartwatches not only offer cutting-edge features and sleek designs but also boast exceptional battery life, ensuring that you stay connected, productive, and on the go for extended periods.
Whether you're a fitness enthusiast, a professional, or someone who simply values convenience, we've got the perfect smartwatch that will tick all the boxes.
Let's dive in and discover the ultimate companions for your wrist that will outlast the competition!
Best Smartwatches with Long Battery Life Reviews
Withings Steel HR Hybrid Smartwatch (25-day battery life)
This device is a simple hybrid smartwatch with a traditional watch face and a small OLED screen that displays smart features.
The Withings Steel HR Hybrid Smartwatch prioritizes battery life and can last for 20-30 days on a single charge. The best thing about this watch is that even if the battery runs out, you'll still use the analog watch face.
This smartwatch has a sleep monitor, a 24/7 heart rate monitor, and an activity tracker with up to 30 different sports.
Features
OLED screen
Up to 30 sports modes
Swappable wristbands
Pros
Accurate fitness and sleep tracking
The analog face continues to function when the battery runs out
Tracks several sports
Cons
NO GPS
Small smart display
Garmin Vivoactive 4, GPS Smartwatch (8-day battery life)
The Garmin Vivoactive 4 is the latest smartwatch in Garmin's line of wearables. This smartwatch packs several features for fitness enthusiasts, making it ideal for everyday use. It comes with a plastic build that keeps it light, so it will be hard to notice it during fitness and sports. This device guarantees a battery life of up to 6 hours in continuous GPS and 8 days in smartwatch mode.
This smartwatch has onboard storage for downloading music, can connect to Bluetooth headphones for tether-free use, and includes a heart rate monitor, GPS, a pulse oximeter for oxygen saturation, and Garmin Pay.
Features
20 preloaded GPS
5 color options
40mm and 45mm sizes
1.3-inch screen size
Pros
Transflective screen
Smart notifications
Easy-to-follow workouts
Contactless payment using Garmin Pay
Cons
The plastic design looks cheap
Amazfit GTS Fitness Smartwatch with Heart Rate Monitor (14-Day Battery Life)
The Amazfit GTS Fitness Smartwatch comes with an attractive design, thanks to its vibrant AMOLED display and square design that resembles an Apple Watch. This smartwatch has a wide range of color choices, including urban grey, blue, and lilac purple. It's sleek and small on your wrist, so you'll hardly notice when wearing it.
Although it has a battery capacity of 220mAh, it has a battery life of up to 14 days. Additionally, it has a GPS, heart rate tracker, and sleep tracking for fitness enthusiasts.
Features
12 mainstream sports
Built-in GPS
1.65-inch screen size
AMOLED display
Pros
Water-resistant
Multiple sports modes
Slim design
Amazingly comfortable
Cons
Fitbit Versa 3 Health & Fitness Smartwatch (6-Day Battery Life)
The Fitbit Versa 3 is one of the best smartwatches with long battery life. It is comfortable to wear and lacks physical buttons, which makes it easy to use. This smartwatch has an excellent battery life of up to 7 days, but when using the always-on screen or GPS, you'll get 2-3 days. It comes with a built-in microphone that allows you to access Google Assistant or Alexa. It also has Fitbit Pay for contactless payments, SpO2 for measuring blood oxygen levels, and GPS.
Features
Built-in Alexa
Built-in GPS
Built-in Mic
AMOLED display
Pros
Lightweight design
Swimproof
24/7 heart rate monitoring
Accurate sleep tracking
Cons
Lacks on-board storage for music
AmazfitBip S Lite Smart Watch (30-Day Battery Life)
If you're looking for a smartwatch that's designed for comfort and convenience, this is a good bet.
The AmazfitBip S Lite Smart Watch has two built-in modular watch faces that can be customized to suit your styles and needs.
It has an outstanding battery life of 30 days – making it one of the best smartwatches with long battery life – and boasts 14 sports modes. This smartwatch can also monitor your heart rate intervals and resting heart rate.
Features
14 sports modes
1.28" Always-on display
3 color options
Touchscreen
Pros
Comfortable design
Accurate heart rate monitor and sleep tracking
Waterproof
What is a Smartwatch?
A smartwatch is a watch that comes with extra connectivity and functionality on top of the features provided by ordinary watches. These watches include a computer system that executes normal functionality as expected and has extra bells and whistles.
Smartwatches are available in a range of designs and functionalities. Most of them share the same functionality and have the same features. Here are some common features found in smartwatches:
Displaying time to the user
Keeping track of time
Setting an alarm
GPS tracking
Some common design features include:
Have a watch face or screen
Worn on the wrist
Use buttons, a touchscreen, or a dial to provide deliberate input
Why Do Most Smartwatches Lack Longer Battery Life?
Several factors have combined to make smartwatch battery life difficult, the main one being ergonomics. On the technical side, nothing is stopping these tech giants from slapping huge batteries on your wrist. But these smartwatches could easily become uncomfortable or heavy for everyday use.
Wearable engineers are striving to create a balance between battery life and other factors like comfort. One of the main reasons for low battery life is software support. Although you'd want a smartwatch that packs several apps, this demands a power-hungry processor, not to mention a slick interface and a quality display.
Fortunately, some smartwatch brands have come up with clever tricks to minimize power consumption. Some devices with an always-on screen are now scaling back refresh rates and brightness once you lower your wrist. Fortunately, there are some smartwatches that come with long battery life without compromising their functionalities.
Smartwatch with Long Battery Life Buying Guide
Finding the best smartwatches with long battery life can be overwhelming. There are tons of options out there, so it's important to choose one that suits your needs. Here are some factors to consider if you want a long battery life smartwatch.
Compatibility
Before adding a smartwatch to the cart, ensure the device is compatible with your computer or smartphone. Some smartwatches only sync with Apple's iOS while others Android and most do not sync with Windows.
Water-Resistance
If you're a swimmer or love working out in humid areas, it's advisable to look for a water-resistant smartwatch. Make sure you check the manufacturer's specs to confirm the degree of resistance that the smartwatch offers.
Reliable GPS
One of the main features that you should consider when looking for a smartwatch is a reliable GPS. If you like cycling, running, or jogging, then a GPS is an excellent addition since you'll be able to track your exercise when you're outside. Other smartwatches can be connected to a GPS on your smartphone to help you monitor your progress after working out. If possible, look for a smartwatch that has a built-in GPS.
Display
Smartwatches come with either an AMOLED display or a colorful LCD screen that facilitates clear viewing with rich images and bright colors. There is a known fact that colored displays consume a lot of power.
Design
One of the most important factors to consider when purchasing a smartwatch with long battery life is its design. Looks are crucial and bring a positive change in your personality. If you want to get the best out of your smartwatch, look for one that fits in almost every outfit.
Touch or Buttons
Your preference and convenience will determine what you choose between the two options. If you love old-school designs, devices with physical buttons will suit you. However, touchscreens are preferred by most people.
Comfort
Smartwatches are meant to be worn for a more extended period. Therefore, always choose one that promises extreme comfort even for a long time. Also, look for a watch that has a lightweight design and barely feels on your wrist.
Budget
Ensure you pick a smartwatch that falls with your budget. Pick one that has the features you need and provides the best value for its price. Don't spend extra dollars on features you don't require.
FAQs
How Can I Make My Smartwatch Battery Last Longer?
Here are some simple steps you can use to make the battery last longer:
– Reduce the screen's brightness
– Turn off the Always-On display
– Turn off GPS when not in use
– Turn off the unnecessary notifications
– Disable Wi-Fi when not using the internet
How Many Years Does a Smartwatch Battery Last?
Mostly, 2-3 years since all lithium-ion batteries degrade and lose their capability to hold a charge for a longer period of time.
What Feature of the Smartwatch Drains the Battery the Most?
Heart rate tracking and GPS are known to be the most battery-draining features in a smartwatch.
Does the Sleep Tracking Feature Drain the Battery?
Absolutely! Although it doesn't drain the battery severely because some watches do it automatically, it impacts battery life.
Do smartwatches With Always-on Display Drain Out Quickly?
Yes. An always-on display is quite a battery-draining feature.
Do Garmin Watches Have a Long Battery Life?
Generally, most Garmin watches are known to have good battery life.
Final Thoughts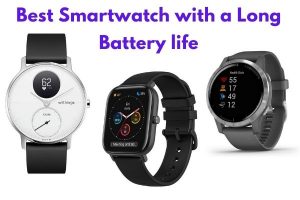 If you're looking for the best smartwatch with long battery life but don't know what to look for and the available devices, this guide will sort you out. All the products reviewed above are of top quality and have surpassed the expectations of many fitness enthusiasts.