Wearing a water-resistant fitness tracker is one thing. But if you get the best waterproof Fitbit, that's when you can add a completely new experience to your workout, especially if you're into swimming.
I should caution you at this point, though.
No device under the sun is 100% waterproof. And Fitbit trackers aren't about to be an exception.
To be fair, it's important to understand that manufacturers use the terms water-resistant and waterproof interchangeably to mean the same thing.
But since a few Fitbit watches have a water-resistant rating of 5 ATM, we "loosely" regard them as truly waterproof because they can survive in water by as far as 50 meters deep.
| Fitbit Model | Water Rating | Battery Life | Price |
| --- | --- | --- | --- |
| Fitbit Sense 2 | Water resistant to 50m | Up to 6 days | View |
| Fitbit Versa 4 | Water resistant to 50m | Up to 6 days | View |
| Fitbit Inspire 3 | Water resistant to 50m | Up to 10 days | View |
| Fitbit Charge 5 | Water resistant to 50m | Up to 7 days | View |
| Fitbit Luxe | Water resistant to 50m | Up to 5 days | View |
| Fitbit Charge 4 | Water resistant to 50m | Up to 7 days | View |
| Fitbit Versa 3 | Water resistant to 50m | Up to 6 days | View |
| Fitbit Sense | Water resistant to 50m | Up to 6 days | View |
| Fitbit Versa 2 | Water resistant to 50m | Up to 6 days | View |
And which ones are these?
Check them out below:
The Best Fitbits that are Waterproof Reviews in 2023
Fitbit Inspire HR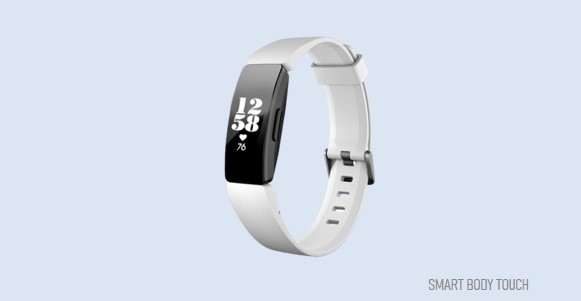 Click to View Price and Customer Reviews on Amazon.com
With a water-resistance depth of 50 meters, the Fitbit Inspire HR can undoubtedly survive in the deepest swimming pool in the world.
Waterproofed to such a great depth, you can use it in a not-so-deep swimming pool to track stats like laps and strokes just fine.
And even if you're not a fan of swimming, you can use the Inspire HR in rainy or inclement weather to track running, walking, and biking stats. Not to mention that you don't have to take it off in the shower.
This gadget's premium, 24/7 heart rate monitor, together with the heart rate zone, lets you optimize the intensity of your workout as you exercise. Apart from counting calories burned, Inspire HR also goes as far as recording and displaying your resting heart rate.
Inspire HR uses SmartTrack technology to track and record workouts without human intervention. Interestingly, it takes this technology only a few minutes to detect activities like walking, biking, and swimming. Also, it counts steps and monitors your sleeping patterns.
Because Inspire HR doesn't include an onboard GPS system, you'll have to connect it to your phone's GPS to track pace and distance when running or walking.
Pros
SmartTrack detects the type of workout and records the stats for you
Its pulse sensor also tracks the resting heart rate
Inspire HR is an all-day activity tracker; it counts active minutes, calories burned, steps, and more
Waterproof up to 163 feet deep
It has a 5-day battery life
Cons
Battery life is not as good as that of Charge 3
Sometimes it takes long to synchronize with smartphones
Doesn't include an onboard GPS
Related: Best Fitbit for Women
Fitbit Ionic Watch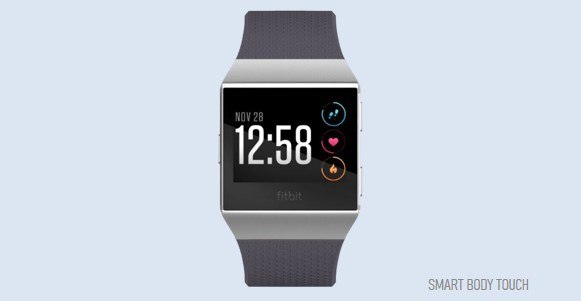 Click to View Price and Customer Reviews on Amazon.com
Fitbit's first attempt to design a smartwatch started with the Ionic. But it didn't get it right with this one, to say the least.
Even with smart features, like NFC chips for making mobile payments, the Ionic still didn't come close to what a true smartwatch should look like.
However, it ended up being a robust fitness and activity tracker in its very foundation, and it's one of the top fitness trackers in the waterproof category. Its ability to track swimming, from laps to stroke styles, to a depth as deep as 50 meters, gives you the freedom to use it in a pool of your choice.
The Fitbit for swimmers is able to detect the type of workout you engage in after a few minutes, and then it records the metrics on the go with its SmartTrack technology. It pauses when you stop working out, and resumes when it detects movement. So if you need a fitness watch that offers more convenience, the Ionic is a good deal. 
This waterproof Fitbit includes a built-in memory that allows you to store up to 300 songs. Plus, it's compatible with multiple Bluetooth headsets, so you can listen to your favorite jam as you exercise.
The Fitbit Ionic features a robust heart rate monitor, which helps you to optimize workout intensity, set new fitness goals, and work towards achieving them. What's more, the device can monitor your resting heart rate, sleep, and cardio fitness levels.
Pros
Includes a built-in GPS for distance tracking and route mapping
Suitable for swimming; tracks strokes and laps in the pool
Rated as 5 ATM, so it's even suitable for a scuba diver
Cons
Heart rate monitor can't work when swimming as water interferes with the HR sensor
Not a lightweight Fitbit device
Its design isn't as intuitive
Poor battery life on GPS mode
Related: Best Fitbit for Men
Fitbit Versa Smartwatch
You can think of the Fitbit Versa as a threefold device: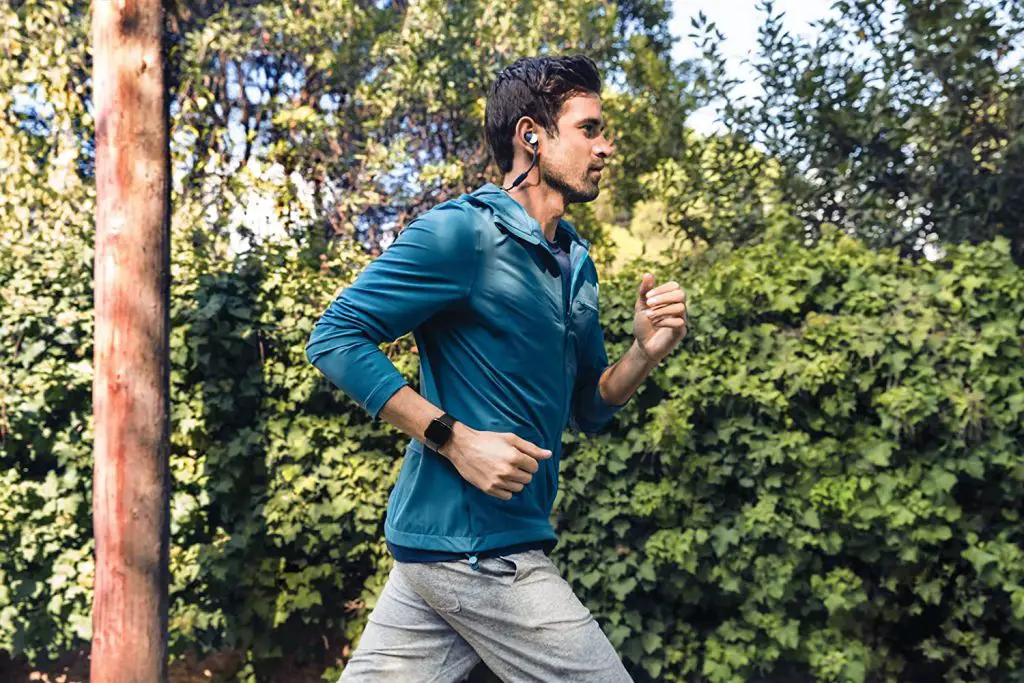 Click to View Price and Customer Reviews on Amazon.com
It's good enough for swimming that it keeps count of laps and strokes straight out of the box. It includes some smartwatch features. And it's a popular model for women.
Like the Versa Lite Edition, this model tracks all-day activities, from stairs climbed and steps taken to sleep quality. Thanks to the built-in heart rate monitor, you can use the Fitbit versa count calories burned while optimizing your workout.
On audio, the Fitbit Versa Standard Edition allows you to store 300+ songs in its built-in storage and play them into a wireless headset of your choice.
Moreover, this edition's on-screen workouts let you create an effective workout routine, and the built-in coaching system provides effective workout assistance straight from your wrist.
This fitness tracker includes 15 exercise modes, which help you take your workout to the next level. Blended in the design is SmartTrack technology, which automatically detects and records multiple exercises for you.
Pros
Includes useful guided on-screen workouts
A good option if you need a reliable all-day activity tracker
Waterproof up to 50 meters deep and ideal for serious swimmers
Can store 300+ music files
Cons
Doesn't include Fitbit Pay for wrist-based payments
Short battery life; lasts only for four days
Related: Best Fitbit Alternatives
Fitbit Charge 3
Fitbit Charge 3 is not a complete makeover of the Charge 2 but a more improved model the company has ever built. And let's be honest. Charge 2 is good in so many waters, only it doesn't fit in the class of a waterproof Fitbit.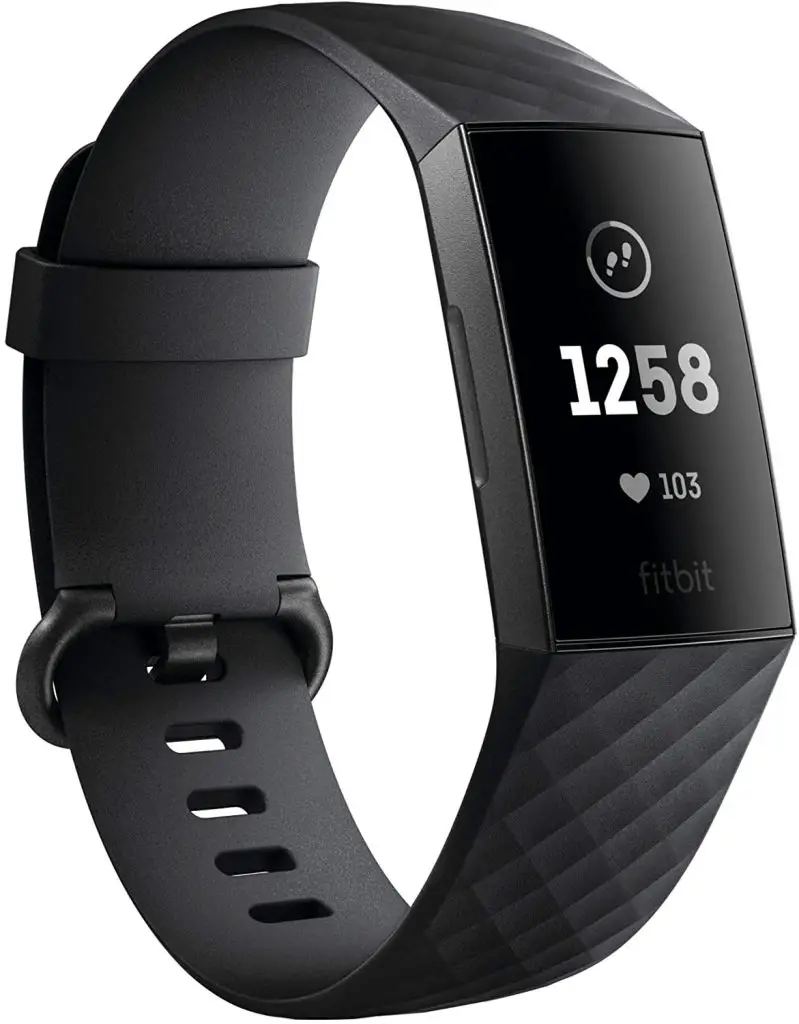 So its upgrade, the Charge 3, with a 5 ATM rating, which can survive a water depth as deep as 163 feet, is an impressive alternative to consider if you go for swimming exercises.
Fitbit Charge 3 not only includes goal-based exercises but also features more than fifteen exercise modes to help you get the most out of your training session.
Whether you're into running, swimming, cycling, or yoga, you can use the modes to set goals, work towards achieving them, and get an instant notification as soon as you hit the target.
Then there's the heart rate monitor built to run 24/7. Combined with the heart rate zones, the HR lets you optimize your workout intensity on the go. Not to mention count calories burned so you can create a good meal plan.
Pros
Tracks steps and floors climbed
Count calories burned and easily monitor sleep stages
Its upgrade, the Fitbit Charge 3 Special Edition, includes Fitbit Pay for making mobile payments
7 days battery life on a single charge
Comes with 15 exercise modes pre-installed
Cons
This one doesn't include on-screen workouts
Distance tracking isn't accurate due to the lack of an onboard GPS system
Related: Best Fitbit for Kids
Fitbit Ace 2 Activity Tracker for Kids
The original Ace is the first children's activity watch the company ever built. But while it looks as sleek as the Fitbit Alta does, it isn't as robust. It's basic at its core, not to mention that it isn't even waterproof.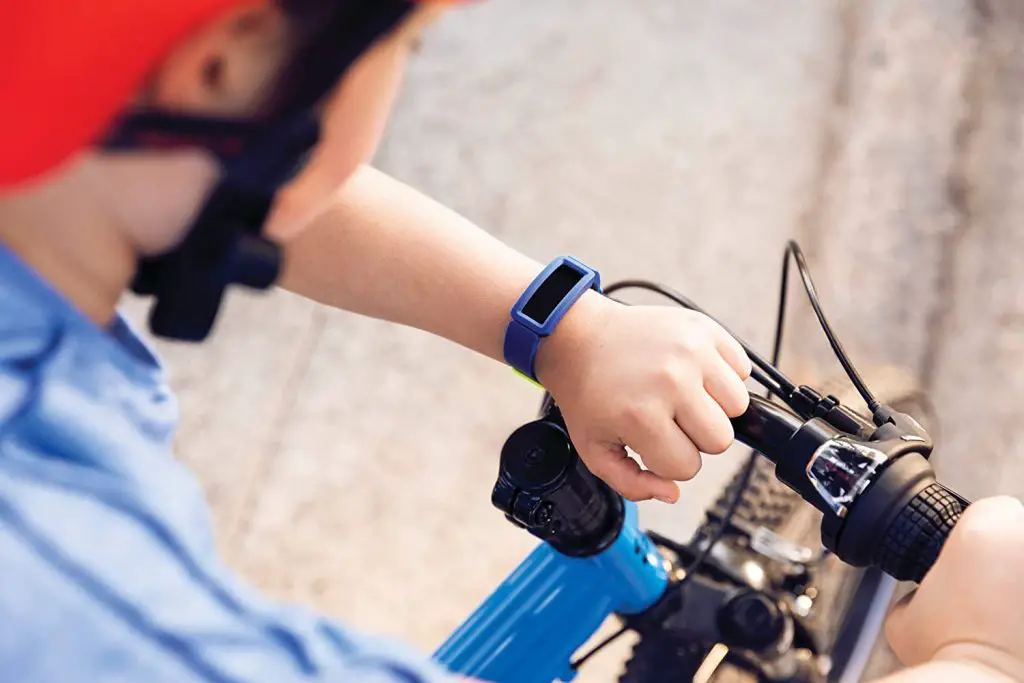 Click to View Price and Customer Reviews on Amazon.com
To give the Ace some touchups, Fitbit created a new upgrade, the Fitbit Ace 2, so older kids could have a more robust all-day activity tracker.
Quite frankly, they nailed its design really well. The Ace 2 has a clear screen, a unique design, an improved charging system, a friendly plastic body, and additional watch faces that appeal to a younger audience, and it's cheaper than the original model.
Instead of navigating the tracker by tapping, kids can interact with Fitbit Ace 2 by swiping the screen. And like the rest of the models in this guide, Fitbit Ace 2 is a fitness tracker with a 5 ATM rating. So it makes a special gift for kids who love to swim.
When it comes to fitness and activity tracking, it's important to remember that your kid gets only the basics from this device. It can track active minutes, sleep stages, and steps.
However, it lacks a heart rate monitor and it doesn't include an onboard GPS.
Fitbit has an age limit of 12 years and above for the original Ace. But they've cut this down limit with this upgrade, allowing children as young as 6 years of age to wear and get the most out of the Ace 2.
Pros
A basic fitness watch that tracks steps, active minutes, and sleep
It's swim-proof, with a water-resistant rating of 5 ATM
Improved charging system with a decent battery life of 5 days on a single charge
This model is cheaper than the original Ace
Cons
Related: Best Fitness Tracker for Crossfit
Fitbit Flex 2
Flex 2 is plain black, slim, lightweight, and well-built. However, it's quite different from other models in this series. That's because it doesn't have a screen to display workout stats.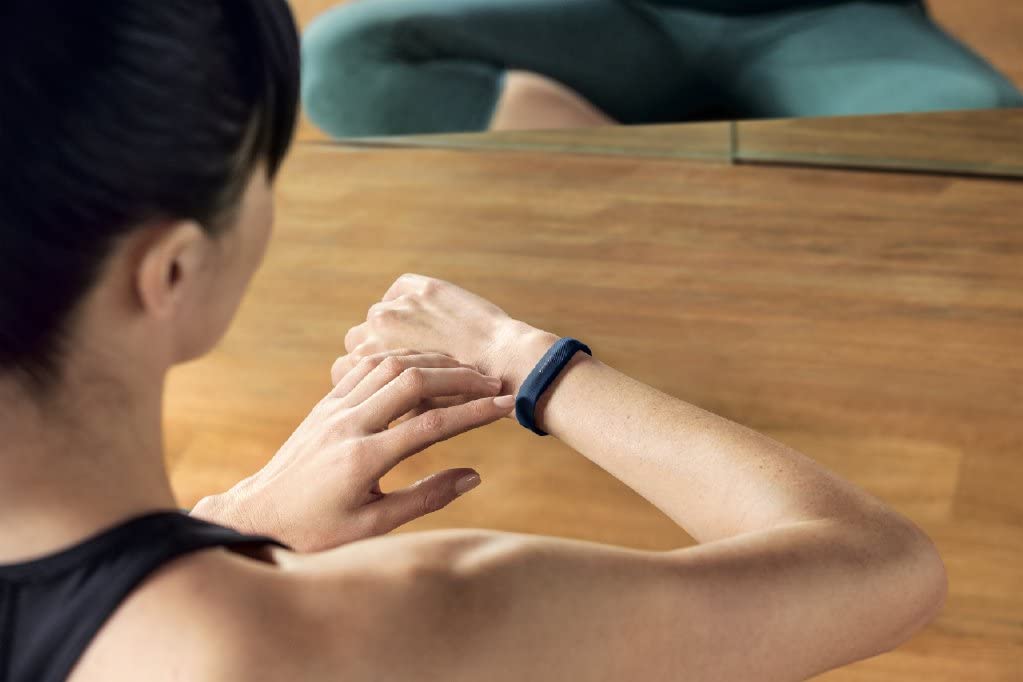 Click to View Price and Customer Reviews on Amazon.com
From what we understand, the Flex 2 is a smart device ideal for people who don't mind using a fitness tracker alongside a smartphone and the Fitbit App.
It has an IP68 rating, which translates to a water-resistance depth of 50 meters, which makes it an ideal option for swimmers. In particular, this device can track laps and strokes, and then display the results via the mobile app.
Further, it's effective in tracking steps, distance, calories burned, and active minutes.
While its SmartTrack is a nice feature to have, it doesn't automatically log swimming workouts. But it's easy to work around this. Simply go to the app, turn swim tracking to active, and you're done. You can use it in the pool thereafter.
Pros
Monitors sleep stages, quality, and duration
SmartTrack automatically detects and tracks workouts for you
IP68 rated; this can survive a depth of up to 163 feet
Related: Is Fitbit Charge 5 Waterproof?
Cons
No onboard GPS
Battery life per charge is terrible
It doesn't have a heart rate monitor
Conclusion
When it comes to finding the best Fitbit for swimming, there are several excellent options available. The Fitbits listed in this post are known for their water resistance and suitability for swimming and water activities.
Whether you're looking for advanced features like swim lap tracking or simply want a device that can withstand your water-based workouts, these Fitbits offer durability and functionality.
Remember to always follow the manufacturer's guidelines to ensure proper usage and make the most of your waterproof Fitbit while enjoying your swimming sessions.
I hope my post has satisfactorily answered the question: Are Fitbits waterproof?