A case may protect the back of your Fitbit from getting dented if it hits the floor, or from getting scratched when placed in the pocket.
However, a case won't keep your Fitbit's screen safe. Fitbit screen protectors can serve as a cushion between your watch's display and possible hazards like your floor, the pavement, or house keys.
Fitbit screen protectors are usually thin enough and cannot be noticed easily, but thick enough to protect the most fragile part of your fitness tracker.
Buying a screen protector for your Fitbit is a wise decision, particularly if you're involved in vigorous activities. However, there are a few factors you should keep in mind before adding a Fitbit Versa screen protector to the cart.
Since the market is flooded with different Fitbit screen protector models, it can be challenging to select one that suits your needs. That's why we've created this handy guide for you.
This guide covers the best Fitbit Versa screen protectors and some factors you should consider before making the final decision.
Table of Contents
Related: Best Fitbit for Men
What is a Screen Protector?
This is an extra sheet of clear liquid or plastic film that sticks to your Fitbit's screen and protects it against physical damage. The material is mostly made of polyurethane or laminated glass, and is cut to match your gadget's shape. If your Fitbit Versa falls or drops, it's easier to replace the screen protector than replacing the Fitbit's screen. It also keeps the screen in better condition over the lifetime of the watch.
Types of Screen Protectors
Tampered Glass
These screen protectors are tough in terms of drop and scratch protection and are quite affordable. Tempered glass is easy to apply and has a nice feel on the Fitbit's screen. It is available in various varieties with features like anti-glare and privacy.
Polyethylene Terephthalate (PET)
PET screen protectors are light, thin, cheap, and smooth, which provide less impact- and scratch- protection. They are pocket-friendly and are less visible when applied to the screen. Although it gives your Fitbit a smooth feel, it's not that tough.
Thermoplastic Polyurethane (TPU)
If you're thinking of a screen protector of the old, you perhaps need TPU. This is a flexible and thin material that's hard to install and does not have a smooth feel. Its installation requires a spray solution and gives a rubbery texture.
Liquid Screen Protector
The liquid screen protector is applied by swabbing a solution on the Fitbit screen and then buffing it off. This protector only protects some scratches, but tough scratches can get through to the actual screen. Additionally, they cannot protect your Fitbit from a serious drop.
Related: Best Fitbit for Women
Do You Need a Screen Protector for your Fitbit Versa?
Many Fitbit's wearables have Gorilla glass or other comparable hard material. However, most Fitbit users complain of scratches on the screens of their gadgets. Most of us wear our fitness trackers all the time, and even without any activity, it's easy to bang your wrist against something or hit the Fitbit with a sharp object. The device's screen is not strong enough to offer protection all the time.
Here's where screen protectors come in handy. Obviously, it cannot offer protection against everything, but a high-quality protector comes with the best technology to offer sufficient protection to your wearable. Other brands have designed ways to provide complete clarity and protection, so the screen protector is practically invisible.
Generally, there's no harm in installing a screen protector; it depends on your situation since some people get by without them. However, if you workout in a hostile place or you're hard on your gadget, a screen protector should be your top priority.
Related: Best Fitbit for Kids
Best Fitbit Versa Screen Protectors Buying Guide
There are several options to choose from on the market. After all, a top-notch Fitbit versa screen protector doesn't have to cost you a fortune. If you're looking for the best Fitbit screen protector that will fully protect your device, here are some factors you should keep in mind before making a purchase.
Compatibility
Always go for a screen protector that compatible with your Fitbit's model, shape, and size. Make sure you check the product description to determine which model fits best before buying.
Glass or Plastic?
There are screen protectors made of tampered glass, and there's plastic. So when you're looking for a screen protector, ensure you check the material it's made of.
Price
Price is a crucial aspect to consider when buying a screen protector. As you'd guess, the production cost for tampered glass is higher than plastic ones. Therefore, glass protectors are more expensive than the plastic counterparts. However, if you're not operating on a budget, go for an expensive glass protector that guarantees durability and performance.
Clear or Anti-Glare?
This is another decision you'd have to make when choosing a screen protector. Clear protectors come with thin and transparent layers that are smoothly-textured and provide a clear view of your gadget's display. Anti-glare screens are translucent and are made of thin layers of unique films that reduce eye strain. Clear protectors are convenient for outdoor and indoor use but do not reduce glare. Anti-glare protectors are ideal for people with visual impairments and outdoor use. Ultimately, the protector you choose should depend on where you're using your Fitbit and how well your eyes are receptive.
Coverage
Before buying a screen protector, be sure of the type of coverage it will offer to your gadget. A full-coverage protector offers edge-to-edge coverage and is hard to tell if there's a screen protector on the device. On the other hand, partial coverage covers only the main display area and may make your device lose some bit of visual appeal.
Installation and Set-Up
Setting up the screen protector can be challenging. You should go for one that is easy to install. However, if you're not sure about installation, ask a professional and save yourself the headache.
Related: Best Fitbit Alternatives
Best Fitbit Versa Screen Protectors Reviews
KIMILAR [3-Pack] Screen Protector
The KIMILAR [3-Pack] Screen Protector is specially designed to keep your device looking brand new and shield it from dents and unwanted damage. It comes with strong adhesive and is easy to install. This screen protector has 100% touchscreen accuracy and gives you a bare screen feel. It is clear, and the color of the screen shows vividly and incisively with no distortion.
Features
Tempered glass material
2.5D curved edge
Oleophobic coating
Rounded edge
Pros
Easy installation
Highly responsive
High transparency
Touch-friendly
Scratch-resistant
Ultra-clear
Cons
The protector may not cover the whole face
Durability is questionable
Related: Best Fitness Tracker for Crossfit
ArmorSuit MilitaryShield Screen Protector
Are you looking for a high-quality screen protector that's designed with a military-grade tough material? Look no further! The ArmorSuit MilitaryShield Screen Protector is made of firm material used to protect military helicopters, aircraft, and space shuttles. It also has self-repairing technology that promises superior protection. This protector comes with 5 protective layers that offer maximum endurance against scratches. What's more, it is quick and easy to install, and any alignments and adjustments are easy to make during the installation process.
Features
5 protective layers
Ultra HD clear
Urethane material
Pros
Slim and lightweight
Maximum protection against scratches
Highly responsive
Perfect fit
Cons
Installation may be hard for some users
NANW Screen Protector
This screen protector comes with full coverage surface protection that shields your device from shatter, scratches, collision, and other damages. It comes with a soft TPU case that protects the edge of your watch from cracking in case of a fall. The NANW Screen Protector is easy to take off and install, and you don't need to remove a versa lite band when installing the case.
Features
Soft TPU material
100% touchscreen accuracy
Full-coverage screen
Pros
All-round protection
Scratch- and shatter-resistant
Easy to install
Touch-friendly
Cons
The skin may look foggy
It tends to become loose after multiple removals
IQ Shield Screen Protector
The IQ Shield Screen Protector is specially designed to offer edge-2edge coverage of your gadget's screen. It gives your device a flexible, thin, and durable protective layer that does not compromise its responsiveness. With this Fitbit screen protector, you're guaranteed a clean and transparent way to keep your device looking new.
Features
4 layers of protection
UV-protective layer
Ede-to-edge coverage
Pros
Smooth touch and anti-scratch
Ultra-responsive
No bubble
Affordable
Perfect fit
Cons
It doesn't work well with curved edges
QIBOX Screen Protector
Are you looking for a Fitbit screen protector that is easy to install and fits perfectly? Look no further! The QIBOX Screen Protector is made of high-quality tempered glass that guarantees you superior protection. It is crystal clear, and all the colors of the screen are displayed vividly without any distortion. With this screen protector, you're guaranteed 100% touchscreen accuracy and HD clarity.
Features
Tempered glass
Rounded edge
Oleophobic coating
Pros
Easy to clean
Easy to install
Shatter-proof
High transparency
Cons
Not compatible with Fitbit Versa 2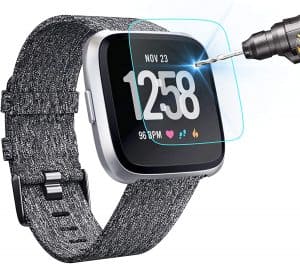 Conclusion
You don't need to spend a fortune to get a high-quality screen protector that will keep your Fitbit looking brand new.
However, always take some time to think about the features you'll want in the best Fitbit versa screen protectors.
Uninformed decisions may land you a low-quality screen protector.