When you hit the gym, do you keep track of your progress, or do you just work out blindly?
If you want promising results, you need to understand your progress. What you put on your wrist might help you understand your workouts.
Technology has greatly evolved and gives you access to more details. Fitness trackers are slowly on the rise and give you more detailed data than ever before.
Whether you're looking for an advanced smart gadget for an immersive fitness experience or just a fitness-oriented tracker to record your splits and laps, we've got you covered.
In this guide, we've reviewed the best fitness trackers for CrossFit, along with a handy buying guide to help you make an informed decision.
| Smartwatch | Battery Life | GPS | Heart Rate | Price |
| --- | --- | --- | --- | --- |
| Garmin 010-02064-00 Instinct | Up to 14 days | Yes | Yes | View |
| Polar Ignite – GPS Smartwatch | Up to 5 days | Yes | Yes | View |
| Garmin Vivoactive 3 | Up to 7 days | Yes | Yes | View |
| Suunto Spartan Sport Wrist HR | Up to 12 Hrs | Yes | Yes | View |
| Garmin Fenix 6 Sapphire | Up to 14 days | Yes | Yes | View |
Best Fitness Tracker for Crossfit Reviews
CrossFit is a high-intensity, varied workout, so you'll want a tracker that can handle the demands of this type of training. The following are some of the best CrossFit trackers to consider:
Garmin 010-02064-00 Instinct, Rugged Outdoor Watch
Are you looking for the best fitness tracker for CrossFit that is built to withstand the toughest environments? Look no further! The Garmin 010-02064-00 Instinct, Rugged Outdoor Watch is highly rugged to withstand the abuse of an intense WOD.
With the best CrossFit watches, you don't have to worry about battery charge since they come with a long-lasting battery that can last for a whole week on a single charge.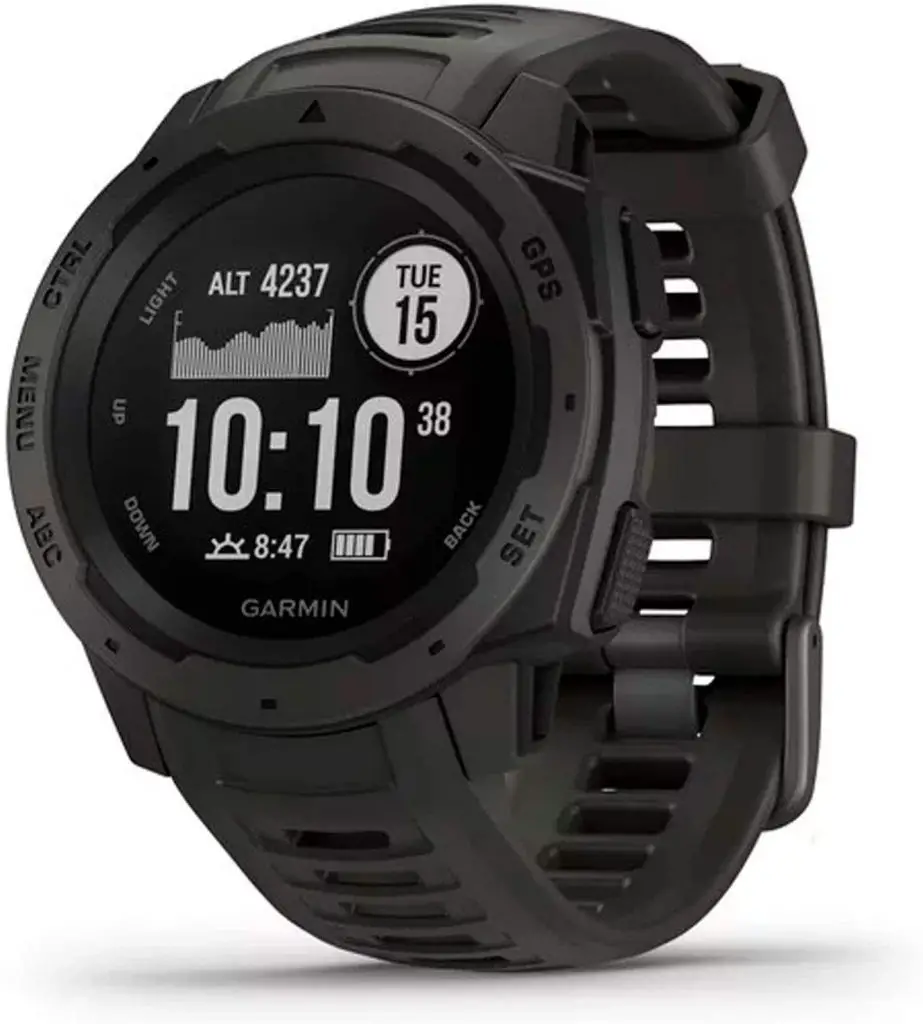 Click Here to View Current Price
The Garmin 010 has an easy-to-read display, so it fits any kind of environment, whether light or dark. It is fully compatible with the Apple health app and comes with its own powerful health app. What's more, this fitness tracker lets you leave your phone in your pocket while still enjoying automatic live tracking, automatic uploads, and group track feature.
Features
Built-in 3-axis compass
Barometric altimeter
Fiber-reinforced polymer case
Pros
Excellent battery life
Smart notifications and automatic data uploads
Shock, thermal, and water-resistant
Ability to run stopwatches, countdowns, and timers
Cons
Lacks some features of more dedicated fitness devices
POLAR IGNITE – Advanced Waterproof Fitness Watch
The POLAR IGNITE – Advanced Waterproof Fitness Watch is a good choice for all fitness maniacs and is perfect for CrossFit. This Smartwatch helps you track your sleep and fitness with ease. It comes with a built-in HR monitor that is advanced due to the Precision Prime optical heart rate sensor. This helps you track your heart rate during WOD and swimming, thanks to its strong sensitivity.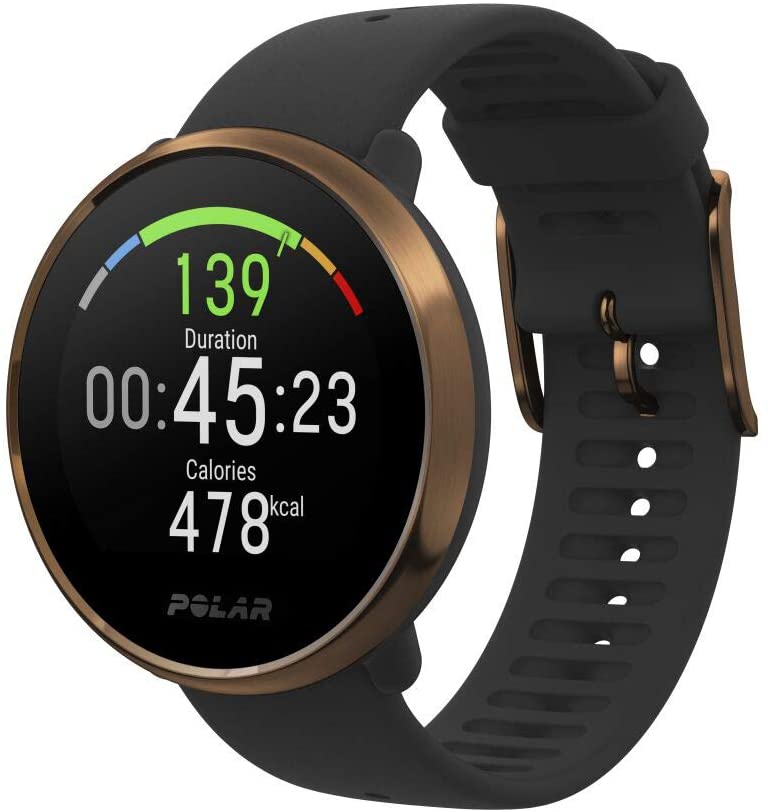 Click Here to View Current Price
This fitness tracker is ideal for all kinds of activities so that you can monitor your progress in every workout. It comes with a Polar Flow App, which has a sports profile specially designed to match HIIT and Crossfit.
Features
Bluetooth support
Integrated GPS
Sleep Plus Stages
Smart notifications
Pros
Advanced sleep tracking
Accurate optical HR monitor
Has Power flow app to monitor all workouts
Cons
The app doesn't track the weight of Olympic lifts
Garmin 010-01985-01 Vivoactive 3
If you're looking for the best fitness tracker at a budget, this is a good bet. The Garmin 010-01985-01 Vivoactive 3 comes with fantastic features and is an excellent choice for bodybuilders, powerlifters, and Crossfitters. It comes with durable construction and a strength training profile specially designed for your training. It helps you to time all your sets, enter in reps manually, and time your rest periods in between.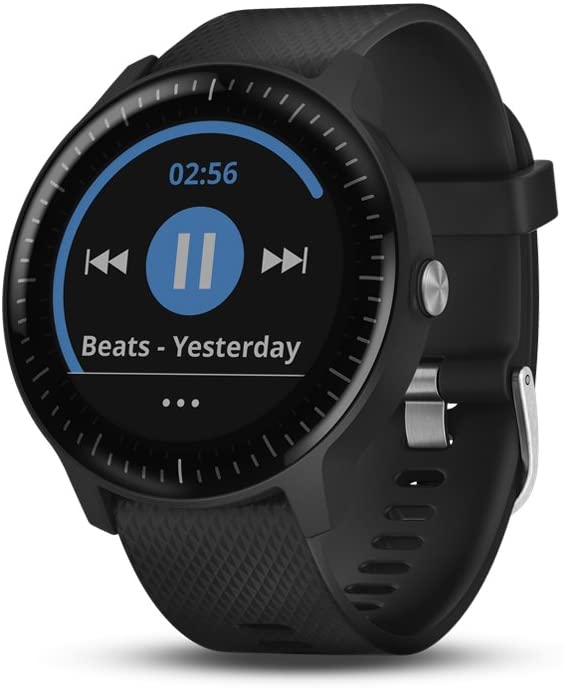 Click Here to View Current Price
The Garmin 010-01985-01 Vivoactive 3 can track your movements automatically and detect any reps automatically.
The best CrossFit fitness tracker is a bit expensive since it comes with music to pump you up during workouts.
Features
Built-in Sports apps
Bluetooth connectivity
1.2" display
Built-in GPS
Garmin Pay contactless payment
Pros
Comfortable and convenient to use
Built-in strength training profile
Cons
Plastic construction
Sleep tracking is not entirely reliable
Suunto Spartan Sport Wrist HR
The Suunto Spartan Sport Wrist HR comes with preprogrammed sports modes that help you to set interval training. It has a Suunto Movescount app that gives you access to various CrossFit-related features like Tabata beep timers, EMOM timers, CrossFit rounds counter, and more.
This best watch for CrossFit is light and comes with long battery life.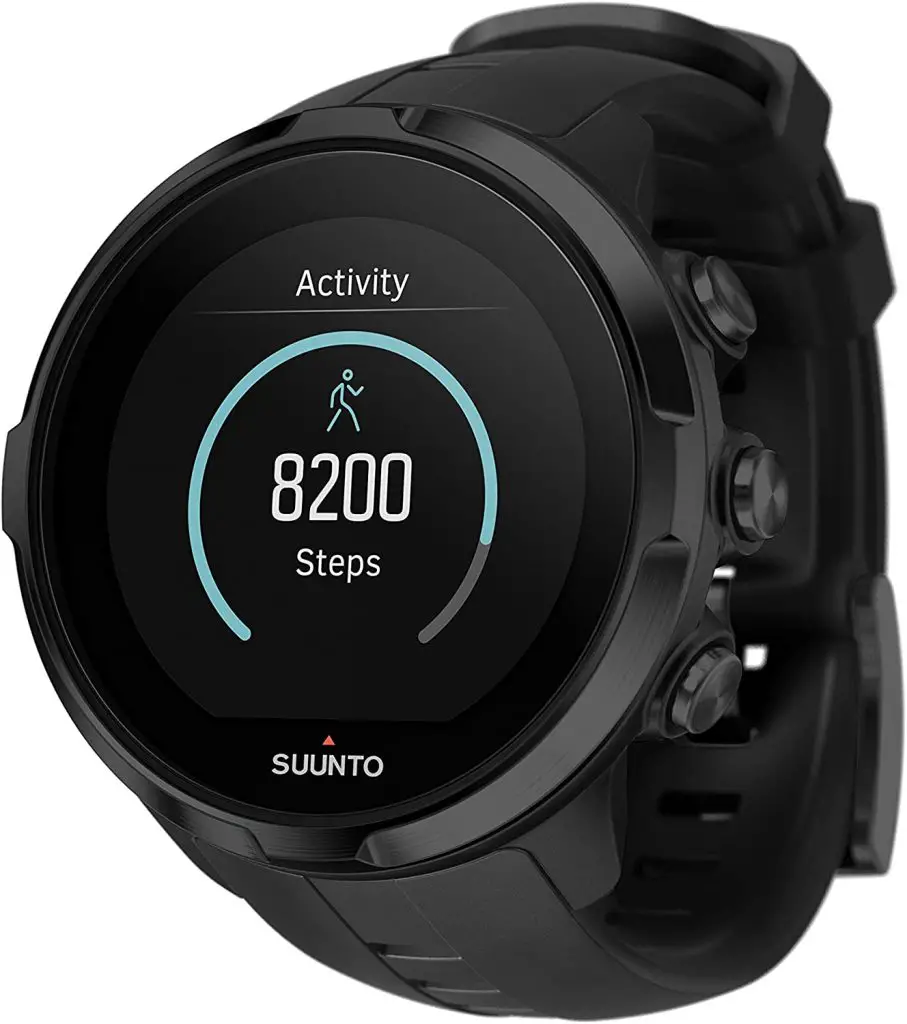 Click Here to View Current Price
Features
State-of-the-art color touchscreen
3 buttons
Stainless steel bezel
GPS route navigation
Pros
Strong and sleek design
Great visibility outdoor
Water-resistant
Lightweight design
Cons
Garmin Fenix 6 Sapphire
This fitness tracker is a good choice for CrossFit enthusiasts. The Garmin Fenix 6 Sapphire can be used with the Garmin Cross-Training app to help you track your workouts accurately.
The best CrossFit watch comes with a Tabata HIIT timer and countdown times to help you monitor all your activities. What's more, it has a Pulse OX that helps you estimate the amount of oxygen saturated in your body.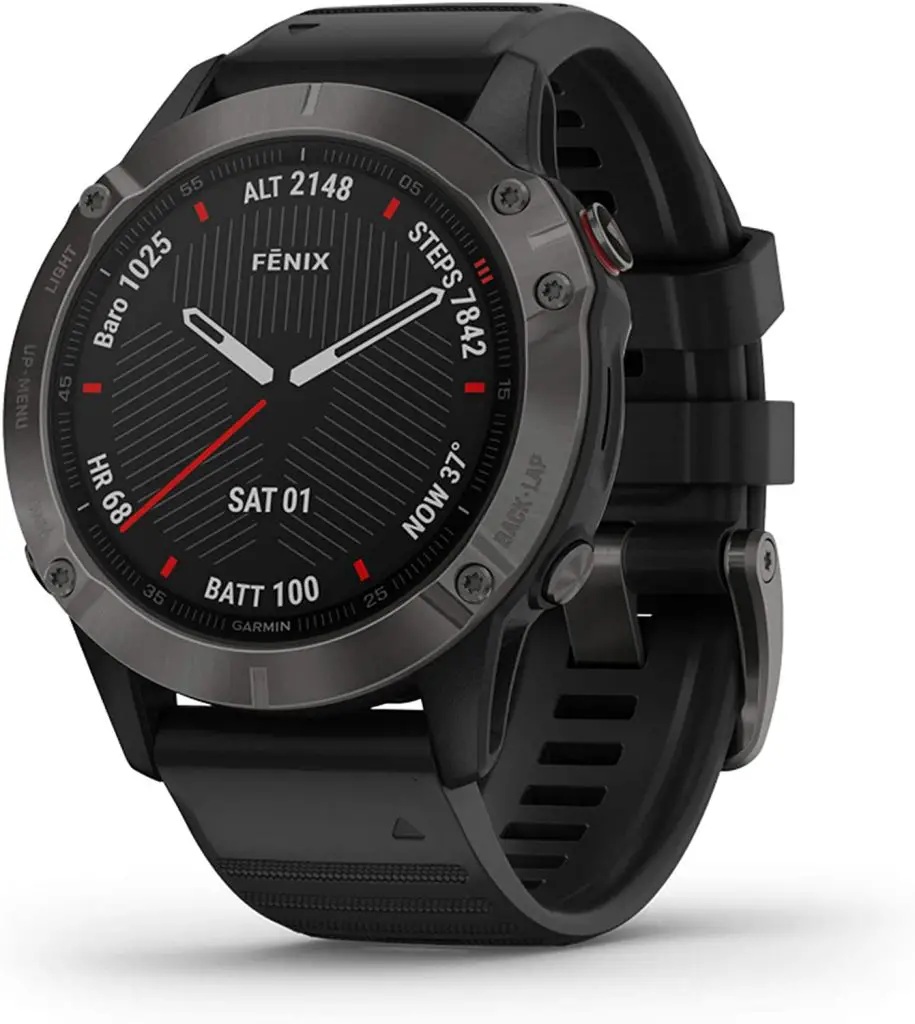 Click Here to View Current Price
Features
Pulse OX sensors
1.3-inch display
Stainless steel bezel
TOPO and Ski maps
Pros
Excellent battery life
Smart notifications
Advanced sleep monitoring
Cons
What is a Fitness Tracker?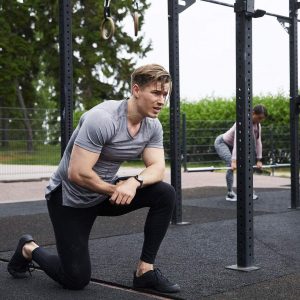 A Smartwatch is a wearable mini-computer in the shape of a wristwatch that logs one or more fitness-related metrics. This device keeps a record of step count, max heart rate, the number of calories burned, and time spent on workouts.
Some trackers are designed to total health tracking, monitoring things like heart rate variability, number of hours of quality sleep, and resting heart rate. Mostly, a fitness tracker is synced to an app that keeps all data and biometrics.
Related: Best Fitbit for Men
How Does a Fitness Tracker Work?
This is dependent on what your fitness tracker does. For instance, if your tracker is designed for step count, it has a gyroscope or accelerometer and other sensors to monitor the number of steps and motion. These sensors measure frequency, time, acceleration, and intensity in case of measuring heart rate.
Some measure elevation for things like trail running or hiking using a barometer sensor. Sensors are part of the intelligence build into the device. However, the actual intelligence comes from the ability to use the sensors in the right way.
Related: Best Fitbit for Women
What Are the Benefits of a Fitness Tracker?
These devices give you a more detailed look into your performance, training, and recovery. Recreational Crossfit athletes or newbies can use a fitness tracker to set fitness targets and motivate them to go to the gym.
Advanced Crossfitters use data from these devices to guide their training decisions and performance. For instance, if the fitness tracker displays a higher heart rate, the athlete may take a rest. Additionally, most fitness trackers feature built-in incentives or gamification that encourage you to workout.
Related: Best Fitbit for Kids
FAQs
Is the Crossfit Watch Different From Simple Wrist Watch?
A simple wristwatch only shows the date, time, and day while the Crossfit watch displays day, time, date, heart rate, SMS, incoming calls, SNS notifications, and Bluetooth connectivity. These devices also help you set the alarm more than once. Additionally, CrossFit watches are waterproof and have rechargeable batteries.
Are the Crossfit Watches Waterproof?
Are Crossfit Watches Made for Men Only?
Crossfit watches are designed for men, kids, and women. They are available in different sizes and color options. Also, there are pairs of Smartwatches that are designed for partners.
Fitness Tracker for Crossfit Buying Guide
When choosing a fitness tracker, most people don't check its components and specifications. They go for a reputed brand that falls within their budget. This means the chosen Smartwatch may or may not be perfect for workouts.
If you're looking for the best trackers for CrossFit and need some tips on how to get the right one, here are some crucial points that'll land you a perfect fitness tracker.
Comfort and Design
Most fitness trackers can make you excited, but ensure it's comfortable to wear. No one wants a device to count calories that makes cleans difficult during a WOD. Also, check if you'd like to wear chest straps or watches, as some devices have only one option.
Battery
A good fitness tracker helps your track some great statistics, but it's worthless if the battery drains after a few hours of use. Not all watches come with a long-lasting battery, so ensure you check the battery of your chosen device to confirm if it will suit your needs.
GPS Tracking
If you are at the gym or doing box-based activities, this feature doesn't count, but if you exercise outdoors, then GPS tracking is a must-have.
There are two types of GPS: built-in GPS and connected GPS. Built-in GPS means you can leave your phone at home, but the connected GPS relies on a Smartphone GPS signal.
Water Resistance
Water resistance is a crucial feature in a fitness tracker, especially if you're a swimmer. It may not make sense for CrossFit but having this option is a plus. Make sure you check the manufacturer's specs to see the degree of resistance it can offer.
App Experience and Connectivity
Before making the final decision, check how the app connects to your Smartwatch and what it can do. You should go for a fitness tracker with its own top-notch app. Also, check which apps are compatible with your device.
Most CrossFit fitness trackers connect through Bluetooth Low Energy, which is available on your Smartphone. Others come with ANT+, which is mostly available in smart computers for bikes. However, this is worthless for a Crossfitter.
Related: Best Fitbit Alternatives
Conclusion
If you're looking for the best fitness tracker for CrossFit but don't know what to look for and the options available, this guide will help you.
All the best watches for CrossFit we have reviewed are of top quality and have surpassed the expectations of many fitness enthusiasts.