Your Apple Watch is serving you well and the band that came with it. However, you notice that the watch band has signs of peeling and discoloration issues after some time. Naturally, you would want a new Apple Watch band.
But is Apple Watch band covered under warranty? Here's what you need to know about the warranty terms of your Apple Watch band.
Table of Contents
Is Apple Watch Band Covered Under Warranty?
Is my Apple Watch band covered under Apple's One-Year Limited Warranty?
According to Apple, the watch bands that come with your Apple Watch may be covered under the Apple Limited Warranty or AppleCare+ at no extra costs. However, the Apple Limited Warranty period varies by model and covers your watch bands against manufacturing defects from the date you purchased the product.
The Apple Limited Warranty doesn't cover damages caused by unauthorized modifications or accidents.
How to Claim a Replacement for Apple Watch Band?
Apple watch band replacements and repairs aren't completed in-store. You can send your device to an Apple Watch Repair Center or ask the Apple Store technician to ship it for you.
If the AppleCare+ plan covers your device, you'll receive a replacement before sending the faulty device.
Related: Whoop 4.0 Strap vs Apple Watch 7
Is my Apple Watch band covered under Apple's AppleCare+?
Yes, it's covered. If you purchase the AppleCare+ plan for your Apple Watch, the included band is covered for up to two times accidental damages. However, there are certain exclusions, like cosmetic damages.
What is AppleCare+? (AppleCare+ coverage)
AppleCare+ is basically an insurance plan that offers coverage for repairs that occur after the one-year limited warranty that comes with your Apple Watch. AppleCare+ covers all new Apple gadgets, including those bought from third-party retailers and Apple Certified Refurbished devices.
Most Apple gadgets come with an option to choose between two AppleCare+ plans. You can opt for a two-year plan in monthly pay or single payment. This plan works best if you live near an Apple store. You can take your Apple Watch to the store to have it sent to the repair center, and if the store has the bands in stock, you can walk out of the store with a replacement.
How to Buy AppleCare+
When buying your Apple Watch on Apple.com or Apple store, you'll be offered AppleCare+ cover, and certified Apple retailers could also provide the AppleCare+.
However, you have 60 days to pay for the plan. When buying the AppleCare+, Apple will run a diagnostic test on your device to determine if the device in question is in good shape.
How to Claim Your AppleCare+
You can claim your AppleCare+ via the phone or website. If you need help claiming your cover, you can contact Apple customer service and explain your issue. Alternatively, you can claim your AppleCare+ on the company's website.
How is AppleCare+ Different from Other Warranties Offered by Apple?
AppleCare is the term used by Apple for its warranty programs. Every Apple gadget enjoys an aspect of the AppleCare warranty service for free, usually a one-year limited warranty. If you extend this protection longer, this is called AppleCare+.
Apple Watch Band Maintenance Tips
Apple Watch bands are usually made from metal, leather, silicone, cloth, and rubber. You need to clean them regularly because they are exposed to dirt, soap, and sweat. Apple Watch band maintenance tips include:
Detach the band from your Apple Watch before cleaning the band.
If you're using leather and fabric bands, clean the leather part with a non-abrasive, lint-free piece of cloth.
Dampen a piece of cloth with fresh water to remove oily and sticky substances.
Don't reattach the fabric or leather band to the Apple Watch before it's completely dry.
Don't submerge the watch band in cleaning agents. When exposed to perfumes, lotion, insect repellent, oil, lotion, and dyed products, the band can also discolor.
Apple Watch Band Warranty: FAQs
Can I exchange the band My Apple watch came with?
Yes. It's possible to exchange the Apple watch band. You can also return ill-fitting bands without having to send in the Apple Watch itself.
Do Apple Watch bands break?
Ultimately, Apple Watch bands will get damaged, including normal wear and tear. So don't expect it to be different from regular watch bands out there.
Are Apple Watch Bands Waterproof?
Some bands are waterproof, while others are water-resistant. Most watch bands are water-resistant and not waterproof.
Most Apple Watch bands you purchase from Apple are water-resistant, but some are waterproof.
Does AppleCare Cover Water Damage to My Apple Watch?
AppleCare covers two cases of accidental damage but doesn't mention water damage. These cases of accidental damage are subject to a service fee.
Does AppleCare cover watch bands?
The Apple Watch band is covered under Apple's One-Year Limited Warranty against defects in materials and workmanship, but not for accidental damage.
AppleCare+ provides repair or replacement coverage for the Apple Watch, including the battery charging cable and bands.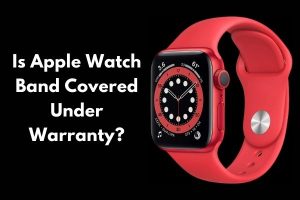 Final Thoughts
Since your Apple Watch is covered under warranty, it's time to get the best out of your smartwatch.
You can confidently take it to the swimming pool or beach and continue enjoying all the benefits of your watch.