Do you love listening to music while you work out? Do you hate having to carry your phone with you when you go for a run? If so, then a smartwatch with music storage may be the perfect accessory for you.
Whether you're working out at the gym or taking a walk around the neighborhood, having access to your favorite tunes is a great way to keep yourself motivated.
Most of the top smartwatches on the market today come equipped with some form of music storage. This means that you can store your favorite songs and offline playlists right on your wrist, and listen to them anytime, anywhere.
Not all smartwatches come with internal music storage, though. So, if this is an important feature for you, be sure to do your research before making a purchase.
Even smartwatches with internal music storage do not offer the same storage capacity. Some watches allow users to store hundreds of songs on their devices, while others only offer limited space. It's also important to make sure that whatever watch you choose is compatible with the type of music player that you use most often (e.g., Apple Music or Spotify).
If sound quality is important to you as well, look for a watch that has good-quality speakers built-in and/or supports Bluetooth headphones for even better audio playback.
And if battery life is a concern, choose a model with a powerful battery that will last through multiple workouts or long days at work without needing recharging.
Best Smartwatch with Music Storage
Apple Watch 7 Series is the latest and most advanced smartwatch from Apple. It has a lot of new features that make it better than its predecessors. Let's look at some of them.
The smartwatch has 32GB of internal storage space that lets you store music for offline playback. This makes it one of the best smartwatches with music storage.
The watch has a battery life of 18 hours. This, coupled with the watch's fast charge feature, lets you enjoy hours of uninterrupted music playback.
The first thing you'll notice about the Apple Watch 7 Series is its design. It comes in two sizes, 41mm and 45mm, and has a sleek, modern look that will appeal to everyone. But what makes it really stand out is its display. The watch face is 20 percent larger than the Apple Watch 6 Series… so you can see all your notifications clearly no matter where you are.
The other best part of the Apple Watch 7 Series is its new health features. The watch includes an ECG monitor that can help you detect heart problems early on, and there's also a built-in fall detector that will automatically call for help if you fall or have an accident. These features could potentially save your life, so they're worth checking out!
Related: Smartwatch Comparison Chart 2023
Garmin Forerunner 745 is a great running watch that has many features to help you train and track your progress.
This smartwatch can store up to 500 songs, so you can listen to music while you run without having to carry your phone.
The watch has a battery life of 6 hours in GPS mode with music. This is enough for most runs but as impressive as the Apple Watch Series 7's 18 hours.
The built-in GPS tracks your location and pace, and the heart rate monitor helps you stay within your target heart rate zone.
If you're looking for a watch that can do it all, the Garmin Forerunner 745 is worth considering.
The Samsung Galaxy Watch 4 is the newest addition to the Galaxy Watch family. It comes with a sleek design and many new features, including an ECG Monitor and fall detection.
The battery life on the Galaxy Watch 4 is excellent; it lasts for several days on a single charge. And if you need to charge it up quickly, just put it in its wireless charging dock. The watch runs Android Wear OS, so you have access to thousands of apps that are compatible with Android Wear devices.
Thanks to the watch's large internal storage and good battery life, you can store music and listen on the go… you can leave your phone at home when you go for a run or ride your bike.
You can also use the watch to make payments with Samsung Pay.
Overall, we think that the Samsung Galaxy Watch 4 is an excellent wearable device and we highly recommend it!
The Fitbit Versa 2 is a great fitness tracker for everyone.
The smartwatch has many features that make it stand out from other smartwatches and fitness trackers on the market. One of these features is its ability to track your sleep. This is important because you can see how well you are sleeping and make changes if needed.
The Versa 2 also has a built-in GPS so you can track your runs or walks without having to carry your phone with you.
Another great feature of the Versa 2 is the music storage that allows you to listen to music without having to bring your phone with you. This can be helpful when you are working out and don't want to have anything else in your hands or pockets.
The smartwatch with music storage gives you 6+ days of battery life. This lets you listen to music for hours on a single charge.
Overall, the Fitbit Versa 2 is a great fitness tracker for everyone, and I highly recommend it!
Garmin Venu Sq Music Smartwatch is one of the most advanced smartwatches from Garmin. It comes with a lot of features, some of which are not available on other smartwatches. The watch has a beautiful design, and it is very comfortable to wear. The display is also very good, and the colors look amazing.
The watch comes with many built-in sensors that allow you to track your activities and health data accurately. It also has a heart rate monitor that helps you keep track of your heart health. The watch can also be used to monitor your sleep quality, which is helpful if you want to improve your sleep habits.
One of the best features of this watch is its offline music playback capabilities. You can store up to 500 songs on the watch itself, which means that you can leave your phone at home when going for a run or workout session. You can even control playback using simple gestures on the screen itself!
The smartwatch has a 6+ hours battery life when playing music. This is enough for most runs and workout sessions.
FAQs
Can I play music on my smartwatch without a phone?
Yes, you can absolutely listen to music on your smartwatch without your phone! In fact, many people do this all the time. There are a few ways to go about it – you can either download songs directly to your watch or stream music using a service like Spotify.

If you want to download songs directly to your watch, there are a few different options. Some watches have their own internal storage, while others rely on cloud storage solutions like iCloud or Google Drive. If you don't mind storing all your music offline, this is a great option – just make sure that your watch has enough space for everything you want to store!

If you'd rather not take up all the internal storage on your watch, another option is streaming services like Spotify. This way, you can still access all your favorite tunes without taking up any space on your device. Just make sure that you have a strong internet connection – if it drops out for even a second, the music will stop playing!
Can smartwatches play Spotify?
Yes, smartwatches can play Spotify. In fact, many of them have the app pre-installed. This makes it easy to access your music library from your wrist without having to take your phone out every time you want to change a song or check what's playing.

Spotify offers a great selection of music and podcasts that you can access on demand. You can create custom playlists or listen to curated ones based on your mood or activities. And with the ability to control music playback from your wrist, you never have to miss a beat.

If you're looking for a convenient and portable way to enjoy all your favorite tunes, then consider using Spotify on a smartwatch. You'll be able to keep moving while listening to all your favorite songs!
Which Fitbit has music storage?
There are a few different Fitbits that have music storage. The Ionic, Versa, and Versa 2 all have internal music storage. This means you can store up to 500 songs on your watch! If you're looking for a Fitbit with music storage, one of these three might be a good option for you.
Can Fitbit Versa 3 store music?
No, Fitbit Versa 3 cannot store music. The Fitbit Versa 3 may have a lot of features that the original Versa and Versa 2 don't have but it lacks one important feature, the ability for users to store music.
Can Apple Watch 5 store music?
Yes! The Apple Watch 5 can store music! I know that may not be the most interesting thing to some people, but it is a really great feature. Especially if you are someone who likes to work out or go for walks without having your phone with you. You can just put on your watch and go! Plus, it's always nice to have a little bit of music playing in the background. The Apple Watch lets you use 8GB of the watch's 32GB for music storage.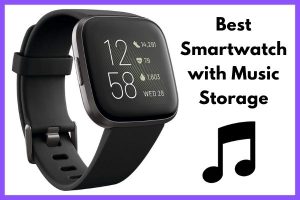 Parting Shot
In summary, there are 3 standout smartwatches with music storage, including Samsung's Galaxy Watch 4, Garmin Forerunner 745, and the Apple Watch Series 7. Each device has something unique to offer. When it comes to music, you'll need to choose between storing your music locally on the device or streaming it from online music services like Google Play Music, Apple Music, or Pandora.