Apple has done a great job in the world of smartwatches because of the new features and updates the company has added to the Apple Watch, like blood oxygen tracking, heart rate monitoring, and more. There's no doubt about that; Apple Watch is arguably the best smartwatch out there. However, the Apple Watch may not suit everybody.
Some tech enthusiasts may prefer all-around smartwatches, but the Apple Watch isn't one of them. Thankfully, there are other alternatives.
Here are the best Apple Watch alternatives you can order right now.
Table of Contents
What is Apple Watch?
Apple Watch is a wearable smartwatch that helps users accomplish various tasks, including sending text messages, fitness, health tracking, phone calls, and reading emails.
Are there Apple Watch alternatives out there?
Yes. There are other smartwatches that have a perfect balance of style and functionality. If you're not an Apple user, there are other alternatives that are compatible with Android.
What to look out for in Apple Watch Alternatives
If you want an Apple Watch alternative to help you monitor your activities and achieve better health goals, here are a few things to help you make an informed decision.
Display and Design
When looking for an Apple Watch alternative, make sure that it is comfortable and lightweight. A compact and lightweight smartwatch are convenient to wear for an extended period. Additionally, ensure that the display is clear, especially if you've visual issues.
Compatibility
Make sure that your favorite smartwatch pairs with your phone seamlessly. The best Apple Watch alternative should work with any device you want to connect to.
Battery Life
The battery life of your smartwatch is important if you want to wear your device all day long. Go for one that has a long-lasting battery life and doesn't need to be charged after a few hours of use.
Weight and Portability
Some smartwatches come with a heavyweight design and can be uncomfortable to wear. Always opt for a lightweight smartwatch that fits well on your wrist and does not add extra weight.
Comfort and Ease of Use
Look for a smartwatch that is comfortable and easy to use. Therefore, a Smartwatch made of lightweight, breathable, and comfortable material is a great option. Choose a smartwatch that doesn't compromise your style and comfort.
Accuracy
Smartwatches have different tracking accuracy. For this reason, some may give you inaccurate and inconsistent data. Make sure that your favorite smartwatch can track accurately.
Related: Apple Watch 7 vs Whoop 4.0
Best apple watch alternatives you should get
SAMSUNG Galaxy Watch Active 2
The SAMSUNG Galaxy Watch Active 2 is one of the best Apple Watch alternatives out there. It has a sturdy and lightweight design that makes it super comfortable to wear. With this smartwatch, you can track your stairs climbed, daily steps, and track your sleeping habits. This smartwatch helps you to achieve your fitness goals, thanks to the built-in pace coaching. Additionally, it's available in stainless steel or aluminum and has several face bands and finishes.
Features
Black color
40mm size
Aluminum and stainless steel finishes
Pros
Compatible with Bluetooth-enabled devices
Easy to use
Comfortable
Fitbit Versa 3 Health & Fitness Smartwatch with GPS
The Fitbit Versa 3 has a lot to offer compared to Versa 2. The best thing about this smartwatch is that it comes with a built-in GPS, which means you don't need to take your phone when you want to cover a route or track distance. It has a PurePulse 2.0 heart rate monitor that gives accurate readings and data. This smartwatch also has a SpO2 sensor to monitor your blood oxygen levels and menstrual cycles.
Features
Built-in GPS
PurePulse 2.0 heart rate monitor
Built-in Alexa
Pros
Improved heart rate tracking
Phone call integration
Vivid screen
Cons
Willful Smart Watch for Men and Women
If you're looking for a reliable smartwatch without spending hundreds of dollars, this is a solid choice. Although it doesn't have all the bells and whistles of expensive smartwatches, the Willful Smartwatch comes with a sleek look, impressive battery life, and easy syncing.
Features
Built-in rechargeable battery
1.44" display
Bluetooth connectivity
Pros
Great battery life
Easy to sync
Excellent fitness-tracking features
AmazfitBip U Smart Watch Fitness Tracker
The AmazfitBip U Smart Watch Fitness Tracker is a feature-filled smartwatch that resembles an Apple watch but comes at an affordable price. Depending on your usage, this smartwatch can last for 1 to 2 weeks of battery life. With this device, you'll enjoy an attractive, lightweight design with a bright display.
Features
1.43" HD color screen
60+ sport modes
50 watch faces
Pros
Long-lasting battery life
Affordable
Effective stress level monitoring
Excellent sleep quality monitoring
Fitbit Sense Advanced Smartwatch
The Fitbit Sense is designed to bridge the gap between your physical and mental health for maximum stability and peace in its use. It comes with an advanced and effective health system, including sensors to monitor your stress levels, making it a great Apple Watch Alternative. Additionally, it has a built-in GPS that's quite useful in exercises like distance tracking.
Features
OLED display
Built-in GPS and NFC
Pros
Comfortable to wear
Better phone integration
Easy to change straps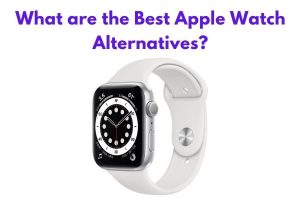 Cons
Parting Shot
Finding the best Apple Watch alternative isn't too challenging since there are tons of options out there. You should ensure that your favorite smartwatch suits your lifestyle and falls within your budget.