Fitbit has continued to produce quality wearables with easy-to-understand analytics. It's among the first companies to introduce wrist-based heart rate monitoring, and now it has included a built-in SpO2 sensor to measure blood oxygen levels.
In this article, I'll explain why the SpO2 sensor is important and how to use it.
Table of Contents
What is SpO2 on Fitbit?
SpO2 is a measure of the blood oxygen levels or, in other terms, your estimated oxygen variation (EOV). Oxygenated blood is distributed to all body parts, and SpO2 represents the oxygen levels in your blood.
The Fitbit gadgets use red and infrared sensors to bring light to the blood vessels and read the light levels and colors displayed. From the readings, your Fitbit device gives an accurate estimate of the oxygen levels in the blood.
Which Fitbit Has SpO2 Sensor?
The SpO2 functionality is available on Fitbit smartwatches and bands like Versa Lite, Ionic, Charge 3, Versa, and Versa 2.
How is SpO2 Measured?
There are numerous methods to determine your blood oxygen saturation. The first method entails getting a blood sample and testing using lab equipment. Although this is an effective method, it's not practical for many uses. For this reason, most people use pulse oximeters with the help of optical techniques to determine the SpO2.
How does SpO2 function? Deoxygenated blood goes back to the lungs via the veins and has a darker color than the oxygenated blood in the arterioles and arteries. Using the Fitbit sensors, you can determine the reflection of red and infrared light in your blood through the wrist and check the variation as the heart beats. This will give you the SpO2 value.
However, Fitbit doesn't show or measure SpO2 values below 80%.
Using Your Fitbit to Detect Blood Oxygen
If you own a Fitbit Ionic, Versa, or Charge 3/4, you'll notice a red light on the underside of your device. This is the SpO2 in operation. For those who have activated the feature, there is a graph known as Estimated Oxygen Variation that appears in the morning among the sleep statistics.
If it shows a green line, your blood oxygen is fine; orange indicates that there is an issue. The feature also has two horizontal lines, which indicate the healthy range. This gives you sufficient information if there is any problem.
If you need more detailed data, go for a premium subscription. This will give you access to weekly and monthly trends in the new Health Dashboard. You can view the actual % values when sleeping, along with nightly graphs and averages and insights.
It comes with a monthly subscription of $9.99 per month or $79.99 annually. It also has a free 90-day trial if you're a new user.
Fitbit's SpO2 Clock Face
Fitbit has introduced a clock face that permits you to view your SpO2 from the wrist. You'll find it in the Fitbit App Gallery. However, if you don't have a premium subscription, you'll only access the Estimated Oxygen Variation graph in the phone app. The watch face helps you to see the actual value in %.
How to Install the Fitbit SpO2 Clock Face
Go to the Fitbit app and tap the Today tab.
Click your profile picture and the device image.
Choose Clock faces and then All clocks.
Go to the search space and type "SpO2 Signature."
When you find the clock face, choose Select and the Install
After the process, continue using the smartwatch as usual. After you wake up in the morning, you'll see your nightly average SpO2 on the gadget.
Reasons Why You May Not Receive SpO2 Data
If your SpO2 tracker app has been installed correctly, and you are not receiving data on the Fitbit app. Here's what you need to do: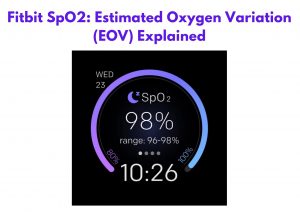 You need to sleep for at least 3 hours. If your sleep session is short or you move a lot when sleeping, the SpO22 data may not be captured.
Charge your gadget to ensure it collects data throughout your sleep session. You need to charge your Fitbit gadget several times when using the SpO2 app.
You need to wear your device a bit higher on the wrist and ensure it's in contact with your skin. Additionally, ensure that your Fitbit device is snug but not constricting.
Conclusion
If you want to get in touch with your blood oxygen levels, go for the SpO2 to better understand your wellness and body with its advanced technology. Additionally, if you want to monitor your trends in the Health Metrics dashboard, choose the Fitbit Premium membership