A small wearable Smartwatch can keep you updated on anything from YouTube video updates to Facebook notifications. With the best Smartwatches under 50, you can keep track of your health parameters such as distance walked, blood pressure mapping, calories burned, heart rate tracking, and much more.
This impressive tech is facing growing demand with every passing day, making tech enthusiasts develop brand new options with advanced features and minimal lag. Having a Smartwatch nowadays is necessary if you're a fitness guy or are conscious about your health. However, most think that this gadget is costly.
Honestly, you don't need to break the bank to get a good Smartwatch since several budget-friendly Smartwatches in the market are loaded with great functionalities and features. Here's a list of the 5 best Smartwatches under 50 that will help you with your daily technology needs.
How Does a Smartwatch work?
A Smartwatch is a wearable digital gadget used for receiving calls, activity and fitness monitoring, receiving emails, texts, and calls, and keeping you updated all day. It connects to your iOS or Android Smartphone using Bluetooth technology.
However, most Smartwatch brands have their own apps that offer seamless connectivity with your phone. After a successful connection, your data is automatically synced with the Smartwatch that displays all the functions in easy-to-use pop-ups, alerts, notifications, etc.
Benefits of Using a Smartwatch
A Smartwatch is not just an ordinary watch for your wrist since it does many impressive things that a Smartphone may fail to do. Let's take a look at some benefits of this tiny device.
They Do More Than Just Tell Time
With a Smartwatch, you don't have to take out your Smartphone every time you have an urgent call, receive a message, or want to make a contactless payment. They have been created to do more things that Smartphones can't do.
A Travel Guide
You don't have to ask for directions from people or buy maps since the Smartwatch can help you get to your destination without getting lost. For example, an Apple watch forms different kinds of vibrations on your wrist to show you if you should turn right or left. With such a feature, you can enjoy your hike without looking at the map frequently.
Fun and Entertainment
Gone are the days when playing music was limited to phones only. A Smartwatch is an excellent addition for anyone who wants to spend some time without their phone but still enjoys some cool music. You can either listen to music directly or control your phone's music player through it. In a nutshell, your entertainment is on your wrist!
Fitness Tracker
If you're a fitness enthusiast, a Smartwatch is a must-have device. Instead of an ordinary fitness tracker, you should opt for a Smartwatch. A Smartwatch can offer you all health-related benefits and keep track of your heart rate, sleep quality, blood pressure measurement, fall detection, accelerometer, etc.
Customization
If you don't like wearing the same design of watch every day, a Smartwatch may interest you. Some Smartwatches come with a feature to help you change the display. With this feature, you can change the Smartwatch's display to a mood that suits you. You can give your Smartwatch a professional look in the office and a stylish display on weekends.
$50 Smartwatches Buying Guide
When buying a Smartwatch, it usually scales down to personal taste most of time. However, there are a few factors you should keep in mind to avoid choosing the wrong Smartwatch. Here are a few need-to-knows that will land you the best Smartwatch under $50.
Compatibility
The first thing you need to keep in mind is compatibility! You don't want to buy a device you think is the perfect deal only to find that it's not compatible with your phone. Most Smartwatches can technically work with both iPhone and Android platforms but may be limited in their features. Additionally, ensure you have the latest software version so that it can work to its fullest capacity.
Battery Life
Battery life varies from watch to watch. Some devices can comfortably last for a week, while others can go for a day or two before recharging them. If you have no problem throwing it on the charger every night, then you are good to go. But if you're looking for a device that will of 24/7 monitoring, look for one that can last for a few days.
Accuracy
Not all Smartwatches are designed with the same tracking accuracy. For this reason, some may be inconsistent and may lead to false conclusions. Ensure that your favorite watch can track accurately.
Comfort and Ease of Use
Top-notch wrist straps do not need constant replacement since they are long-lasting. Therefore, look for a Smartwatch made of lightweight, breathable, and comfortable material. With this, you won't have to worry about style and comfort.
Smart Alerts and Notifications
Although these are some of the basic functions in a Smartwatch, some still lack these. Therefore, before making the final decision, ensure that it offers premium notification and alert options.
Design and Style
What kind of a Smartwatch are you looking for? Do you want one that looks like your traditional watch or like a tiny phone? Both types are available. So look for a Smartwatch that suits your style.
Apps
Always double-check the apps your Smartwatch comes with before adding it to the cart. Are you looking for a watch for tracking your exercise and movements? Or are you looking for a device for receiving vital notifications?  Whatever you want, ensure the device you're purchasing does what you need.
Best Smartwatches Under 50 Dollars Reviews
Letsfit Smart Watch
The Letsfit Smart Watch comes with a 1.3-inch large touchscreen that helps you understand your health more accurately by displaying data in a way that's easy to understand. It meets IP68 water standard requirements that help you avoid any trouble when working out in the rain or when swimming. This Smartwatch has 10 days of battery life that offers you full-time activity monitoring.
It comes with GPS connectivity with 9 different activity modes that help you track bike rides and the long run. With this watch, you're guaranteed that you'll receive all notifications from calls to texts and social media.
Features
1.3-inch touchscreen
IP68 waterproof
9 sports modes
Smart notifications
Pros
Long-lasting battery
Sleek design
Waterproof
Straps customization
Accurate monitoring
Cons
Notifications on the watch aren't aesthetically pleasing
The VeryFitPro app can be confusing
Willful Smart Watch
The Willful Smart Watch is a stylish design that comes with beautiful color variations and works well with Android and iOS as long as you have the updated version. With most watches, you can easily receive notifications from emails, texts, or calls, but with this one, you have a chance to view alerts from Twitter, Instagram, Facebook, and more.
This Smartwatch allows you to monitor and track your fitness with a heart rate monitor, a sleep tracker, and 9 sports modes. This device comes with a long-lasting battery and is completely waterproof. It comes with a music controller that allows you to easily control your Smartphone's music when your phone is not handy or when on the go.
Features
IP68 waterproof
7 color options
9 sport modes
Pros
Effective fitness tracker
Real-time heart rate monitor
Auto sleep tracker
Waterproof
Long-lasting battery
Adjustable brightness
Cons
Versa wristbands don't fit this watch
YAMAY Smart Watch
If you're looking for a lifestyle digital Smartwatch that comes at a low price tag, this is a good bet. This Smartwatch helps you track your daily fitness activities, thus helping you to achieve your fitness goals. The YAMAY Smart Watch comes with a large and sensitive HD screen that gives a clear display for smart alerts, notifications, and other useful apps.
This Smartwatch has fast charging times and can last for up to 10 days on a single charge. It comes with the VeryFitPro app for synchronizing and updating the watch with the latest features.
Features
IP68 waterproof technology
14 exercise modes
1.3" TFT LCD color screen
VeryFitPro app
Pros
Solid and durable
Waterproof
Easy to control
Long-lasting battery
Cons
GPS tracking may be inconsistent
Willful Smart Watch
If you're looking for a decent fitness timer that comes with impressive applications at a lower budget, this is a good option. The Willful Smart Watch comes with a 1.3" LCD color screen that has highly sensitive full touch control. With this watch, you can easily adjust the brightness to suit your surroundings. This watch comes with a high-quality battery that can last for up to 10 days on a single charge.
Features
IP68 waterproof
Multi-sports modes
1.3" LCD color screen
Pros
Waterproof
Sleep monitoring and alarm reminder
Full touch control
Multiple clock faces
Large battery life
Cons
Cannot answer incoming calls
UMIDIGI Uwatch 2S Smartwatch
The UMIDIGI Uwatch 2S Smartwatch easily connects to Android and iPhone phones and can monitor 14 sports. It also provides good guidance for your exercise and helps you achieve your fitness goals. This Smartwatch enables you to set the menstruation details in the app and reminds you of the next ovulation and menstruation. What's more, this Smartwatch helps you control your camera, bringing convenience to selfies.
Features
14 sport modes
Aircraft-grade aluminum
1.3" touchscreen
Pros
5ATM waterproof
24/7 heart rate monitoring
Auto-sleep monitor
Cons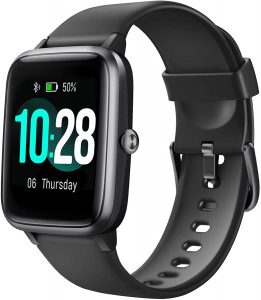 Questionable battery life
Conclusion
Adding a smartwatch to your daily activities can help you lead a more active and healthier lifestyle.
However, always take some time to think about the features you'll want in your favorite smartwatch.
Impulsive decisions may land you a low-quality smartwatch.