Are you ready to take your fitness journey to exhilarating new heights? Look no further! Welcome to my comprehensive guide on leveraging the power of Strava on Fitbit, where cutting-edge technology and your passion for fitness unite.
In this ultimate fusion of functionality and performance, I'll show you how to seamlessly integrate Strava, the world's leading social fitness app, with your trusty Fitbit device.
Whether you're a seasoned athlete or a fitness enthusiast aiming to achieve your wellness goals, this game-changing integration will revolutionize the way you track, analyze, and share your progress.
Join me as I delve into the myriad benefits of harnessing Strava on Fitbit and unleash the full potential of your fitness endeavors.
What is Strava?
Strava is a fitness platform that helps you to track your workouts and give a detailed analysis. Although it started among the cycling community, its popularity has grown and is being used by runners. It mainly focuses on a deep analysis of your workouts that you cannot get from its rivals.
This platform offers excellent comparisons and trends on the performance and volume of cycles and runs. It's also well-known for turning your routine runs into challenges against yourself and the community.
What is the Point of Strava on Fitbit?
Strava is designed to track your rides and runs but not your daily health. This means you need two separate gadgets and accounts. The integration means you can log Fitbit metrics and Strava workouts on Fitbit devices or use the gadget you have and use the app to sync your accounts.
The Strava sync is automatic, meaning you don't have to convert or upload workout files. Strava users have the advantage of accessing Fitbit's exercise logs, like calorie burn. The best thing is that it's free since the Strava sync update will be included with new versions of the Strava and Fitbit apps. Additionally, it can be downloaded on Android and iOS devices.
How Does Strava Work on Fitbit?
Fitbit supports two-way integration with Strava, which means that when cycling and running with your smartwatch or fitness tracker, the session will appear in your Strava workouts, and it's easy to check the records you smashed on your weekly route. Even better, when you go on Strava workouts, your calories and steps will count in Fitbit's daily goals. If you've been burning several calories daily but not getting the credit on Fitbit, you should link Strava to your Fitbit.
Why Connect Fitbit and Strava?
If you connect your Fitbit and Strava, here are some of the benefits you should expect:
Calories, steps, and active minutes added from Strava to Fitbit
Strava-recorded workouts that aren't tracked on Fitbit will appear in the Fitbit exercise list
GPS-tracked, outdoor workouts on Fitbit will be displayed on Strava
How Do I Link Strava and Fitbit?
Link your accounts
Although you can fiddle around in the companion web app or smartphone, you can easily link them to the dedicated page and tap the connect button.
Log into Strava
You'll be guided to log into your Strava account. Key in your details, or choose to log in via Google or Facebook. Whichever way you choose, do that here.
Authorize
You'll have to authorize Strava to link to your Fitbit account. Once you've done that, you'll get a reminder of all types of data that will be shared. Only GPS-tracked activities can be synced from Fitbit to Strava. This means that general daily activity and walks won't be visible in Strava. It must be a cycle or run. This also means you need a Fitbit with built-in GPS or a Connected GPS.
Fitbit Not Syncing With Strava
If you've connected Strava with your Fitbit, but the activities aren't syncing, here are some possible solutions to solve this:
Try reconnecting the accounts and syncing your Fitbit tracker. Ensure that the Strava is not down.
Ensure that you're not recording duplicate exercises in the Fitbit device/app and Strava app simultaneously.
Check if you're recording a GPS exercise if you're using Fitbit.
Ensure that you've recorded a new workout after connecting your accounts.
Ensure that you're connected to a network. Strava and Fitbit depend on the internet to sync with each other. If you're connected to a network, ensure that it's not down and is functioning normally.
Strava Free vs. Strava Summit
Most Strava features are free for all users to use, but some premium analysis features have a fee attached. Strava Premium is now known as Strava Summit.
Initially, Summit started with three packs you could pay for collectively or individually, monthly or annually. However, this package has been combined into one package. It comes with a monthly subscription of $5.00 with an annual subscription of $59.99.
Can I Sync Data Using the Fitbit Strava app?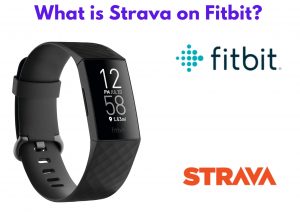 If you own a Fitbit smartwatch and you check the App Gallery, you'll find a free Strava app that you can download to your watch. The Strava app allows you to see your recently logged workouts and has Strava's Matched Runs to monitor your improvements and progress over time.
However, you cannot sync or track activities from the app. Syncing is still possible as long as you connect your Strava and Fitbit accounts, as stated above.
Conclusion
That's how you can use Strava on Fitbit smartwatches to improve your ride and runs. I hope this article will help you to get the best out of your Fitbit and Strava.