Cycling is an incredible activity and tracking your performance while cycling is crucial.
However, it's never easy tracking day-to-day ride, fitness, and health data.
Although any smartphone can do the job, the spectrum of dedicated fitness and health devices now ranges from heart rate monitors, to dedicated GPS computers, and power meters.
Increasingly, though, sport watches and fitness trackers have greatly evolved from being slave units for a phone to GPS tracking, monitoring the quality of sleep, and heart rate. However, the market is flooded with tons of different fitness trackers, and some are great at tracking some activities than others.
When it comes to cycling, we've created a handy guide to help you get the best fitness tracker for cycling. So, whatever you're searching for in a Fitbit for cycling, we've got you covered.
Related: Best Fitbit for Men
Fitness Trackers Vs. Smart Watches
The first thing you need to consider is whether you're better served by a fitness tracker, a smartwatch, or a dedicated GPS tracker. Fitness trackers are great for guys who want to monitor their health and daily activities, recording data like sleeping hours, burned calories, and heart rate.
Some fitness trackers will have activity-specific metrics, like miles run or ridden. As the device's price increases, you get a more accurate recording, Bluetooth connectivity, and auto start and stop that allows the tracker to do your activities as soon as you begin moving. Some come with wireless pay options, text and voice notifications, and GPS capabilities.
Smartwatches come with connectivity and features above basic activity tracking. Watches that feature full GPS have excellent battery life, detailed route-mapping features, and excellent waterproofing.
How Fitness Trackers Work
All fitness trackers are designed with built-in sensors that monitor your movements, often syncing and connecting wirelessly with a mobile device or computer to keep data about your day-to-day activities. The activities monitored depend on the tracker but can include hours of sleep, number of steps taken, skin temperature, heart rate, and perspiration levels. Most trackers come with an accelerometer to measure your steps, front-to-back, and side-to-side movements.
Related: Best Fitbit for Women
FAQs
Are Fitness Trackers Good for Cycling?
Yes! Fitness trackers are a great way to keep track of your daily cycling exercise. By gathering stats and data, they give you a detailed understanding of your cycling.
Are Fitness Trackers Easy to Use?
If you can navigate a Smartphone, you won't have issues with the best fitness tracker for cycling. These trackers come with readable screens and are easy to use.
Can a Cycling Watch Help Me Hit My Fitness Targets?
Absolutely! That's the main aim. You can use a cycling fitness tracker to monitor your training. The tracker will produce data that will help you keep track of your fitness goals.
What is 24 Hour Tracking?
Exactly what it states, a fitness tracker can help you monitor your body for 24 hours non-stop, at times of rest and high activity. The best cycling fitness tracker can gather this data and help you to measure your heart rate, cycling speed, and levels of your activities.
How Long Do Batteries Last?
Normally, the cycling watch aims for a few months; however, the more features a tracker has, the shorter the battery life. If you're looking for a fitness tracker to run several features, you'll have to recharge them sooner or replace batteries.
Cycling Fitness Tracker Buying Guide
Choosing the best cycling fitness tracker that will suit your needs can be overwhelming. There are several options available in the market, so it's crucial to choose one that suits your needs. Here is a list of features you should be keen on when buying a fitness tracker for cycling.
Reliable GPS
One of the main features you should look for in a cycling fitness tracker is a reliable GPS. If you're a frequent cyclist, then a GPS is an excellent addition since you'll be able to track your exercise when you're outside. Most trackers can be connected to a GPS on your phone so that you can monitor your progress after exercise. Always go for a fitness tracker that has a built-in GPS.
Heart Rate Monitoring
Most fitness trackers come with a heart rate monitor that helps you track your heart rate throughout the day. They are mostly wrist-based, so some readings may be inaccurate, especially when riding over rough terrain or if the smartwatch is loose.
Compatibility
Before adding a cycling watch to the cart, ensure the gadget is compatible with your computer or cell phone. Some trackers only sync with Android while other Apple's iOS and most do not sync with Windows.
Battery Life
A fitness tracker's battery life depends on the sophistication of the device and can last from one day to several months. The battery in a tracker with an armada of sensors or a color touchscreen will be charged more frequently than one with a few LED lights. Additionally, not all fitness trackers are rechargeable. Some operate on coin cell batteries used in calculators and cameras.
Water-Resistance
If you're a serious cyclist, it would be better if you go for a water-resistant watch in case you're caught in the rain while you're on the trail. Make sure you check the manufacturer's specs to see the degree of resistance it can offer.
Comfort
Most Smartwatches' bands are made of rubber or silicone for improved comfort. However, for classier and sleeker design, some feature fabric and even leather bands. Whichever you choose, ensure the band fits well and is breathable when cycling.
Related: Best Fitbit for Kids
Best Cycling Fitness Trackers Reviews
Fitbit Versa 2 Health and Fitness Smartwatch
If you're looking for a comfortable cycling fitness tracker to monitor how your daily activities get you closer to your fitness goals, this is a great option. The Fitbit Versa 2 Health and Fitness Smartwatch comes with a small and lightweight design that makes it easy and comfortable to wear all day and night without it getting in the way.
This fitness Smartwatch has an easy-to-read display, so it fits any environment, whether light or dark. It comes with a built-in Alexa that helps you check the weather, set alarms, and timers, and get quick information and news. What's more, the Fitbit Versa 2 helps you to understand your sleep quality each night.
Features
Built-in Alexa
Bluetooth connectivity
Sleep and swim tracking
Pros
Comfortable and lightweight design
Long-lasting battery
Impressive sleep and fitness tracking features
Bright and easy to use screen
Cons
Changing straps is a bit challenging
Terrible software
Related: Best Fitbit Alternatives
Fitbit Charge 4 Fitness and Activity Tracker
The Fitbit Charge 4 Fitness and Activity Tracker is an impressive addition to the Fitbit family. It comes with a built-in GPS that helps you monitor your distance and pace when cycling, hiking, or running. It's amazing because it shows your workout intensity map, which displays your heart rate changes.
The best thing about this cycling tracker is that it has Active Zone Minutes, a feature that notifies you when you hit your heart rate target. It comes with 24/7 heart rate monitoring that shows your resting heart rate and measures the daily calories burned.
Features
Built-in GPS
Swim and sleep tracking
Active Zone Minutes
Pros
Real-time heart rate monitoring
20+ goal-based exercise modes
Water-resistant
Cons
Battery life varies
Some users have setup issues
Related: Best Fitness Tracker for Crossfit
Samsung Galaxy 4 Watch
The Samsung Galaxy 4 Watch comes with a durable strap and a circular watch face and has a thin and lightweight design that makes it perfect for daily wearing. It has a strong aluminum casing and interchangeable straps that help you customize your watch's appearance.
This cycling fitness tracker tracks and stores data automatically and is available for view later on. It is capable of automatically detecting six different exercises but can track up to 39 more.
Features
Interchangeable bands
247mAh battery
Durable strap
Pros
Thin and lightweight
Easy to set up and connect to the app
Awesome battery life
Automatically detects up to 6 exercises
Cons
It is entirely waterproof
Withings Steel HR Hybrid Smartwatch
This cycling fitness tracker is the best choice for those looking for a device with a sophisticated taste. It comes with a sleek and fashion-forward design with a variety of color options to suit your style. It has excellent heart rate monitoring that helps you get the most out of your workouts.
The Withings Steel HR Hybrid Smartwatch comes with long-lasting battery life and over 30 sport modes for workout tracking. Additionally, it's water-resistant for up to 50 meters so that you can wear it comfortably in the pool and shower.
Features
Available in 6 colors
Leather material
Over 30 sports modes
Pros
Automatic sleep monitoring
Sleek design
Water-resistant up to 50 meters
A variety of color options
Cons
No built-in GPS
Text and numbers are small and hard to see
Garmin 010-01746-00 Forerunner
The Garmin 010-01746-00 Forerunner comes as an ideal choice for all cycling enthusiasts. It comes with a wrist-based monitor that effectively monitors your heart health when exercising. This Smartwatch has a built-in barometer that monitors any elevation changes and an electronic compass that keeps you on track.
If you want to know whether you're overtraining or undertraining, this a good bet. Additionally, this watch gathers measurements and advanced statistics and is perfect for swimmers and runners.
Features
LCD type
Built-in activity profiles
Built-in barometer
Electronic compass
Built-in altimeter
Pros
Advanced multisport and running features
Lightweight and durable design
Water-resistant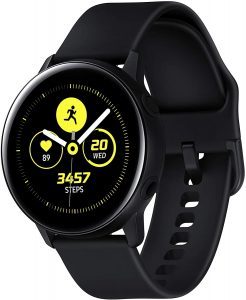 Cons
Conclusion
When choosing the best cycling fitness tracker, you need one that has fulfills all your workout needs.
The best fitness tracker helps you to monitor your training without recording inaccurate data.
Now, choose the best budget fitness tracker for cycling from the list above and enjoy every bit of your training.