The Fitbit Charge 3 has brought a major leap for all sports enthusiasts who love staying updated in every activity they are involved in.
It has not only become a gadget of digital monitoring but also comes as a fashion statement for the modern style.
So if you're looking for a Fitbit Charge 3 or already own one, then you might be searching for the best Fitbit charge 3 replacement bands.
You'll also be excited to know that the Fitbit Charge 3 can use the same band as Fitbit Charge 4.
The Fitbit Charge 3 and 4 straps not only serve as a fashion statement but also offer a comfortable fitting.
In this handy guide, we've listed 5 top-rated Fitbit Charge 4 straps that come with different features such as luxurious look, firm grip, and sturdy build quality.
Table of Contents
Related: Best Fitbit for Men
Here's everything you need to know about Fitbit Charge 4 bands.
Guide to the Best Fitbit Straps
The best way to get the most value out of your hard-earned cash when purchasing a fitness tracker is to go for one that fits in different wristbands. It sounds funny buying a Fitbit Charge 4 with the strap in mind, but this brings up an opportunity for giving it different personalities depending on the occasion. Here are some tips for choosing a band for your Fitbit Charge 4.
Firstly, customize the replacement bands for upcoming activities. If you're going to swim, bathe, or other outdoor activities, that can affect your Fitbit Charge 4 straps. It's good to go for a durable material like rubber or nylon. If you swim with a leather strap, it will be subject to ultimate damage and premature aging.
Make Sure the Strap Fits Your Watch
Knowing the lug width of your strap is crucial for getting a perfect fit. There are several widths of replacement bands. To get the perfect width that suits you, measure the distance between the lugs. You can easily find the measurements online or in the specifications of the watch.
Types of Bands
Rubber Straps
Rubber straps are affordable and come with a durable material that makes them suitable for physical activities such as outdoor exercise and swimming. Rubber bands have a wide array of colors so that you can choose a color for any occasion.
Leather Straps
This is a traditional and classic strap option for your Fitbit Charge 4. Leather is a long-lasting material that may even get better over time, particularly if you're a vintage lover. Leather straps look more formal or for attending a nice event where you need to be more dressed up.
Mesh bands
Mesh bands are made of tiny metal rings. When combined, the small rings form a metal fabric that makes the strap. Despite its weight, it feels comfortable and is suitable for a more dressy style.
Nylon Strap
This is a common material in Zulu and NATO straps. This material is a favorite choice for those who do physical work, exercise a lot, or like a tough wristband style.
NATO Strap
This is a wristband that's available in different materials. Thanks to its durable bands, NATO bands can be used in swimming and other activities that require a durable band. The best thing about these bands is that they can easily change and adapt to various activities or clothes.
Zulu Band
Zulu bands are similar to the NATO band but come with stronger and thicker textile material.  This band is easy to change to a color that matches your occasion and clothing.
Related: Best Fitbit for Women
How to Replace Fitbit Charge 4 Bands
If you're not impressed with the strap in your Fitbit Charge 4, there are several band options on the market, and changing them doesn't take long. Here's how to replace a Fitbit Charge 4 band.
Turn over your Fitbit
Push down the latch button near the tracker and pull the band away from the tracker
Press down the latch button next to the tracker on the opposite side and remove the band.
Take the new Fitbit Charge 4 strap and slide the latch onto the tracker. You'll notice a snap when the strap gets in place.
Repeat step 4 on the opposite side of the band.
Now that you have what it takes to change the Fitbit Charge 4, you can change the band to a type that suits your occasion- just follow the steps every time you need a strap change!
Related: Best Fitbit for Kids
Bands for Fitbit Charge 3 Buying Guide
When buying a Fitbit strap, you have to consider some factors to ensure that your purchase is worth every penny and long-lasting. For the best Fitbit Charge 4 bands, here is a breakdown of what you need to keep in mind.
Length
This is one of the most confusing aspects when selecting the best band for Fitbit Charge 4. A wristband that is too long will not only seem inappropriate, but the extended part will frequently get in the way, especially if you're doing some outdoor activities. Therefore, go for the right wristband size.
Buckle Type and Size
There are different types of wristbands. If you're looking for a band for formal scenarios, look for one that does not attract much attention. However, for casual use, you can use any type of Fitbit Charge 4 strap.
Weather Proof
If you're looking for a leather strap, you won't have to worry about the weather. However, you need to be keen on the other types of bands since some are not weatherproof. If you like hitting the trails on weekends, you should look for a strap with some advanced weatherproof features.
Budget
Finally, the Fitbit Charge 4 replacement band you choose will depend on your budget. You can find a good strap at an affordable price. However, if you're not tight on a budget, look for a strap that's designed with high-quality materials and one that promises durability.
Related: Best Fitbit Alternatives
Best Bands for Fitbit Charge 3 Reviews
Hamile Bands Compatible with Fitbit Charge 4
If you're looking for a high-quality band that's compatible with Fitbit Charge 4 and Charge 3, this is a good bet. The Hamile Bands come with watch lugs on both ends, which fits securely and precisely. It is made of environmentally friendly TPU that's soft and lightweight, and very comfortable to wear. With this replacement sport band, you are guaranteed stable and reliable performance since it comes with a fastener ring and metal buckle.
Features
22 color options
Strap holder
Premium TPU
Premium buckle
Pros
It has a strap holder for extra security
Lightweight design
Seamless fit
Waterproof
Cons
The durability may not be promising
Related: Best Fitness Tracker for Crossfit
Wepro Bands Compatible with Fitbit Charge 4
The Wepro Bands Compatible comes with a flexible waterproof material that is water and sweat resistant, easy to dry, and lightweight. This band is comfortable and very soft to wear. It is available in 6 colors and is ideal for sports lovers. It comes with a stainless steel buckle that is easy to resize and assemble. The best part about this band is that it's available in two sizes; small size for 5.5"-7.1" and 7.1"-8.7" for large size.
Features
Multiple colors
Stainless steel buckle
Breathable holes
Pros
Lightweight
Easy to dry
Easy to assemble
Waterproof
Cons
May not it very thin wrist
QIBOX Compatible with Charge 3 and 4
Are you looking for a top-notch band that creates a stylish and sporty look on your wrist? Look no further! The QIBOX gives the stylish look you need for your outdoor activities. It comes with a signature hexagon perforation design that offers maximum comfort and breathability.
This Fitbit band is specially designed to suit different sizes; 5.7"-7.5" for small and 7.1"-8.3" for large size. Additionally, the size of the band can be easily adjusted to suit your wrist size.
Features
Soft silicone material
15 color options
Signature hexagon perforation
Pros
Fashionable and casual design
Wide applications
Durable material
Easy to install and remove
Cons
Some users complain that one side does not "lock in"
hooroor Canvas Woven Band Compatible for Fitbit Charge 4
If you want a wristband that will give your watch a new look, this is a great option. The hooroor Canvas Woven Band Compatible for Fitbit Charge 4 is specially designed to suit your fitness tracker whenever you're on the go. It is made of high-quality woven fabric material that's durable and comfortable to wear. The replacement band is easy to install and has various colors to suit various occasions.
Features
Woven fabric material
Stainless steel buckle
Two adjustable sizes
Pros
Comfortable and stylish
Easy to assemble
lightweight
Cons
durability is not promising
Marval.P Handmade Leather Band
The Marval.P Handmade Leather Band is a more stylish and cuff-style option that suits many occasions. If you're looking for a band that will make you look more of a tech enthusiast, this band is worth your investment. It's made of soft second layer genuine leather that has no color fading or bad smell. Additionally, it comes with a reinforced knot that prevents it from falling apart.
Features
2nd layer genuine leather
Reinforced knot
Snap closure
Pros
Stylish design
Adjustable sizes
Strong snap for securing your watch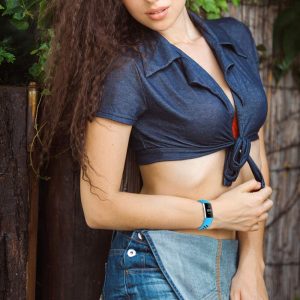 Cons
Conclusion
Now that you have the best bands for Fitbit Charge 4, it's time to take your fitness to the next level.
If you want to upgrade your fitness tracker's look, check out our guide to get the right device that will suit all your needs.
Good luck!