One of the biggest challenges new smartwatch owners face is figuring out which device is best for them. But with a smartwatch comparison chart, the process becomes much easier… The comparison table will cover the many smartwatches that are available on the market, and help you decide which is best for you.
The first question to ask yourself is what do you want from your smartwatch? Some people want something that is just a watch with a few extra features like GPS and weather while others want something that is smart enough to track their calorie intake, heart rate, steps, and sleep pattern among others.
Check out this post where I compare Fitbit models…
There are several different manufacturers and hundreds of different smartwatch models. Some are designed for athletes, some for business people, and some are built to be fashion statements. And, the variety of functions and features can be a bit overwhelming.
The good news is that there are some great resources available to help you learn about smartwatches and to help you find the perfect one.
Table of Contents
Related: Best Fitbit for Men
Smartwatch Comparison Chart for 2023
We love smartwatches here. In fact, we've created our own comparison chart so that you can make the best possible choice when you go to buy a new smartwatch.
The following comparison chart to help you with the buying process. Our comparison chart compares price, screen size, operating systems, display type, battery life, and more to help you choose a smartwatch that best fits your lifestyle.
What are the specifications for a good smartwatch?
A good smartwatch should have several specifications that cater to your needs. Here are some of the most important specifications to consider when choosing a smartwatch:
Compatibility
Compatibility is an essential factor to consider when choosing a smartwatch. Most smartwatches require a smartphone to function properly, so it's important to ensure that the smartwatch is compatible with your phone.
Battery life
Battery life is another critical factor to consider when choosing a smartwatch. Some smartwatches need nightly charging, while others can last for a month or more. Hybrid smartwatches that look more like analog timepieces tend to have the longest battery life, but they don't have touchscreens.
Display
The display is an important factor to consider when choosing a smartwatch. The screen size is only about 1.5 inches, so the display needs a fairly high resolution in pixels per inch in order to provide sharp and easy-to-read text. AMOLED displays offer vibrant colors, always-on display, and longer battery life. LCD displays are often smaller and lighter than traditional watch faces, making them more comfortable to wear.
Fitness features
Fitness features are an essential factor to consider when choosing a smartwatch. Most smartwatches have built-in fitness metrics, such as a heart rate sensor and GPS.
Additional features
Smartwatches offer additional features that can be useful to the user. The top smartwatches around today connect to your smartphone, delivering notifications, and even phone calls, to your wrist, as well as give you quick and easy access to a range of apps, like meditation apps, timers, weather insights, and so much more. Some smartwatches have gesture control, accept verbal commands, and can play and store music.
Disadvantages of smartwatches
Smartwatches have become increasingly popular due to their many benefits, but they also have some disadvantages. Here are some of the most common disadvantages of smartwatches:
Limited battery life: Most smartwatches have a short battery life, and some can only be used for a day or two after a full charge.
Inaccurate data: Some smartwatches may not provide accurate data, especially when it comes to fitness tracking.
Small screen: The screen size of a smartwatch is usually small, which can make it difficult to read text or view images.
Dependence on smartphones: Most smartwatches require a smartphone to function properly, which means they are dependent on the phone's connectivity and features.
High price: Smartwatches can be expensive, with prices ranging from $100 to over $1000. (Check out the best smartwatches under $50)
Privacy concerns: Smartwatches can collect and store personal data, which can be a concern for some users.
Skin irritation: Some users may experience skin irritation or allergic reactions from the materials used in smartwatch bands or cases.
Distraction: Smartwatches can be a distraction, especially when notifications constantly interrupt important tasks and increase stress levels.
Conclusion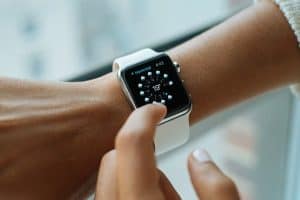 Owning a smartwatch is a great way to stay connected to the world around you. You can use many of them to make phone calls or send text messages and tell you the time.
Related: Best Fitbit for Kids
With so many smartwatches on the market, it can be hard to know which one to choose. That's where this page comes in – to help you compare smartwatches.