Fitbit Charge 3 and Garmin Vivosmart 4 have garnered significant attention, leaving health enthusiasts in a dilemma over which one reigns supreme.
In this Fitbit Charge 3 Vs Garmin Vivosmart 4 comparison post, I dive deep into the features, functionalities, and performance of both the Garmin Vivosmart 4 and the Fitbit Charge 3.
Whether you're an avid athlete or simply looking to kickstart your fitness journey, join me as I unravel the key differences and help you make an informed decision in choosing your ideal fitness companion.
Related: Best Fitbit for Men
Table of Contents
Fitbit Charge 3 Vs Garmin Vivosmart 4 Comparison
Key Features at a Glance
We'll get to the comparison of the two activity trackers in a few. But before that, let's look at the key features of each device at a glance.
The Fitbit Charge 3 has a connected GPS system, which is ideal for mapping your runs and bike rides. Garmin hasn't been able to add this to the Vivosmart 4.
The tracker also boasts an impressive customizable screen and auto-exercise recognition.
The addition of female health tracking technology makes Charge 3 one of the best Fitbit for women currently in the brand's product line. 
Related: Fitbit Charge 5 vs. Charge 4 Vs. Charge 3
Garmin Vivosmart 4 is smaller than the Fitbit Charge 3, and it packs a plethora of smart features that belie its ultra-slim design.
It has a pulse ox sensor that tracks blood oxygen levels. It also boasts an altimeter, accelerometer, Find My Phone Feature, camera remote, Body Battery that optimizes your energy levels, and music controller.
Related: Best Fitbit for Women
Fitbit Charge 3 Vs Garmin Vivosmart 4: Detailed Comparison
Now that you know the key features of Vivosmart 4 and Charge 3, let's take an in-depth look into the comparison of the two models, starting with the design.
Design
Both the Charge 3 and Vivosmart 4 feature a sleek, stylish, and slim design guaranteed to blend with just about any outfit.
However, they do differ in weight, with the Garmin Vivosmart weighing 61 grams and the Charge 3 weighing only 29 grams. So if you're interested in a more lightweight device, go with the Charge 3.
The Vivosmart 4 is a lot slimmer than the Charge 3, and thanks to a thinner band it also has a slimmer screen. But this tiny display makes it a bit more difficult to read text.
Since the menu of the Vivosmart 4 scrolls horizontally on this narrow screen, you might easily miss an alert if you don't look closely.
As for water resistance rating, the Charge 3 is a waterproof fitness tracker, with a 5 ATM rating that can stand up to a depth of 163 feet. The Garmin Vivosmart 4 has a similar rating, so it's able to stand up to a water depth of 50 meters.
In other words, if you love tracking pool stats, like yards and stokes, either of the devices can get the job done.
Related: Best Fitbit for Kids
Material and Colors
Fitbit Charge 3 is made using lightweight material. Specifically, it features a thin aluminum case with a Gorilla Glass 3 Display. With regard to their housing and buckle, these are made of anodized aluminum.
On the other hand, the Garmin Vivosmart 4 features an aluminum bezel construction, a complete silicon strap and a polycarbonate lens.
But one thing about these two devices is that they feature a sporty and rubberized look, guaranteed to be an instant hit with fitness fanatics.
Fitbit Charge 3 Vs Garmin Vivosmart 4: Display
The Charge 3 sports a grayscale 22mm OLED touchscreen, which has a pixel resolution of 110×150. This contrasts a bit with the Garmin 4's 19.3 mm OLED screen with a pixel resolution of 48×128. By default, both displays remain off and brighten up upon raising your hand, when you receive an alert when you tap on the screen. The Charge 3 has a comparatively larger screen, which makes it a little easier to read stats and alerts.
Related: Garmin Forerunner 935 Vs Forerunner 945
Health and Fitness Tracking
The Charge 3 can determine your heart rate, calories burned, and peak zones for your exercises.
On the other hand, Vivosmart 4 can approximate oxygen levels through a wrist sensor. While not nearly as accurate as medical devices, it is an excellent choice for home users.
Heart Rate Variability is emerging as a massive thing, especially in the biohacking spheres. And it's somewhat of a surprise that Garmin has incorporated it into the Vivosmart 4. The HRV technology determines the level of your preparedness for the day when you wake up in the morning by measuring your pulse inconsistencies to determine if you're stressed.
If the HRV shows you aren't fully relaxed, you probably aren't ready for the day yet.
Related: Whoop vs. Garmin
Battery life
The Charge 3 and its compatriot Vivosmart 4 both have a similar battery life of about 7 days.
While this will depend on how you use the individual devices, it is still much better than what many trackers can offer. 
Because of the Pulse Ox Sensor, which monitors your blood oxygen concentration level as you sleep, the battery life of the Garmin Vivosmart 4 will hit the 7-day mark.
Connectivity Features 
While the Vivosmart 4 has tons of impressive premium features so far, it doesn't feature a built-in GPS system.
The Fitbit Charge 3 doesn't have the GPS system built-in either. But it does support connected GPS, which allows you to log mileage, track distance accurately, and map your route when biking, walking, and running.
The Vivosmart 4 fitness tracker is compatible with ANT+ connectivity support feature. This means you can connect it to an external heart rate monitor, like a chest strap. It just edges the Charge 3 on this end, as it doesn't support the same.
Thanks to the ANT+ connectivity, those who engage in intensive resistance exercises, like weightlifting and running, can get more accurate stats about their heart rate data, which is something you don't get in wrist-based optical heart rate sensors. 
The Vivosmart 4 band also sports automatic exercise tracking for running and walking, so you don't need to log your workout manually.
Related: Best Fitness Tracker for Crossfit
Garmin Vivosmart 4 vs Fitbit Charge 3: Phone Features 
By now, you are probably aware that both these fitness trackers synchronize to your smartphone and link with your apps to offer much more than just tracking.
The Charge 3 goes one step further to connect to your phone's GPS tracking feature to provide location information.
But what makes this more interesting is how the trackers integrate with your smartphone's functions social media apps, call options, and messages.
The Vivosmart 4 features built-in notification and vibration alerts anytime you receive text messages, calls, emails, preset replies, social media alerts, and weather updates.
The Charge 3 is quite advanced. First, it lets you view alerts on Android, iPhone, and Windows. Furthermore, it lets you see incoming calls, make quick replies, view text messages, and even weather alerts. 
Related: Best Fitbit Alternatives
The Pros and Cons of the Fitbit Charge 3
Pros
It has a larger OLED screen display that makes reading alerts and texts easier.
It tracks your sleep and monitors your heart rate 24/7
Its battery life is impressive as you need to only charge it once every 7 days
It is waterproof and hence can be worn even when swimming
Cons
The number of watch faces is limited
It doesn't have any music control feature
Pros and Cons of Garmin Vivosmart 4
Pros
Cons
You can't switch its bands
Related: Is Garmin Vivoactive 4 Waterproof?
Fitbit Charge 3 vs Garmin Vivosmart 4: Which Model Carries the Day?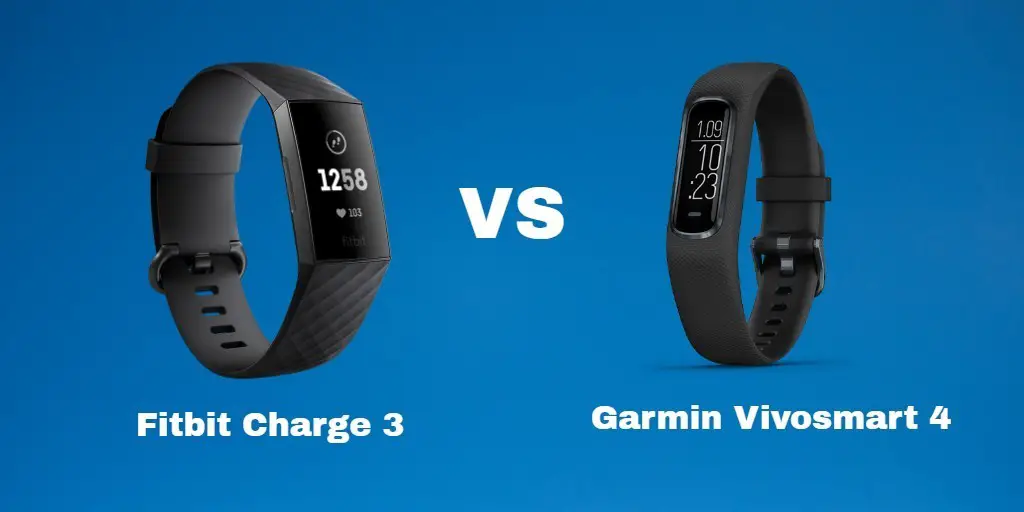 In many ways, Fitbit Charge 3 and Garmin Vivosmart 4 are good at what they do. So, it's unlikely that you'll go wrong with either of them.
The Charge 3 wins in terms of style and screen size. It looks fantastic on the wrist, and you can easily customize it to your taste, thanks to the many strap options.
For sleep, both of these can track your sleep pretty well and offer comprehensive charts on your smartphone the following morning.
But the Vivosmart 4 beats the Charge 3 because of its focus on stress, wellness, and heart rate variability.
While they both offer tons of similar phone features, the Garmin Vivosmart 4 offers a music control option, which is something you aren't getting with Charge 3.
But as we said, both the two are excellent trackers and it's down to your individual preferences to choose between them.