If you're looking for a perfect workout companion, then Garmin Vivoactive4 is for you. Although it might not look like a rugged device, the Garmin Vivoactive 4 is one of the best smartwatches for fitness enthusiasts and active users.
This smartwatch is a favorite choice for those who are looking for the best in durability and performance. Here's everything you need to know about Garmin Vivoactive 4.
What is Garmin Vivoactive 4?
The Garmin Vivoactive 4 is an upgraded version of the Vivoactive 3 and Vivoactive 3 music smartwatches. It's a multisport fitness device and is more advanced than the Vivomove 3 and Vivosmart 4.
This fitness watch is designed for swimmers, hikers, runners, and other outdoor enthusiasts who don't want to spend a fortune on a specialized outdoor watch. If you like spending most of your time outdoors, this smartwatch is for you.
Related: Whoop vs. Garmin
Is Garmin Vivoactive 4 Waterproof?
The Garmin Vivoactive 4 is both waterproof and water-resistant. It is a good option if you like spending time in the water. It has a water depth rating of 50 meters. In fact, Garmin has equipped all its latest gadgets with water rating capabilities. These ratings show how waterproof or water-resistant a device is and what activities it's mostly suitable for.
What is Garmin's Water Ratings Mean?
The Garmin Vivoactive 4 has a water rating of 5 ATM. Garmin says that it tests all its gadgets to ensure that they are suitable for all water-based activities they're designed for. So if your wearable has 5 ATM, this means it can withstand pressures equal to 50 meters. This means it's suitable for shallow-water activities like swimming, rain, snow, snorkeling, and showering. Some devices have a 10ATM water rating which can withstand pressure up to a depth of 100 meters.
Related: Garmin Forerunner 935 Vs 945
Garmin Vivoactive 4: Design and Specs
This fitness watch comes with a color touch screen with a long-lasting Corning Gorilla Glass 3 lens, a fiber-reinforced polymer case, a comfortable textured silicone strap, stainless steel bezel.
The Garmin Vivoactive 4 has a classic round watch design. It comes with sensors like an accelerometer, a compass, a gyroscope, a heart rate monitor, a barometric, among others. It also has an accompanying Garmin Connect app that's available on Android and iOS.
Garmin Vivoactive 4: Fitness Features
The Garmin Vivoactive 4 is equipped with 20 pre-loaded exercises that you can use to track your distance, calories burned, sleep, stress level, distance traveled, and more. This device is a great option for distance runners since they can set customized training plans in the Garmin Connect app and see advanced metrics.
This fitness watch is also useful for those who like other types of workouts like cardio, Pilates, on-screen yoga, and strength-training exercises.
Garmin Vivoactive 4: Health and Fitness Features
The Garmin Vivoactive 4 has an additional feature that you don't get from older Garmin devices, especially sleep. When you turn on the pulse ox sensor in the app, you'll find the SpO2 readings of your sleeping habits every morning. The sleep-tracking dashboard in the Garmin Connect app breaks down your sleep into wake times, light sleep, deep, and REM sleep.
Set Up and Navigation
To set up this device, you need to download the Garmin Connect app and create an account if you're a new user. After that, turn on your Vivoactive 4 and enter a code on the device's screen to connect it to the app via Bluetooth.
You can choose to enable notifications and give your smartwatch the calendar access and watch location. You'll need to enter your height, gender, weight, and birth date. Based on your data, Garmin will set goals for steps, floor climbed, and intensity minutes. If the goals are too easy or hard, you can adjust them in the app's settings menu.
If you want to start a timed activity, press the top button, and check the list of options on the screen, and choose the workout you want to do, and then press the top button to get started. After working out, press the top button to terminate the workout session.
FAQs
Can You Swim With Garmin Vivoactive 4?
Absolutely! You can use the Vivoactive 4 in the swimming pool since it's waterproof. This fitness watch has a pre-installed pool swimming activity that can track speed, distance, SWOLF strokes, style, and more.
Can you wear Garmin Vivosmart 4 in the shower?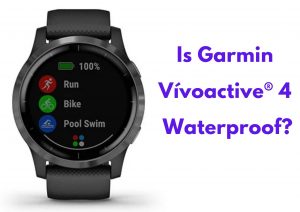 Yes, you can. Vivosmart 3 is safe to use underwater, so it's suitable for showering or swimming. Overall, you can use it up to a water depth of 50 meters without having issues.
Do you wear your Garmin all day?
It's advisable to wear your Garmin at all times. This will enable the fitness tracker to assess your physical activities 24/7. However, you can take a break to allow it to charge and eliminate any discomfort on your wrist.
Conclusion
If you're looking for an effective fitness tracker that balances function and form, the Garmin Vivoactive 4 should be on the top of your list. Although it's a little pricey compared to its competitors, it prioritizes accuracy in fitness tracking and smartphone integration.