The best thing about Fitbit smartwatches is that they can do things that smartphones can do, including playing your favorite tunes.
If you're trying to learn how to add Pandora on Fitbit, you're at the right place. We'll discuss how to add Pandora to your Fitbit, and we'll also give you tips on how to use Pandora with Fitbit.
Here's all you need to know about Pandora on Fitbit.
Table of Contents
Related: Best Fitbit for Women
What is Pandora?
Pandora is a music streaming and discovery app that allows you to create "stations" based on artists, songs, or genres that you like. Once you've selected your favorite artist or song, the app collects songs with similar qualities and places them in a station.
Using Pandora on Fitbit is enjoyable and easy. Here's why this streaming service should be your favorite app:
No need to search artists, albums, and songs to enjoy your favorite tune. All you need is to personalize your stations and eliminate songs you don't like.
Pandora allows you to develop stations for different moods. Select a great dinner song, oldies, or dance music, and create a station for each. You can also share the stations with your family and friends.
You can discover good music that's similar to the artist or song you like.
Pandora can be used in conjunction with Alexa on compatible gadgets. You can set it as Alexa's default music service, so when you need to enjoy your favorite songs, Alexa will go to Pandora to find them.
Related: Best Fitbit for Men
List of Fitbits That Support Pandora
The Pandora app is available to Fitbit Ionic, Sense, Versa, Versa 2, and Versa 3 for users in the US.
How to Setup Pandora on Fitbit
The following are steps to follow when setting up Pandora on your Fitbit:
Open the Fitbit app on your smartphone and click the Versa or Ionic tile.
Scroll down and click media
Under the media tab, click Pandora icon.
Create a Pandora account if you're a new user or log into your existing account
However, you need an active Pandora Plus or Pandora Premium subscription in order to get the best from Pandora since offline listening is only for Pandora subscribers.
How to Use Pandora on Fitbit
If you want to start playing Pandora on your Fitbit watch, enter the Pandora app and select a station. Once the station is playing, use the Fitbit's buttons to control your playback.
To Pause or Play your station, click the right bottom button on the Fitbit
To go back to the menu, click the left button
To skip a track, tap the right top button on your Fitbit
How to Sync Fitbit with Pandora
If you want to sync your Fitbit with Pandora, here's what you need to do:
Ensure you've logged in with your Pandora account on the Fitbit app
Disconnect the Fitbit from Bluetooth connections, and ensure its connected to Wi-Fi
Place the Fitbit on the charger and ensure its charging
Open your Fitbit app and chose the Pandora content you'd like to sync to your tracker
How to Download Pandora Stations on Fitbit
If you're new to Pandora, here's how to download stations to your Fitbit watch:
Ensure that your Fitbit device is connected to a Wi-Fi network.
Go to the dashboard and click media, then Pandora.
Follow the instructions to log in to your Pandora account. Choose a paid Pandora subscription if you don't have one, and go back to the Fitbit app to finish the setup.
In the app, you can manually choose up to 3 workout stations or choose to auto-sync your 3 favorite Pandora stations.
Place your tracker in its charger. The stations usually download when your watch is charging and within the Wi-Fi range. This process may take up to 15 minutes, depending on the music being downloaded. You can check the progress of the download in the Fitbit app or tracker's screen.
Is Pandora Free on Fitbit?
No. You must have a Premium account to use Pandora with your Fitbit.
How Much is Pandora Premium?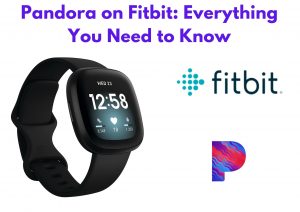 Pandora Premium goes for $9 .99 per month or $109.89 per year. Under Pandora Premium, you can choose the Family Premium ($14.99/month), Student Premium ($4.99/month), or Military Premium ($7.99/month).
Is Pandora Premium Worth it?
Yes, it's worth your hard-earned cash. Pandora Premium gives you access to unlimited offline listening and a chance to search and play your favorite tunes on demand. With this package, you'll get fully customizable playlists and access to your music collection offline. Additionally, you'll get higher-quality audio and longer timeouts when compared to other packages.
How to set up Pandora on Fitbit Sense 2
Open the Fitbit app on your phone.
Tap the Today tab.
Tap the profile icon > Device > Music.
Tap Pandora.
Follow the on-screen instructions to sign in to your Pandora account.
Once you're signed in, you can start streaming music from Pandora on your Fitbit Sense 2.
Here are some tips for using Pandora on your Fitbit Sense 2:
You can control playback using the buttons on your watch.
You can also use the voice assistant on your phone to control playback.
To save battery life, you can turn off the screen while you're listening to music.
You can also download songs to your watch so you can listen to them offline.
Conclusion
And that's how you can enjoy your favorite tunes using Pandora on Fitbit. Pandora should be your go-to music streaming service if you want to enjoy your favorite songs and discover new ones while still working out.