Oxygen is the most abundant element in the human body and monitoring your daily oxygen intake helps you understand your health and wellbeing. Imagine tracking your oxygen saturation levels daily without leaving your house or using expensive medical equipment. Seem fun, right?
Nowadays, smartwatches are equipped with an oxygen sensor or pulse oximeter to help you know the amount of oxygen in your blood. Although a smartwatch with an oxygen sensor is not as accurate as an FDA-approved pulse oximeter, it can show you an overview of your oxygen saturation levels.
In this article, I've listed the 5 best smartwatches with oxygen sensors, along with a handy guide that will help you make an informed decision.
Related: Best Men's Fitbit Watch
What is a SpO2 Sensor?
A SpO2 or oxygen sensor is an electronic gadget that measures the amount of oxygen present in liquids or gas. In smartwatches, the oxygen sensor determines the amount of oxygen flowing in your blood vessels and the oxygen consumption.
How Does Oxygen Sensor on Smartwatch Work?
The oxygen sensor is placed on the backside of the smartwatch. It utilizes an array of LEDs containing green, red, and infrared lights. The light produced by these LEDs penetrates through the skin onto your blood vessels, carrying deoxygenated and oxygenated blood. Some of the light is reflected back to your smartwatch, while some light is absorbed in the blood.
The reflected light is caught by the four photodiodes on your smartwatch, converting the light into an electrical signal, thus showing the amount of oxygen in your blood in SpO2 percentage.
Types of Smartwatches with SpO2 Sensors
There are two types of smartwatches with blood oxygen sensors. One monitors your SpO2 levels in real-time, while the other one records only at night. Each comes with different characteristics. You can choose one that suits your needs.
Smartwatch with Real-time SpO2 Sensor
This smartwatch is designed to monitor and record your SpO2 in real-time and keeps track of your wellbeing at all times. Most contemporary SpO2 watches have an app that measures oxygen content within 30 minutes. Some smartwatches with real-time SpO2 tracking include Apple Watch Series 6, Samsung Galaxy Watch 3, and Active 2.
Smartwatch With Night SpO2
Night oxygen monitoring doesn't provide on-demand SpO2 measurements. These smartwatches measure your oxygen levels overnight and display the average blood oxygen level. These devices are not the best option for guys who want frequent readings to track their health.
If you want to monitor your SpO2 at any time, go for a real-time blood oxygen smartwatch. However, since the measurements are averaged using the nighttime monitoring feature, the results of your blood saturation levels tend to be more accurate than in real-time.
Factors That May affect the SpO2 Readings
There are several factors that can affect your SpO2 readings. For instance, if you have tattoos on your wrist, the ink can make it harder for the light to penetrate through your skin. The temperature can also impact the readings because, in winter, the blood vessels are narrower, which reduces the blood flow. The readings can vary from person to person and place to place. Additionally, if your watch doesn't fit well on your wrist, then the readings will be inaccurate.
Best Smartwatch with SpO2 Sensors Reviews
Apple Watch Series 6 (GPS, 44mm)
If you're looking for an advanced and feature-filled smartwatch with an oxygen sensor, this is a good bet. The Apple Watch Series 6 (GPS, 44mm) offers impressive features, including built-in sleep tracking and blood oxygen monitoring. It has finish options like stainless steel, aluminum, and titanium. This smartwatch can measure blood oxygen saturation and ECG readings, which can detect irregular heartbeats showing signs of an underlying condition. Although this smartwatch is pretty expensive, you'll appreciate the value it offers.
Features
44mm size
Always-on retina display
Built-in GPS
Pros
Activity and sleep tracking
5 ATM water resistance
Heart-rate monitoring
ECG and SpO2
Cons
Not compatible with Android phones
Fitbit Versa 3 Health & Fitness Smartwatch
Fitbit is one of the most trusted brands in the fitness tracker world. The Fitbit Versa 3 Health & Fitness Smartwatch is no exception. It comes with impressive sleep tracking and a built-in SpO2 sensor for more accurate data. It has a unique squircle design with an improved band system and a modern twist. With this smartwatch, you'll not have trouble finding Fitbit Versa 3 replacement bands. This smartwatch has a lot to offer for the price.
Features
4 color options
Built-in GPS
Bright AMOLED display
Built-in Alexa
Pros
On-screen workouts
On-board GPS
Heart-rate monitoring
Cons
Old Versa bands aren't compatible
Fitbit Sense Advanced Smartwatch
This smartwatch is suitable for those suffering from apnea or asthma. This beautiful watch can measure your blood oxygen levels while you're sleeping. The percentage of SpO2 in your blood is displayed on your watch screen. When you connect your smartwatch with your phone, you can view the detailed analysis on the Fitbit app. This smartwatch also comes with a built-in GPS, microphone, and speaker. The Fitbit Sense Advanced Smartwatch promises great performance, and the oximeter is one of the best in the market.
Features
3 color options
Built-in GPS
Bluetooth connectivity
Pros
Can measure ECG
Heart rate alarm
Can attend calls
Reliable oxygen level
Cons
Measures oxygen saturation only at night
YAMAY Smart Watch, Watches for Men Women Fitness Tracker
If you're looking for an affordable smartwatch with an oxygen sensor, this is a great choice. Although it comes at an affordable price, this smartwatch has premium features. The fitness tracker for women allows you to track your blood oxygen levels at all times and identify any irregularity of there's any. Additionally, it features a heart rate and blood pressure monitor that allows you to check your blood pressure without leaving your house.
Features
7 color options
9 sport modes
Call messages alerts
Pros
IP68 waterproof
Accurate results
Affordable
It has tons of fitness tracking features
Garmin Vivoactive 4, GPS Smartwatch
This smartwatch is designed for users who want to track their daily activities. It comes with a heart rate monitor and other basic health tracking features like a calorie counter, step count, sleep tracking, etc. On the Vivoactive 4, you get a pulse OX sensor that detects the oxygen saturation in your blood. With the smartwatch, you can set it to track your oxygen levels when you sleep or to track your oxygen at all times.
Features
5 color options
20+ preloaded indoor sports and GPS apps
Built-in GPS
Pros
Sleep tracking
Accurate heart tracking
Menstrual cycle tracking
Cons
FAQs
Can a Smartwatch Really Measure Blood Oxygen?
Yes. Smartwatches with SpO2 monitoring or blood oxygen monitoring allow you to track your blood oxygen levels. Although they may not be as accurate as medically-approved devices, they will enable you to find out if you've health issues.
Does Fitbit Measure Oxygen?
Some Fitbit smartwatches and
fitness bands
have SpO2 sensors which are focused on sleep Apnea problems. Instead of showing the percentage, Fitbit displays the Estimated Oxygen Variation. Although they are not always 100% accurate, they help you keep track of your blood oxygen levels.
Can Smartwatch Replace Oximeter?
No. A smartwatch cannot replace an oximeter. Although a smartwatch has a built-in SpO2 sensor that allows you to monitor your oxygen concentration, it cannot be as accurate as a medically approved device.
Can a Pulse Oximeter Detect Heart Attack?
Absolutely! A pulse oximeter can easily detect heart attack or any other medical condition related to oxygen levels in the blood.
SpO2 Sensors Smartwatch Buying Guide
When buying a smartwatch with an oxygen sensor, there are several things you need to consider to ensure you get the right product for your needs. Here are some key factors to keep in mind:
Oxygen Sensor
The first thing to look for in your favorite smartwatch is the oxygen sensor. This function calculates the amount of blood flowing in your blood vessels. Some smartwatches measure the blood oxygen saturation instantly, while others measure only at night. If you've any respiratory system condition, you should look for one that can measure blood oxygen anytime.
Display and Design
When looking for an oxygen sensor smartwatch, always ensure that it is comfortable and light to wear. A compact and lightweight fitness tracker is convenient to wear for an extended period. Additionally, ensure that the display is clear, especially if you have visual issues or are a senior.
Compatibility
Ensure that your favorite smartwatch is compatible with your phone. The best smartwatches with oxygen sensors should work with both iOS and Windows gadgets.
Accuracy
No one wants the disappointments of an inaccurate smartwatch. Therefore, before making the final decision ensure the smartwatch has accurate sensors. Some smartwatches have low-quality sensors that give misleading results.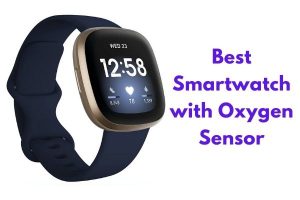 Additional Functions
Smartwatches are designed to track and monitor several things in your body. The best smartwatch with an oxygen sensor should track sleep quality, blood pressure, and stress levels. It should also be equipped with a GPS tracker to help you track your jogs, hikes, or runs. Most importantly, choose one that suits your lifestyle and needs.
Battery Life
The battery life of your smartwatch is crucial if you want efficient and accurate data. Choose one that has a long-lasting battery life and doesn't demand a recharge after a few hours of use.
Final Thoughts
The smartwatches reviewed above can be used to track your blood oxygen level. However, these watches cannot be used in place of approved medical gadgets. Pick one from the list above and keep track of your blood oxygen levels.