If you're looking for a quality smartwatch and have a good budget, the Apple Watch Series 6 promises more than any previous version. If you own the Apple Watch, you're going to need some accessories to make your favorite smartwatch better and customize your Apple Watch experience.
In this article, I'll review some of the best Apple Watch Series 6 accessories to help you make your watch resemble a modern-art showpiece, keep it charged, and pack it up well.
Apple Watch Series 6 at a Glance
The Apple Watch Series 6 is an upgrade of the high-end Series 5 with a fast processor and enhanced design and health features. This watch has a new tool to measure blood oxygen levels and an advanced tool for measuring sleep. This model is 20% faster than the Series 5, thanks to the new S6 processor. Additionally, it's available in two sizes (40mm and 44mm), boasts 18 hours of battery life, and charges faster.
Related: Best Band Storage Case for Apple Watch
What are Apple Watch Accessories?
Apple Watch Accessories are the devices you can add to enhance the experience of owning and using the Apple Watch. These accessories are designed to help you engage in extreme workouts, listen to music, charge your Apple Watch at night, and much more.
Apple Watch Series 6 Accessories
Apple Watch Stand, OMOTON 2 in 1 Universal Desktop Stand Holder for Apple Watch
The Apple Watch Stand comes with a stable and durable design that's compatible with all mobile phones and Apple Watch 1, 2, 3, 4, 5, and SE. It is available in different colors, so you'll find one that matches your devices and style. With this stand, you're guaranteed that your Apple Watch Series 6 will not fall or get scratched, thanks to the enlarged anti-scratch silicone pad.
Features
Enlarged anti-scratch silicone pad
4mm thickness aluminum
7 color options
Pros
Universal compatibility
Multiple colors
Wide viewing angles
Easy to setup
Related: Can I Get Snapchat on Apple Watch?
Misxi 2 Pack Hard PC Case with Tempered Glass Screen Protector
The Misxi 2 Pack Hard PC Case with a glass screen protector is designed to provide external surface protection to your watch without affecting its usability. It comes with a snap-on design that makes it easy to install without taking off the straps. Additionally, this light and thin case is easy to remove and wipe.
Features
Built-in screen protector
40mm and 44mm size
Polycarbonate material
Pros
Durable design
Easy to remove and wipe
Easy to install
Cons
Related: Fall Detection on Apple Watch Explained
Portable Wireless Charger for Apple Watch
This Portable Wireless Charger is easy to use and comes with a compact design with a keychain, making it highly portable. It has a built-in 1000 mAh lithium-ion battery that makes it an excellent option for traveling or trips. It also has battery level indicators that show you the status of your battery.
Features
Built-in 1000mAh battery
LED charge indicator lights
Rust-resistant key chain
Pros
Long-lasting battery
18-month warranty
Universal compatibility
Fast charging
Cons
Related: Whoop and Apple Watch Compared
Japan International Collection Sport Loop
The Japan International Collection Sport Loop is made of a double-layer nylon weave that offers soft cushioning to your skin. It is equipped with a hook-and-loop fastener that allows easy and quick adjustment while being lightweight, soft, and breathable. Additionally, the attachment loops are securely anchored for maximum durability.
Features
Hook-and-loop fastener
22 color designs
Nylon weave
Pros
Soft on the skin
Durable design
Multiple color options
Compatible with several Apple watch models
Related: Is Apple Watch Band Covered Under Warranty?
Apple Watch Magnetic Charger to USB-C Cable
The Apple Watch Magnetic Charger to USB-C Cable is designed to make charging your Apple Watch Series 6 utterly effortless. With this magnetic charger, you can easily and quickly recharge your watch from almost any Type-C wall charger or computer port. Unlike other wireless charging methods, this charging pad doesn't require precise alignment.
Features
Magnetic charging pad
Type-C charging cable
1 meter
Pros
Fast charging
High-quality charger
Cons
The cable could be better
MagSafe Duo Charger
If you're looking for a way to charge your Apple Watch and iPhone simultaneously, the MagSafe Duo Charger is for you. This charger is very pocketable and clearly made with travel in mind. With this charger, you can conveniently charge your Apple Watch, compatible iPhone, and other Qi-certified devices.
Features
Pros
It can charge your watch and phone together
Cons
OtterBox Exo Edge Case for Apple Watch 44mm
The Apple Watch Series 6 isn't cheap, and protecting it is important. This is where OtterBox Exo Edge Case for Apple Watch 44mm comes in. This case is built to protect your wearable from scratches and is a bit raised to offer protection around the glass. It's also easy to fit and snap-on.
Features
40mm and 44mm case size
4 color options
Pros
Sleek design
Solid bezel
Easy to fit
AirPods Pro
The AirPods Pro is designed for those who want true wireless earbuds with effective noise cancellation, improved bass performance, and excellent call quality. They are a safe option for Apple users looking for a lightweight and compact pair of wireless earbuds.
Features
Active Noise Cancellation
Flexible silicone tips
Pros
Lightweight and comfortable
Noise-isolation design
Transparency mode to let in sound
Cons
Battery life could be better
Apple Watch Magnetic Charging Dock
If charging multiple gadgets at once isn't for you, this Magnetic Charging Dock is a good option. This charging dock snaps to the back of your watch and charges it while you sleep. It's only available in white and has Apple's trademark simplicity and elegance.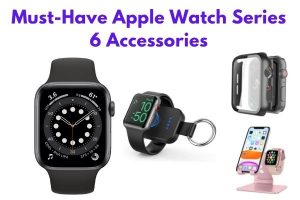 Features
Premium chrome finish
2-meter USB cable
Pros
Looks great
Soft-touch finish
Cons
Expensive
Lacks included wall plug
Parting Shot
Apple Watch Series 6 is a device you wear everywhere, so it's important to keep it looking good and protect it from damage. The above Apple Watch accessories will help to enhance your Apple Watch experience.