Whether you're just getting started with the watch band collection or have tons of different Apple Watch bands to choose from, keeping the bands neat can be tricky.
Fortunately, there are a bunch of great Apple Watch band storage cases to help you organize your collection and give your bands more care.
Related: Different Ways to Wear Apple Watch
Best Apple Watch Band Storage Case Reviews
PACMAXI 20 Watch Bands Storage Carrying Case
The PACMAXI 20 Watch Bands Storage Carrying Case is a great option if you're operating on a budget. Although it comes with a low price tag, this storage case can very well live up to the basic need. It's designed to hold up to 20 watch straps comfortably and has a super handy hook, so you can hang it on the wall to keep it away from your kids. It also has a compact size that is easy to fit in your tote bag, backpack, or luggage. This storage case can withstand continuous use and abuse, thanks to the durable polyester material. Additionally, it comes in different colors to suit the style of different watch collection enthusiasts.
Features
0.36-pound weight
Polyester material
Mesh and lining pockets
20 watch band capacity
Multiple colors
Pros
Stylish and portable
Durable design
Easy to fit in your backpack
Related: Whoop Strap vs Apple Watch
Simboom Watch Bands Storage Bag
The Simboom Watch Bands Storage Bag is perfect for taking your watch band with you whenever you go. It's made of high-grade nylon material that is wear-resistant, spill-resistant, beautiful, and durable. It's equipped with a portable handle, making it comfortable and convenient to carry and hang on the wall. The strong double zippers keep your Apple watch bands free from scratches and dust. The interior part has four sections, each having 5 elastic bands to keep 20 watch bands in place. Additionally, it has 2 zippered pockets that are perfect for storing your watch or other watchband accessories.
Features
Sturdy elastic bands
Mesh and lining pockets
2 color options
Portable handle
Sturdy double zippers
Pros
Spill-resistant
High-grade design
Comfortable to carry
Compact size
Cons
Betoores Watch Band Case Travel Organizer Bag
The Betoores Watch Band Case is designed to keep all your Apple Watch accessories perfectly organized. This storage case is a great way to safely store your Apple Watch bands when traveling or storing them at home. This case comes with 4 expanded sections with 5 elastic loops for each section to hold 20 watch straps. The 2 zippered pockets are conveniently placed to hold your earphones, cables, pens, watches, and electronic accessories. The case is made of light and durable material, making it easy to carry in your backpack or luggage. It also has a waterproof material that keeps your Apple Watch bands dry. Additionally, the double zipper ensures that your bands remain inside the case when traveling.
Features
4 sections
2 zippered pockets
2 flocking inserts
Durable zipper
20 elastic loops
Pros
Durable design
Comfortable and easy to carry
Waterproof
Compact size
Teamoy Watch Band Storage Case Holds 12 Watch Straps
Sporting a refined and slim design, the Teamoy Watch Band Storage Case can help you keep your bands fully organized. This Apple Watch case can comfortably hold up to 12 watch bands and has one transparent zipper pocket to hold your watch and watch accessories safely. It is made of high-quality and water-resistant fabric and has an impressive stitching design. Additionally, it has a compact size that can fit in your backpack, luggage, or tote bag.
Features
Transparent zipper pockets
Elastic loops
Inner velvet material
Two-way zippers
Pros
Attractive design
Easy to carry
Compact size
High-quality material
BGTREND Watch Band Storage Case for 32 Watch Straps
Simplicity and large capacity are the main qualities of the BGTREND Watch Band Storage Case. This storage case comes with plenty of space to hold 32 watch bands. It has multiple compartments that offer maximum protection from moisture and dust. With this case, you can take your watch bands while traveling, thanks to the compact and lightweight design.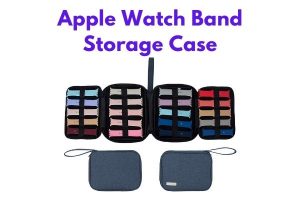 Features
Multiple compartments
Cationic dyed polyester
Two netted pockets
Thick inner walls
Pros
Lightweight design
Easy to carry
Several compartments
What is a Smartwatch Band Storage case?
A band storage case is a reasonably small case designed to keep the smartwatch bands perfectly organized, looking elegant and pristine, and protecting them from scuffs.
Why Buy a Band Storage Case?
A watchband storage case is a must-have accessory for anyone who wants to organize and store their watchbands. It's an effective way to take all your Apple Watch stuff with you when traveling. These band storage cases are usually waterproof and offer great protection to your collection of watch bands.
Additionally, some cases come with pockets and loops to hold other accessories so that you can maintain your style when on the go.
Related: Is the Apple Watch band covered under warranty?
FAQs
How do I store my iWatch bands?
Storing your iWatch bands can be a challenge, especially if you have many of them. Fortunately, there are many options available to help you keep your bands organized and easily accessible. Here are some of the best ways to store your iWatch bands: Watch band storage case, DIY Apple Watch band holder, Apple Watch band pouch, Apple Watch band holder, Watch band storage bag, and Watch band holder organizer.
Parting Shot
If you're a fan of the Apple Watch band collection, a band storage case is a worthy investment. Pick one from the list above and keep your watch bands safe and sorted.