Fitness, health, and recovery tracking technology are advancing every day. Fitness and health trackers have been equipped with more sensors than ever before, and the software is becoming better at data analysis.
There are several fitness trackers to choose from out there. The Oura Ring and Apple Watch 6 are among the most popular trackers. If you want to buy a fitness and health tracker but don't know which one to choose, this article will help you decide which tracker is best for monitoring your health, activity, and recovery metrics.
Table of Contents
Appearance, Design, and Comfort
The Oura ring is a titanium ring with built-in sensors and electronics to track temperature, heart and respiratory rates, sleep patterns, and more. It takes the form of a ring and can be worn on any finger. The main difference between the Oura Ring and Apple Watch 6 is that the Oura Ring lacks a display and app ecosystem. The Oura Ring comes in 8 different sizes and four/five color finishes (silver, black, gold, and stealth). This ring is comfortable to wear and fits nicely on your fingers.
On the other hand, the Apple Watch 6 is sleek and stylish, with a square shape and nicely rounded edges and corners. This watch is available in two sizes (40mm and 44mm), but there is no difference between the two. This device comes in multiple colors and aluminum and stainless steel build materials.
Related: Apple Watch vs Whoop
Activity and Working Out
The Apple Watch 6 is impossible to beat in activity and workout tracking. It is a multi-use fitness companion that houses countless fitness apps, a GPS, a music app and also collects useful health metrics like fall detection. It monitors activities using the heart rate sensor and accelerometer. You can share the results of targeted exercise goals with friends to challenge them.
Conversely, the Oura Ring uses the movement of the hand wearing the ring to calculate activity metrics. However, this ring doesn't track some exercises because it can be damaged if you lift weights. It reads activities and exercises from Google Fit and Apple Health and analyzes them with recovery.
Calories Tracking
The Apple Watch 6 keeps track of your active calories burned and shows the progress compared to your daily goal. This watch monitors the total calorie burned, both active plus passive calories. Active calories are those burned from movement, while passive calories are the calories your body burned, even when relaxing on a couch. However, the Oura Ring isn't accurate in calorie tracking.
Sleep Tracking
The Oura Ring is the best choice when it comes to sleep tracking. This is because it has a body temperature sensor that tells you how well you slept and shows your trends in body temperature. The Apple Watch 6 is also equipped with the necessary hardware to track your sleep patterns. This watch allows you to track your sleep manually, but you can set sleep auto-detection.
Heart Rate Monitoring
The Oura Ring has sensors that measure the blood pulse volume; this measurement determines your heart rate and heart rate viability (HRV). On the other hand, Apple Watch 6 has a heart rate monitor that automatically detects your heart rate before, during, and after a workout. The heart rate monitor can show your resting heart rate, current rate, and walking heart rate and allow you to compare them.
Blood Oxygen Level
The difference between Oura Ring and Apple Watch 6 is that Oura Ring focuses more on sleep, health, and wellness monitoring. In contrast, Apple Watch is a smartwatch that measures health and wellness like blood oxygen levels using the blood oxygen sensor.
Water-resistance/Waterproof
The Oura ring is water-resistant up to 100 meters, making it ideal for water-related activities. Conversely, the Apple Watch 6 has a water resistance rating of 50 meters and is designed to withstand shallow-water activities like swimming and bathing.
Related: Oura Ring vs Fitbit Sense
Integrations/compatibilities
The Oura Ring comes with its own dedicated Android and iOS app, which you can use to track metrics and the trends and your health over time. For the Apple Watch 6, you get the latest WearOS which allows you to collect data effectively.
Battery
The Oura Ring comes with a built-in battery that can last up to seven days, depending on the usage. However, the Oura battery is irreplaceable. The Apple Watch 6 boasts up to 18 hours of battery life and has a fast-charging time.
Cost/Pricing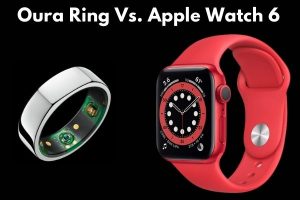 Although the Oura Ring has a small design, it has a high price tag. It comes at two different prices, depending on the finish you choose. The prices are:
$299 for a black or silver model
$399 for gold or stealth model
The Apple Watch 6 costs $399.99 for the standard 40mm version and $429.99 for the 44mm model. It's also available in LTE-ready models, costing $499 and $529 for the 40mm and 44mm, respectively.
Final Thoughts
The Oura Ring and Apple Watch 6 are high-quality health and fitness trackers that can take your fitness and health to the next level. However, the one you choose should entirely depend on your needs, style, and budget.