One of the most important features that most people look for in an activity tracker is fall detection, especially for older adults or those with medical conditions that make them more prone to falls. But does Fitbit have a fall detection feature?
In this post, we will explore whether Fitbit has fall detection. We'll also look at what fall detection is, how it works, and the wearables that have this feature.
Fitbit Fall Detection – Does Fitbit Have Fall Detection?
No, Fitbit devices do not have a built-in fall detection feature as of July 2023. Although Fitbit activity trackers and smartwatches are known for their excellent features and capabilities, they lack a built-in fall detection feature.
NB: Google Pixel Watch has a fall detection feature that can alert your trusted contacts or 911 if you're feeling unsafe or you've had a fall. (I have added this info here because Google now owns Fitbit. If you really want the fall detection feature coupled with the best of Google and Fitbit, consider buying the Google Pixel Watch – Help by Google. Health by Fitbit.)
Related: Best Fitbit Watch for Women
Table of Contents
What is Fall Detection?
Fall detection (also known as crash detection) technology is a life-saving and invaluable feature that detects falls and gets fast assistance from emergency service providers or from your emergency contacts.
These systems automatically activate the sensors if a person falls and calls for help without pressing the call button.
How Does the Fall Detection Feature Work?
Fall Detectors: The fall alert detectors can sense when the wearer has fallen using sudden body movement changes. This advanced technology can determine a person's physical activity, body position, and smoothness of movements. If the gadget determines that the wearer has fallen and these aspects are within the danger zone, it automatically activates an emergency fall alert and calls the emergency service providers.
Sensors: Fall detection devices use accelerometers, a low-power radio wave technology sensor, to check the user's movements. High-quality fall detection gadgets have 3 axis accelerometers, like those in smartphones and smartwatches. Other devices have built-in axial accelerometers equipped with patented algorithms developed by BioSensics.
Urgent Response: Some medical alert devices can detect a fall and initiate a call automatically to emergency response agents. The agents will evaluate the situation using a two-way speaker on the gadget and keep the user company until help arrives.
Precision: Movements related to falls are mostly detected using automatic detection technology. However, some slow movements like sliding off the sofa or bed cannot be accurately detected, and you may have to press the call button for assistance.
Related: Best Fitbit Watch for Men
Benefits of Fall Detection
Fall detection systems activate an alarm when a senior citizen falls and cannot activate the alarm.
Fall detection devices help people stay independent and alone in their homes.
Automatic fall detection eliminates the hassles of pushing a button in case of a fall and can minimize the mortality rate from falls by offering an instant emergency response.
By offering quick emergency help, these fall detection devices prevent you from lying helpless for hours or days without help. This prevents you from suffering more serious complications like hypothermia and dehydration.
These fall detection devices assure adult children that their parents are safe if they fall because emergency medical help will be available quickly.
These systems eliminate the fear of falling seniors. Therefore, seniors are not restricted in their outdoor activities, which ensures that they are always physically active.
Related: How to Set Time on Fitbit
Great Features of Fall Detection Devices
Ease of Use: These fall detection devices are super easy to use, and you'll be protected against emergencies caused by falls.
No-fault False alarms: Although accidents happen, these devices do not have false alarms. However, in case of a false alarm, notify the emergency service provider that it was a mistake and that no assistance is required.
Waterproof: Since most falls occur in wet areas, most fall detection devices are waterproof and can be used at the pool, in the shower, and at the beach with no worries.
What Watches Have Fall Detection
There are several smartwatch manufacturers and brands out there, but not all include fall-detection technology in their devices. If you're looking for a reliable fall-detection watch, you should consider an Apple Watch or a Samsung watch. These two brands are the world's leading brands in digital devices.
FAQs
What is the Price Range of Fall Detection Watches?
A top-quality fall detection watch can cost between $100 and $200. You can also get cheaper models, but they are less durable and reliable. Additionally, premium watches like Apple Watch Series 5 have several features and a powerful processor but have a high price tag.
Which Samsung Watch Has Fall Detection?
The Samsung Galaxy Watch 3 is the only Samsung watch that comes with a fall detection system. All you need is to connect it to your watch and download a medical alert or fall detection app.
When will Fitbit have fall detection?
As of July 2023, there is no official announcement or specific timeline for when Fitbit will introduce the fall detection feature in their devices.
Since Fitbit usually releases new activity trackers/smartwatches every few months, there is a possibility that future Fitbit devices may include fall detection capabilities.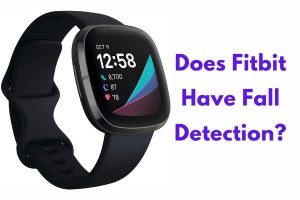 Parting Shot
Fitbit devices do not currently have fall detection capabilities. However, if fall detection is a critical feature for you, it's worth considering other wearable technology options that offer this functionality, such as the Apple Watch.