Looking for a smart ring that can help you track your sleep patterns, activity, and readiness? The Oura Ring does just that and more. But, is Oura Ring waterproof?
You don't want to risk damaging your sleep tracker while working up a sweat or taking a dip in the pool.
In this post, we'll take a closer look at the Oura Ring's water resistance capabilities, so you can make an informed decision about whether it's the right smart ring for you.
Table of Contents
What is Oura Ring?
The Oura Ring is a tiny titanium gadget that can collect data about your sleep, activity, and readiness using heart rate monitoring and provide a clear picture of what's happening in your body. This smart ring is also used to record your heart rate viability, breathing rate, skin temperature, and other crucial metrics.
Is Oura Ring Waterproof?
Like most smart wearables, the Oura ring is not waterproof but water-resistant up to 328ft (100 meters). This makes it suitable for various activities that involve water (e.g. swimming, taking a bath, and doing dishes) but it is still susceptible to water damage. The ring is not suitable for scuba diving and should not stay submerged in water for more than 12 hours.
What You Can Do With the Oura Ring
The Oura Ring is suitable for swimming, bathing, diving, and washing dishes, among others.
Related: Motiv Ring vs Oura Ring
More Information about the Oura Ring
The Oura Ring comes with various sensors and electronics build to keep you updated on the state of your body. It sounds much like any other fitness tracker (Whoop 4.0 for example) because they are basically similar, only that the Oura Ring takes the form of an ordinary ring.
The main difference between a smartwatch like the Apple Watch 6 and the Oura Ring is that Oura Ring has no display. Additionally, you cannot install apps on the Oura Ring. However, it has its own app that runs on your Android or iOs device.
Related: Oura Ring vs Fitbit Charge 5
Physical Appearance of the Oura Ring
The Oura Ring resembles an ordinary ring that you can wear.
The Horizon Oura ring style has a perfectly round shape while the Heritage style has a flat surface on the top.
This Oura ring has four color finishes, made from lightweight titanium. These finishes include black, silver, stealth, and gold.
The ring weighs 4 to 6 grams, depending on the ring size, and has a 2.55 mm thickness and 7.9 mm width. It is available in 8 different sizes (6 to 13) and can fit on any finger, but the ring and index finger are the most convenient.
What Does the Oura Ring Track?
The Oura Ring is equipped with several built-in sensors, which is a great invention for its size. Those sensors include:
A 3D accelerometer
A gyroscope
An NTC body temperature sensor
Infrared LED sensors
These sensors are used to measure the following:
Body temperature.
Blood pulse volume helps determine your heart rate, respiratory rate, and heart rate viability (HRV).
Time of day, which helps to determine your sleep patterns.
The hand's movements help to calculate activity metrics.
The above metrics help Oura Ring's software to determine your calorie burn, activities, sleep quality, and body readiness.
Additionally, the Oura ring features a 7-day battery life and comes with a charger to ensure it's charged every time.
Does the Oura Ring Work With any App?
This ring has its own Android and iOS app, which you can use to track metrics and see your progress over time. The Oura Ring keeps these metrics before transferring the data to your phone via Bluetooth.
What's more, this ring is integrated with Google Fit and Apple's Health apps to view your data.
What's the Cost of the Oura Ring?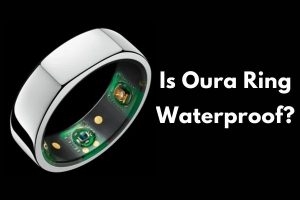 Despite its tiny size, the Oura Ring has a relatively high price tag. This is because it packs several state-of-the-art features in a compact and fashionable design.
The fitness ring comes at different prices, depending on style and finish.
As of April 2023, the Horizon-style ring ranges from $349 to $549 (silver – $349, black – $349, stealth – $449, gold – $499, rose gold – $549). The Heritage style on the other hand ranges from $299 to $549 (silver – $299, black – $299, stealth – $399, gold – $449).
The Gucci x Oura Ring goes for $950. This price includes a lifetime membership.
Is the Oura Ring Waterproof? – FAQs
Can You Swim With Oura Ring?
Absolutely! The Oura Ring is water-resistant up to 100 meters, making it perfect for swimming and diving.
Can You Wear the Oura Ring in the Shower?
One nice thing about the Oura Ring is that it's waterproof and sweat-proof. So you can use it in the shower for as long as you want without worrying about water spillage.
Does Oura Track Heart Rate During Exercise?
Yes. In addition to tracking your resting heart rate (when sleeping and resting during the day), the Oura Ring Gen3 can now track your workout heart rate. You also get to receive post-workout insights.
Can I wear Oura ring in the sauna?
The Oura ring is designed to be worn 24/7, even during activities like showering, swimming, and working out. So, yes, you can definitely wear the ring in the sauna. You can also safely wear the ring in a hot tub, ice bath, and cryotherapy tank.
Is the Gucci Oura ring waterproof?
Like all the Oura Ring 3, the Gucci Oura ring is water-resistant up to 100 meters. It is safe to wear this limited-edition smart ring while swimming or taking a bath.
Final Thoughts
While the Oura Ring 3 may not be completely waterproof, it is water-resistant enough to withstand splashes, sweat, and light rain. Just remember to take it off before scuba diving to avoid damaging your device.
So, whether you're looking to improve your sleep quality, track your fitness progress, or stay on top of your daily routine, the Oura Ring could be the perfect companion for you.
Ensure that you choose the right Oura Ring size and one that works for you.