Apple wearables are well-known for their capabilities and features, making them one of the best smartwatches out there. Apple keeps adding and polishing its features by pushing to achieve more accuracy. One of the clever tricks is Snapchat.
Although Snapchat doesn't have an official app on Apple Watch, there's a way you can run Snapchat on your Apple Watch. If you own an Apple watch and want to run Snapchat on it, this guide is for you.
Here's everything you need to know about Snapchat on the Apple watch.
What is Snapchat?
Snapchat is a popular messaging app that allows you to share videos and pictures that disappear after viewing. The main function of Snapchat is to take a video or picture, add lenses, filters and other effects and share them with your friends.
In addition to allowing you to connect with and follow friends, it packs tons of cook stuff: games, quizzes, innovative photo and video-editing tools, and news and entertainment.
Can I Download Snapchat on Apple Watch?
This may sound a little disappointing to Snapchat lovers who own Apple watches. But unfortunately, you cannot download Snapchat on your Apple watch. The main reason is that the Snapchat app is designed to run on the iPhone's iOS and is not compatible with the Apple Watch's WatchOS software.
Another obvious reason is that Apple watches do not have built-in cameras. For Snapchat to work efficiently, the device must have a camera to allow instant person-to-person photo sharing. However, the good news is: you can still get notifications and read Snapchat messages from your friends.
How Do I Get Snapchat on Apple Watch?
Although you may not get all features of Snapchat on the Apple watch, there are some Snapchat capabilities you can take advantage of. However, only Apple watches that support a specific WebKit and internet browser will function using this method. If you have Apple Watch Series 2-5, follow these simple steps:
Step 1: First, connect your Apple watch to the internet.
Step 2: Tap the Siri button on the Siri watch face and launch it on your watch. Press and hold down Siri until a listening indicator appears.
Step 3: Speak "Google Search" to Siri, and Siri will ask, "What do you want to search for?".
Alternatively, go for the Google search and search for Google.com, and an 'open page' will appear. Click on the 'Open Page', and you'll land on the Google page, where you can sound search or type.
Step 4: Search for 'Snapchat online', and you'll land on the Snapchat online login site.
Step 5: Navigate to the Snapchat login page and key in your username and password to create a Snapchat account. However, typing on the watch can be challenging. So unless you desperately need to access the Snapchat account, try option 2.
Option 2
Step 6: Tap and select Snapchat from the search results and click on the three dots on the top-right corner of the screen, and tap on Stories. You can follow Snapchat stories, especially on celebrities. You can also use the Map function and search stories by name.
What Can You Do with Snapchat on Your Apple Watch
As I stated above, nothing much can be done using Snapchat on the Apple watch. Here are some things you can enjoy on Snapchat.
Go Through Stories
The Snapchat on your Apple watch helps you to view stories from different people. Although you'll not be able to view all stories, most stories from celebrities are visible.
The Search
Using the search bar, you'll find different people on Snapchat. However, this search has limitations, and you can only find famous personalities and celebrities.
Navigate the Map
Apart from stories and the search, you can easily navigate through different people's maps. This function works well when you're using your Apple Watch and your iPhone. You can zoom in and get information on the location of different people.
FAQs
Can You Get Social Media on Apple Watch?
Unfortunately, no. Facebook, Instagram, Tik Tok, Snapchat, Twitter, and Whatsapp are not available on Apple watch.
Can You Read Snapchats on Apple Watch?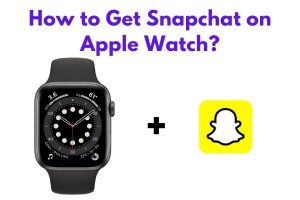 No, you can't. You will receive a notification that you have a chat on Snapchat, but it's not possible to view or reply to it. Snapchat developers have not developed an app that's compatible with the Apple watch. Until they do, you will only receive a notification if you have a Snapchat message.
Will Apple Watch Ever Introduce a Snapchat App?
The popularity of Snapchat is rising day by day, and most people find Snapchat as a fun and interesting app to share moments in their daily lives. Since Apple developers want to offer the best experience to their users, they may consider including the Snapchat app on their Apple watches.
Final Thoughts
If you want to use Snapchat on your Apple Watch, the steps above will help you get started. Although you'll not enjoy the complete features and capabilities available on the Snapchat app, you'll be able to look at the stories posted by celebrities and friends.