Although you don't absolutely need to use a case for your Apple watch, unlike with an iPhone, there are still reasons that make smartwatch cases a viable option.
A case for your Apple Watch is an inexpensive way to add a bit of style and accessorize your device. In this article, I'll explain why a case for your Apple watch is a worthy investment and list some of the best Apple watch cases.
What is a Smartwatch Case?
A smartwatch case is a lightweight and protective cover designed to provide maximum protection for your device from shock, scratch, and shatter.
So, Do You Really Need a Case for Your Apple Watch?
Technically, an Apple Watch does not require a case, but this depends on the user. However, there are some instances where you should get a case for your Apple Watch:
Added style
There are a variety of cases for smartwatches, and some cases give your watch a classic design and sports-like look. While others give a bland-looking watch a bit of color. These cases are affordable, so you can choose from a variety of designs and colors to suit your watch strap and give it a new look.
Much-Needed Protection
Although the chances of your Apple watch falling are slim, falls aren't the only threat to your watch. Some Watches don't have a scratch-resistant screen, and the materials are prone to scratches. Therefore, adding a case offer much-needed protection from unforeseen occurrences.
Better Second-Hand Value
If you've ever bought a used device, you understand that appearance matters. Prices for used devices are determined by their appearances, so a newer device will attract a higher price. If you intend to sell your Apple watch in the future, a case is a worthy investment.
Related: Apple Watch Fall Detection Explained
Do you need a Case for Apple Watch?
Misxi 2 Pack Hard PC Case with Tempered Glass Screen Protector Compatible with Apple Watch
The Misxi 2 Pack Hard PC Case is designed to offer maximum protection without affecting your usability and readability. This case is easy to fit; just snap over your display. It offers all-round protection and is easy to remove and wipe. They are available in two colors, transparent or black, and each package comes with two cases. Additionally, the cases are compatible with Apple Watch 6, Series 5, SE, and Series 4.
Features
2 color options
44mm
PC material
Pros
Easy to install
Comfortable and beautiful
Easy to clean
Cons
Water/sweat stays under the case for long
pzoz Compatible for Apple Watch Series 6/5 /4 /SE 44mm Case with Screen Protector
This apple watch case is compatible with Apple Series 4, 5, and SE/6 and comes with 40mm and 44mm. So ensure you pick the right size for your Apple Watch. With this Apple watch case, you can charge your watch without taking it off. It also comes with a built-in screen protector for additional protection. Additionally, this light and thin case is easy to remove and wipe.
Features
Built-in screen protector
6 different colors
Polycarbonate material
Pros
Durable design
Easy to remove and wipe
Easy to install
Cons
Julk Case for Apple Watch Series 6 / SE/Series 5 / Series 4 Screen Protector
If you're looking for a simple yet quality case, this is a good bet. The Julk Case is made with TPU material that can withstand scratching and dropping. It comes with a lightweight and nearly invisible design, so the aesthetic appeal of your Apple Watch won't be lost.
Features
TPU material
40mm size
Built-in screen protector
2 cases
Pros
Durable material
Fits perfectly
Easy to install
SUPCASE [Unicorn Beetle Pro] Designed for Apple Watch Series 6/SE/5/4
This 44mm Apple watch case is designed to offer maximum protection to your Apple watch 4, 5, 6, and SE. Polycarbonate and thermoplastic polyurethane material make it highly durable and shock-resistant. It has a great design that doesn't hinder the screen, buttons, or sensors. Additionally, it's easy to install and remove.
Features
TPU and polyurethane material
11 color options
Built-in waistband
Pros
Easy installation
Scratch-resistant
Great design
Cons
Spigen Rugged Armor Pro Designed for Apple Watch Case
The Spigen Rugged Armor Pro is a strong and well-designed case for the Apple watch. It's built with a flexible material that makes it compact and holds on tight. Its cover doesn't affect the function of the watch and covers all sides of the watch. What's more, it comes in different colors to suit your style.
Features
3 color options
Matte finish
Pros
Cons
The rugged design may not suit everyone
FAQs
Are Cases Bad for Apple Watch?
No, they aren't bad. If you want your Apple watch to remain in perfect shape, then a case is a must-have. If you play sports or have an active job, an Apple watch case is the best way to protect your watch.
Do Apple Watches Scratch Easily?
Unfortunately, Apple watches scratch more easily than we think. Although most users don't note it, smartwatches are prone to knocks from our desks when typing or hit by objects when we play sports.
Can I Fix Scratches on My Apple Watch?
Although scratches cannot be eliminated completely, they can be polished to appear less conspicuous. Use a microfiber cloth, apply a small amount of toothpaste or polishing cream, and wipe over the surface. If it's a minor scratch, it will become almost invisible after polishing. You can also take
your Apple watch
to a watch repair shop for watch polishing services.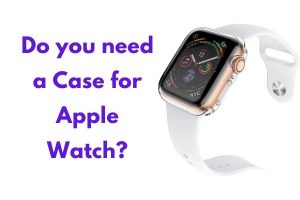 Parting Shot
It's now evident that cases are important and necessary accessories for your Apple watch. Always ensure that your watch is always protected against scratches and drops.