Protecting your devices is paramount, but is it necessary for the innovative Apple Watch?
In this post, I answer the question – "Does Apple Watch need a screen protector?" and explore the benefits, potential risks, and expert insights, helping you make an informed decision.
Table of Contents
So, Does Apple Watch Need a Screen Protector?
It depends on your personal preference. The Apple Watch's display is made of highly durable materials and is scratch-resistant. The watch might not shatter if you accidentally drop or hit it.
However, if you want to keep your Apple Watch in mint condition, you need a screen protector. It will give you peace of mind and keep your display looking new. A screen protector is the best bet to keep your watch free of scuffs and scratches.
Benefits of having a Screen Protector on your iWatch
Screen protectors are not only designed to prevent scratches but have some more benefits attached to them. Here are some of these benefits.
Good Sell-Value
If you intend to sell your smartwatch in the future, then a screen protector will help you out. The right screen protector will allow you to sell your device at a high price since the product's appearance determines prices. A smartwatch with a newer look guarantees better resale value.
Much-Needed Protection
The main reason you need a screen protector is to avoid any unpredictable occurrence such as falling or getting hit. Additionally, screen protectors are dirt and dust-resistant and possess screen-resistant screens.
Modified Look
Screen protectors come in a variety of cases. You can choose a screen protector with a sporty look or go for one with a sober look or catchy color. You can modify your smartwatch to suit your style.
Related: Apple Watch 7 vs Whoop 4.0 Band
Best Apple Watch Screen Protectors
Misxi 2 Pack Hard PC Case for Apple Watch
If you're looking for a screen protector that comes with a built-in case to provide extra protection to your Apple Watch, this is a great choice. This screen protector is easy to install and aligns well with the display, thanks to its impressive case design. It has high levels of protection since it uses hard plastic on the sides to enhance protection. This screen protector can easily prevent scuffs and scratches caused by continuous usage and falls and drops. Additionally, it provides precise cutouts for all buttons and sensors, so you don't need to remove them when charging.
Features
5 color options
40mm and 44mm size
PC material
Pros
Easy to install
Durable material
Anti-shock and anti-fall
Comfortable to wear
LK 6 Pack Screen Protector for Apple Watch 6, 5, 4, SE
This screen protector is designed to retain the beauty and comfort of your Apple Watch. The LK screen protector comes in a six-pack that guarantees clear visibility with maximum resolution. With this screen protector, you'll get bright and colorful image quality. This flexible TPU screen protector fits perfectly on the watch's face and is designed for maximum coverage.
Features
TPU material
0.1mm thickness
Pros
Maximum coverage
Bright and colorful image quality
Perfect fit
Cons
Durability is questionable
ArmorSuit [6 Pack] MilitaryShield Screen Protector
If you're looking for an affordable yet quality screen protector for your Apple Watch, this is a great option. The ArmorSuit screen protector is equipped with self-repair technology that automatically repairs minor scratches and scratches. This screen protector is also scratch-resistant and can handle some falls and drops. It promises HD clarity and uses a high-quality material that doesn't turn yellow over time. Finally, it comes with an installation spray, microfiber cloth, and squeegee for easy installation.
Features
TPU material
Self-healing technology
40mm size
Pros
Durable construction
Easy to install
Scratch-proof
Liquid Tempered Glass Screen Protector for Apple Watch
This screen protector promises all-around protection for your Apple Watch, including the bezel around the screen. The Liquid Tempered Glass Screen Protector is great for anyone who uses their smartwatch more roughly than an average user. Additionally, it is 0.3mm thin making it super sensitive.
Features
4 size options
Tempered glass material
0.3mm
Pros
Easy to clean
Scratch-resistant
High-quality construction
Affordable
LK 6 Pack Screen Protector for Apple Watch
Screen protectors made by LK come with good protection at a great price. The LK 6 Pack Screen Protector Compatible with Apple Watch is one of them. It comes with a pack of 6 that can withstand regular use and abuse. This screen protector is scratch-resistant and has great HD clarity.
Features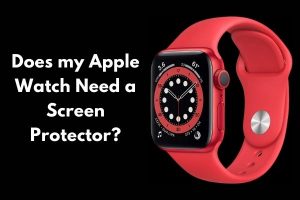 Flexible TPU material
0.1mm thickness
Pros
Durable construction
Self-healing properties for minor scratches
Easy to clean
Cons
Installation can be a bit messy
Final Thoughts
You don't need to break the bank to get a top-notch screen protector to keep your Apple Watch looking brand new. However, ensure that you choose one with all the features you need in your favorite screen protector.