In the recent past, smartwatches and fitness trackers have been on the rise. There are tons of options in the market, and honestly, it's a bit challenging to choose one that suits your style and needs. The entire process can be challenging.
The Amazfit GTS 2 and Fitbit Versa 3 are two of the latest devices from some well-known brands in the smartwatch world. These smartwatches are well-known for their reliability, durability, and accuracy.
But what sets them apart? Here's a detailed comparison between Amazfit GTS 3 vs. Fitbit Versa 3.
Table of Contents
Appearance, Design, and Comfort
The Amazfit GTS 3 comes in a boxy design with a 1.75″ AMOLED display with 450×390 resolution and optimized frames. It has an aluminum body with silicone straps that make it super durable and comfortable. The crown-shaped button functions as a scroll wheel for browsing through the menu. If you're looking for a slimmer smartwatch, Amazfit GTS 3 is for you.
On the other hand, the Fitbit Versa 3 has a square design and a 1.58-inch AMOLED display with slim bezels. It's crisp, bright, and easy to see on a sunny day. It also has an Always-on display that allows you to check the time without turning your wrist. Instead of physical buttons, the Fitbit Versa 3 is equipped with an indented haptic side button.
Activity and Workout Training
When it comes to activity and workout training, the Amazfit GTS 3 comes with 150+ sports modes, including walking, outdoor walking, indoor walking, outdoor cycling, pool swimming, and treadmills, among others. This smartwatch triggers automatic monitoring once you start working out. It also has a one-tap measurement function that uses all the sensors to track your heart rate, SpO2 monitoring, and give a summary. Additionally, Amazfit's PAI scoring system helps you stay motivated to keep fit.
The Fitbit Versa 3 can handle all your fitness tracking needs, measuring distance and calories burned. It can monitor 20 different activities and has a built-in GPS that allows you to track your location when following an unknown route.
Sleep Tracking
Fitbit sleep tracking is the best in the business, and if you're looking for real sleep analysis, the Fitbit Versa 3 is a good bet. However, the deeper sleep analysis needs a Fitbit Premium subscription. It also classifies your sleep into light, deep, and REM.
Conversely, the Amazfit GTS 3 has aspects like sleep analysis with sleep stages and the ability to detect daytime naps.
Heart Rate Monitoring
The Amazfit GTS 3 fitness tracker comes with an effective heart rate monitor that monitors your heart rate all day, even when swimming. It has alerts for abnormally low or high heart rates and tracking heart rate zones to help you optimize your workouts. This smartwatch is an easy-to-use health partner for every fitness enthusiast.
The Fitbit Versa 3 has a Pure 2.0 heart rate sensor that provides timely and accurate heart rate readings. This sensor and the accompanying algorithms are meant to track HR levels daily. However, it's not capable of providing accurate readings in a wide range of heart rate levels.
Water-resistance/ Waterproof
The Amazfit GTS 3 is an ultimately easy-to-use smartwatch and has a water resistance of 5 ATMs. This means you can enjoy quality time in a pool or at sea without worry. The Versa 3 is also water-resistant to 50 meters, so it won't be damaged by a sweaty workout or when worn in shallow waters. However, you should avoid deep-sea diving since it's not designed for deep-sea diving.
Battery
The Amazfit claims 12 days of battery life, and the smartwatch comes with a 250mAH. However, the battery life is affected by the Always-on display, heart rate monitor, use of Alexa, and other features. It also comes with a battery-saver mode that disables some features except sleep and step tracking.
The Versa 3 promises almost three days of battery when using the Always-on display, sleep tracking, and GPS workouts. You can extend the battery life by disabling the always-on display and with moderate use.
Cost/Pricing
The Fitbit Versa 3 retails at $229 and is available in three finishes: pink clay/soft gold aluminum, black/black aluminum, and midnight/soft gold aluminum. It also comes with interchangeable bands, starting at around $30. The Amazfit GTS 3 costs $179.99. Therefore, Fitbit is more expensive, and some of its services are available at an extra fee.
FAQs
Is There Anything Better Than Fitbit?
Although Fitbit comes with all the features you'd want from a fitness tracker, there are some brands that make smartwatches with cutting-edge technology and impressive features. One of these smartwatches is the Apple Watch 6.
Who're Fitbit's Biggest Competitors?
Fitbit's top competitors include Xiaomi, Apple, Misfit wearables, iFIT Health & Fitness. These companies make high-quality fitness trackers that help you reach your fitness and health goals.
Final Thoughts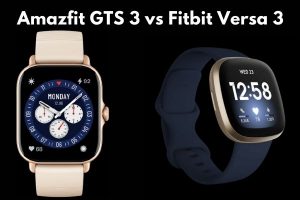 The smartwatch you choose entirely depends on your personal preferences. The Amazfit GTS 3 and Fitbit Versa 3 are impressive gadgets, but if you want a budget-friendly device, go for the Amazfit GTS 3.