Although there are many Fitbit trackers out there, Fitbits are considered one of the best with good reason. There are several Fitbit smartwatches and trackers ranging in features, price, and design to suit every need, budget, and taste. Some of the most common Fitbit trackers include Fitbit Charge 3, Charge 4, and Charge 5.
Whether you're looking to monitor your heart rate, sleep pattern, steps, or compete against your friends, these Fitbit devices are great options. However, these devices are different in terms of design, price, and monitoring capabilities.
Table of Contents
Fitbit Charge 5 vs Charge 4 Vs Charge 3
Here's a detailed comparison between Fitbit Charge 3, Charge 4, and Charge 5 to help make your choice easier.
Related: Best Fitbit Watch for Women
Pricing and Availability
The Fitbit Charge 5 costs $179.95 and comes with a 6-month Fitbit Premium membership for new and returning clients.
The Fitbit Charge 4 is priced at $149.95 and has a 90-day free Fitbit Premium trial for new clients.
On the other hand, Charge 3 costs $150 and comes in two color combinations.
Therefore, Charge 4 is cheaper compared to Charge 3 and Charge 5.
You can purchase these Fitbits from Fitbit's website and other retailers like Amazon.
Related: Best Fitbit Watch for Men
Design and Display
The Fitbit Charge 3 and Charge 4 have virtually identical designs, but the Charge 5 has a thinner body. The Charge 5 comes with an always-on color display, while the Charge 4 boasts a grayscale OLED touchscreen and the Charge 3 has an OLED touchscreen display. It's difficult to compare the Charge 4 and Charge 3 casing since they are almost similar in design.
The Charge 5 is available in large and small bands in Gold/ Lunar White, Black, and Steel Blue/Platinum, while the Charge 4 comes in Rosewood, Black, Granite Reflective Woven, and Storm Blue. Conversely, the Charge 3 has a silicone sports band that comes in navy, scarlet, berry, and black.
Specs and Features
All the Fitbit Charge trackers compared here are equipped with an optical heart rate monitor, providing continuous and automatic heart rate tracking. They also pack an altimeter, accelerometer, and vibration motor, and relative SpO2 sensors that allow you to view a graph in the Fitbit app. What's more, the three have NFC, allowing you to pay at the contactless terminals through Fitbit Pay.
In terms of location tracking, Charge 3 uses connected GPS, meaning you need to have your phone when running or walking for detailed map data. However, the Charge 4 and Charge 5 have built-in GPS and seven GPS-enabled exercise modes.
Lastly, the Fitbit Charge 3, Charge 4, and Charge 5 packs all-day activity tracking including, calories burned, step count, distance covered, active minutes, and stationary time.
ECG
The Fitbit Charge 5 is the only gadget equipped with an EDA sensor and the Fitbit ECG app. ECG is designed to detect changes in your finger's sweat glands, while the ECG readings detect the heart's rhythm.
EDA
EDA monitoring is designed to detect your stress levels using your finger's sweat glands. Fitbit Charge 4 and Charge 5 are now equipped with EDA to help manage your stress levels.
Health and Fitness Tracking
As far as health and fitness tracking goes, the Charge 5 has the most features available on Charge 3 and Charge 4, along with some health-focused features. Both Charge 4 and 5 come with 20 exercise modes, while Charge 3 has over 15 exercise modes. With a Charge 3, you can set the distance you want to complete or the calories you want to burn.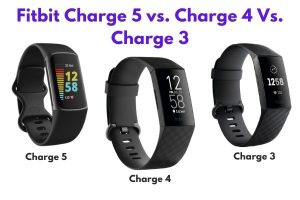 Charge 4 and Charge 5 can be used to manage stress, menstrual health, monitor heart rate variability and breathing rate to detect signs of illness or stress. Meanwhile, the Charge 5 is the only Fitbit Charge device with a Daily Readiness Score that allows Fitbit Premium users to view a score based on sleep, fitness fatigue, and heart rate viability.
Battery Life
The Charge 5 can last up to seven days when fully charged in 2 hours, while the Charge 4 comes with a battery life of up to 7 days and 5 days with continuous GPS use and charges in 2 hours. Likewise, the Charge 3 has a 71mAh battery that can last for 7 days, depending on your usage.
Parting Shot
Fitbit caters to almost every fitness and health need. Fitbit has a model for both experienced fitness enthusiasts and beginners. The latest upgrade is the Fitbit Charge 5 with a slimmer body, always-on color display, and a new ECG app. However, if you're satisfied with the grayscale screen and OLED touchscreen, the Charge 4 and Charge 5 are great options.