Fitness activity tracking is one of the most effective ways to remain active and lead a healthier lifestyle. However, if your fitness tracker bothers you on your wrist, you now have an option to use a clip-on fitness tracker. With a clip-on, you can easily attach your fitness tracker to your pocket, shoe, bra, or belt.
In this article, I've reviewed the 5 best clip-on fitness trackers along with some handy tips to help you make an informed decision.
Do You Need a Clip-on Fitness Tracker?
Fitness trackers are usually worn on the wrist. However, due to some work requirements and situations, it's not possible to wear a tracker on your wrist. For instance, health workers are not allowed to have devices on their wrists. Here's why you might need a clip-on tracker:
If you're a production worker, you're not permitted to wear a tracker.
If you use your hands and wrist frequently.
The healthcare sector has the ' bare below the elbows' policy
If you don't like wearable gadgets and prefer attachable ones.
If any of the above affects you, then a clip-on fitness tracker is a must-have.
How Does a Clip-on Fitness Tracker Work?
A clip-on fitness tracker is a gadget that functions to track physical activity using integrated sensors. This gadget receives data from the sensors, and the data is shown in different metrics, including calories burned, sleep level and performance, and step count.
A clip-on fitness tracker provides accurate results that you can use to measure the performance of your activity. However, there are different types of fitness trackers out there. If you're not operating on a budget, you can get a fitness tracker clipped on a belt that promises better and advanced features in a workout.
Benefits of Wearing a Clip-on Fitness Tracker
Clip-on fitness trackers are very beneficial to hardcore runners, fitness enthusiasts, production workers, healthcare workers, and gymmers. They need an effective way to track their health and fitness goals without showing the tracker. Furthermore, clip-on fitness trackers are also easy to use and lightweight, making them highly portable and easy to clip onto your clothing.
Additionally, you don't have to worry about charging your device since the charge-free battery can last up to 6 months before replacing it. Finally, there are less chances of data loss because the clip-on fitness tracker has an efficient data transfer method to a compatible device.
FAQs
What is a Clip-on Fitness Tracker?
A clip-on fitness tracker is designed to attach to your belt, shoulder, shoe, or bra instead of wearing it on your wrist.
Which Fitbit Can Be Clipped on?
You can go for the Fitbit One Wireless. It is water-resistant and small. Additionally, you'll have Bluetooth 4.0 connectivity with the tracker. The tracker also has automatic data sync. This tracker can be attached to a belt, bra, or waist and kept in a pocket.
What is the Difference Between a Clip-on and a Wearable Fitness Tracker?
While the clip-on fitness tracker is designed to attach to your waist belt, bra, shoe, or shirt, a wearable fitness tracker can only be worn on the wrist. Additionally, most clip-on trackers may lack a screen display. They track data and transfer it to your smartphone or other compatible gadgets. On the other hand, almost all wearable trackers have a widescreen display with several benefits of convenience.
A clip-on fitness tracker comes with a button cell or coin-type battery that can last for up to 6 months. A wearable tracker has a rechargeable battery that can last for up to a week before recharging.
What is the Most Accurate Clip-on Tracker?
The best and most accurate clip-on tracker has a margin error of less than 10%.
Will Fitbit Tracker Work in Pocket?
Yes. All fitness trackers work even when placed in pockets. Trackers are equipped with sensors, so they can track your movement while you're walking. However, the tracker should be in contact with your body to track the activity.
Clip-on Fitness Tracker Buying Guide
When buying a clip-on fitness tracker, you have to consider some factors to ensure that your purchase is worth every penny and durable. Here is a breakdown of what you need to keep in mind for the best clip-on fitness tracker.
Compatibility
Compatibility is a crucial factor to consider when choosing your clip-on fitness tracker. Your favorite smartwatch should be compatible with your smartphone using an internet connection or Bluetooth. There are also fitness trackers that are compatible with Windows devices.
Tracking Accuracy
Although fitness trackers do a great job monitoring and tracking your activities, some are more accurate than others. Since clip-on trackers are not directly attached to your body, there might be a difference in the accuracy of these devices. Ensure that you choose one that promises accurate results.
Comfort and Durability
A good clip-on fitness tracker should be made of high-quality materials that can withstand continuous use and abuse without losing accuracy. Before making the final decision, ensure that the material has the highest comfort levels.
GPS Option
Ensure that the clip-on fitness tracker you choose has a GPS option to help you check the distance, average speed, and more. This is especially crucial for cyclists and runners.
Water-Resistant
If you like swimming or working out on rainy days, your device should be water-resistant. When walking, running, or cycling, sweat can damage your fitness tracker if it's not water-resistant.
Battery Life
When buying a clip-on fitness tracker, you must check its battery life. A fitness tracker with a longer battery life will enhance its performance. Ensure that you choose one that comes with long battery life.
Ease of Use
Some fitness trackers can be quite a techie since they're equipped with several features and can be confusing for an average user. It is a matter of personal preference if you want a high-tech tracker or a basic fitness tracker.
Best Clip-on Fitness Tracker Reviews
Although the Fitbit Inspire 2 Health & Fitness Tracker is a wrist-based fitness tracker, it can be converted into a clip-on fitness tracker using an accessory like a Fitbit clip. If you're using this fitness tracker as a clip-on tracker, you'll have to change the device settings to On Clip. This will mean that you'll lose some features like automatic activity detection, Active Zone Minutes, and heart-rate tracking.
Features
3 color options
Synthetic material
Backlit OLED display
Pros
Easy to use
All-day activity tracking
Long-lasting battery
Super comfortable
The Fitbit One Wireless Activity Plus Sleep Tracker boasts tons of useful features, including sleep tracking, step count, calories burned, and distance covered. It can be connected with Mac, Windows, iOS, iPad, and Android devices. However, iOS and Android devices need an internet connection or Bluetooth for connectivity. It has a long-lasting battery that can last for 8-10 days on a single charge. It also comes with six activity modes, so you can choose one and start exercising. Additionally, it is the best fitness tracker for guys who travel, jog, hike, run or climb.
Features
2 color options
Bluetooth 4.0
Lithium-polymer battery
Pros
Compatible with several devices
Lightweight and easy to use
Durable
Accurate results
Cons
This is a great option if you don't want to wear a wrist-based tracker and don't have much to spend. The Fitbit Zip Wireless Activity Tracker is made of silicone material that you can attach to your pocket, bra, collar, shoe, or waist belt without being visible. It has a user-friendly interface, advanced connectivity, and a high accuracy rate to help you stay fit and active. It comes in charcoal, blue, and lime colors with an easy-to-read dial.
Features
3 color options
Bluetooth 4.0
3-volt coin battery
Pros
Easy to use
Lightweight
Accurate activity and monitoring
Long-lasting battery
Cons
This fitness tracker with altimeter weighs only 1.4 ounces. It comes with a 3D pedometer and axis sensor technology that makes it super accurate. This 3D Tri-Sport Walking Pedometer is ideal for keeping in the pocket or attaching to the waistline or neck. The best thing about this fitness tracker is that you'll get the same results regardless of where you clip it on. Additionally, it has a built-in clock and is easy to set up.
Features
Built-in clock
5 color options
1.4 ounces weight
Accurate 3D sensor
Pros
Large and easy to read display
Excellent support
Lightweight
Convenient to use and setup
Cons
If you're looking for an easy-to-use fitness tracker that's ideal for men, women, and kids, this is a great choice. The 3DFitBud Simple Step Counter Walking 3D Pedometer with Clip comes with a simple design and no complicated settings. It is equipped with 3D tri-axis sensor technology that gives you the most accurate readings. With this fitness tracker, you can easily attach it to your bra strap, waist, or pocket.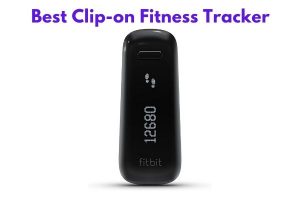 Features
4 color options
0.84 ounces
Lithium-ion battery
3D Tri-axis sensor technology
Pros
No setup
Lightweight
Convenient to use
Ideal for all fitness levels
Final Thoughts
A clip-on fitness tracker may be new to some people, but it offers accurate data and better performance. Pick one from the list above and start your journey to fitness.